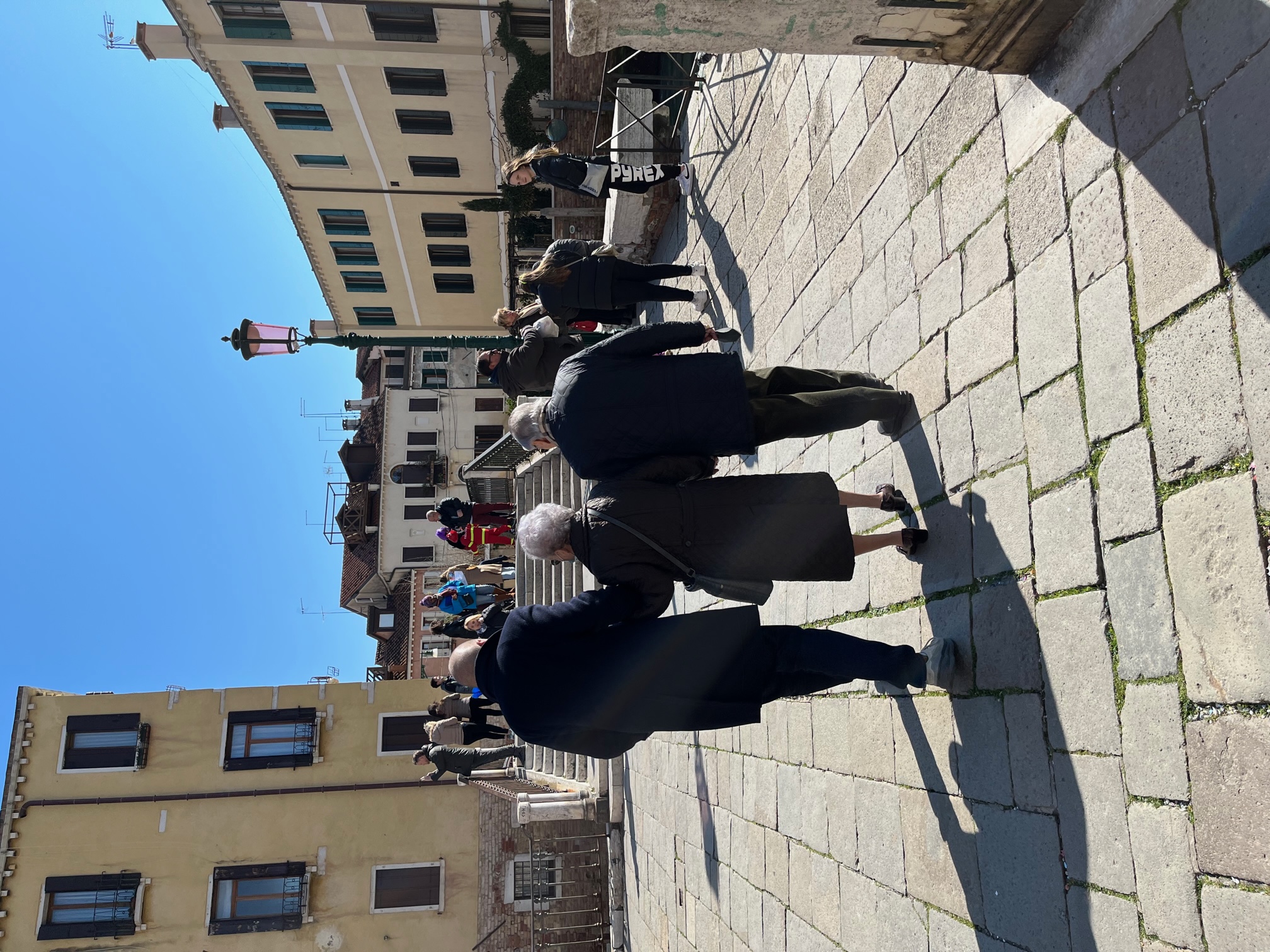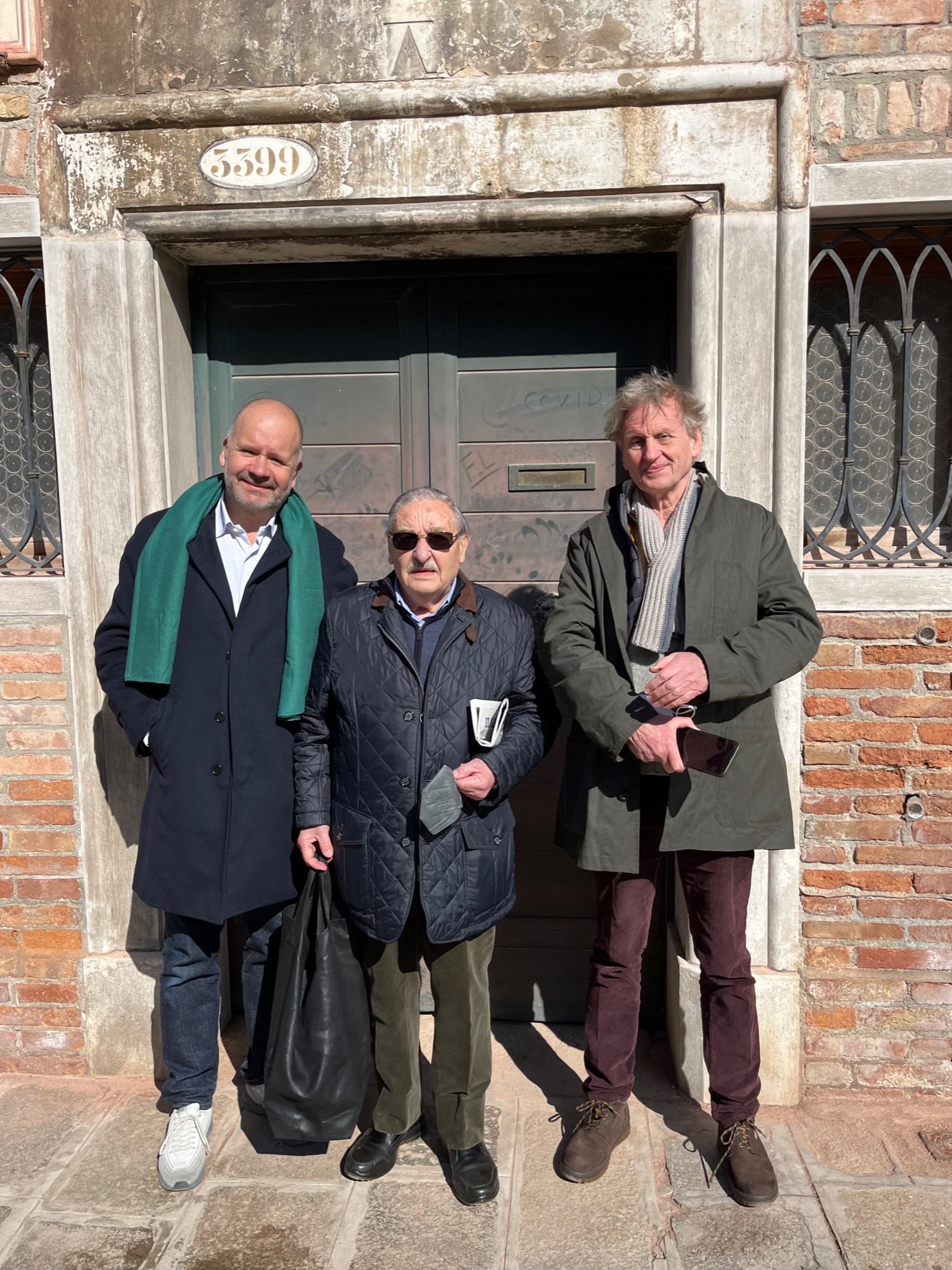 February 2022
Venice
With Lars and Paolo Zanon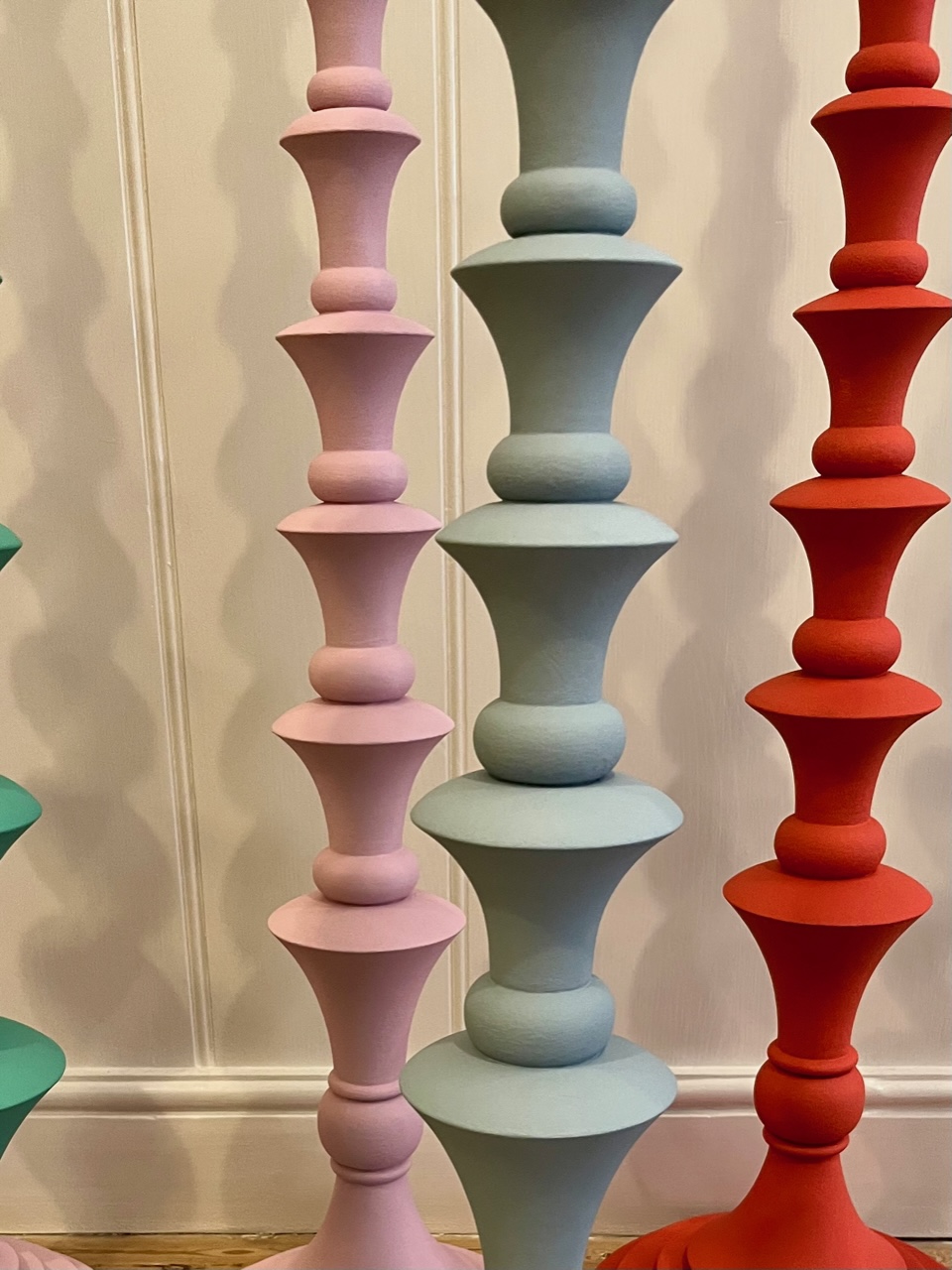 January 2022
Tulip standard lamps
In bespoke colours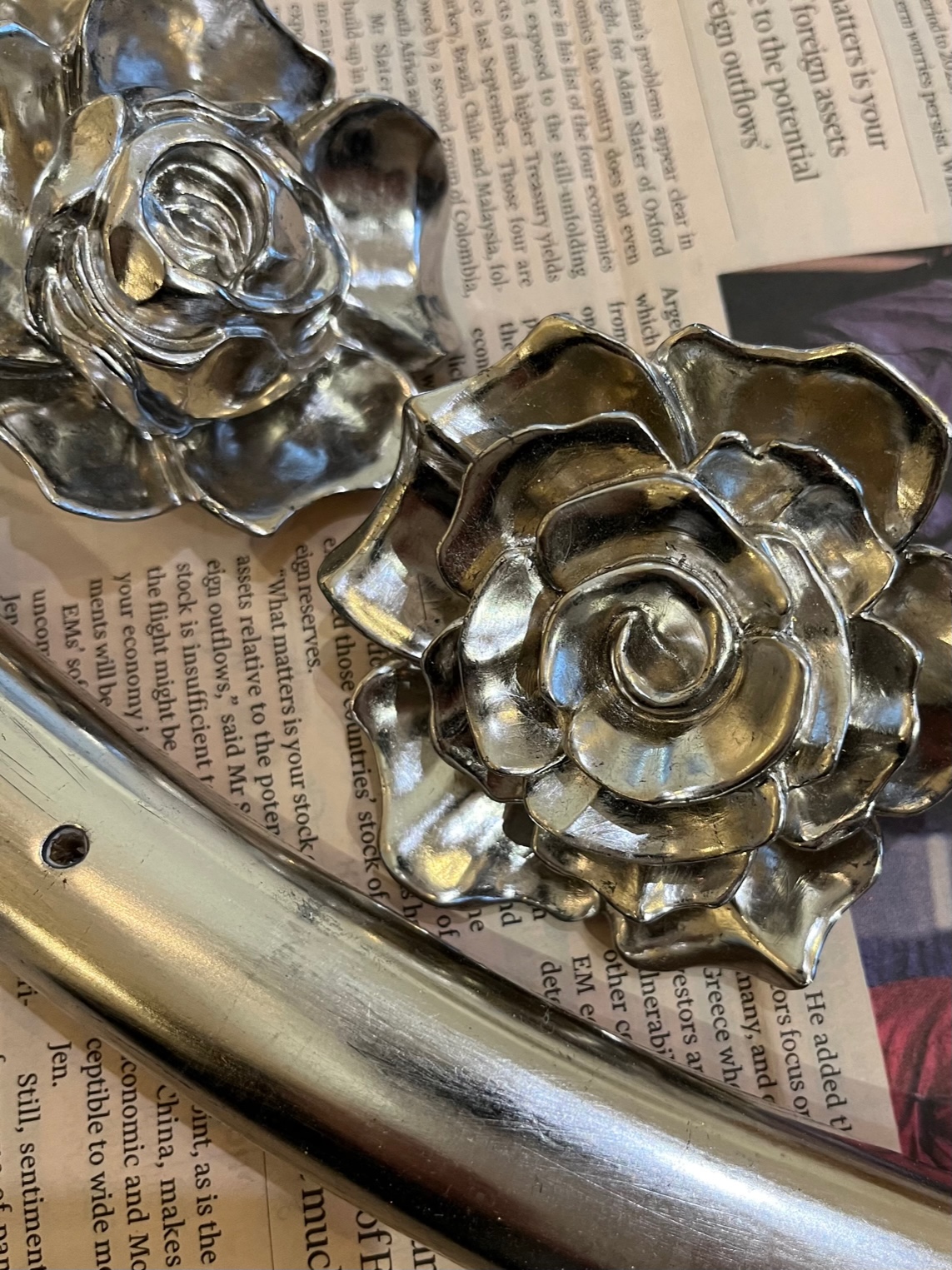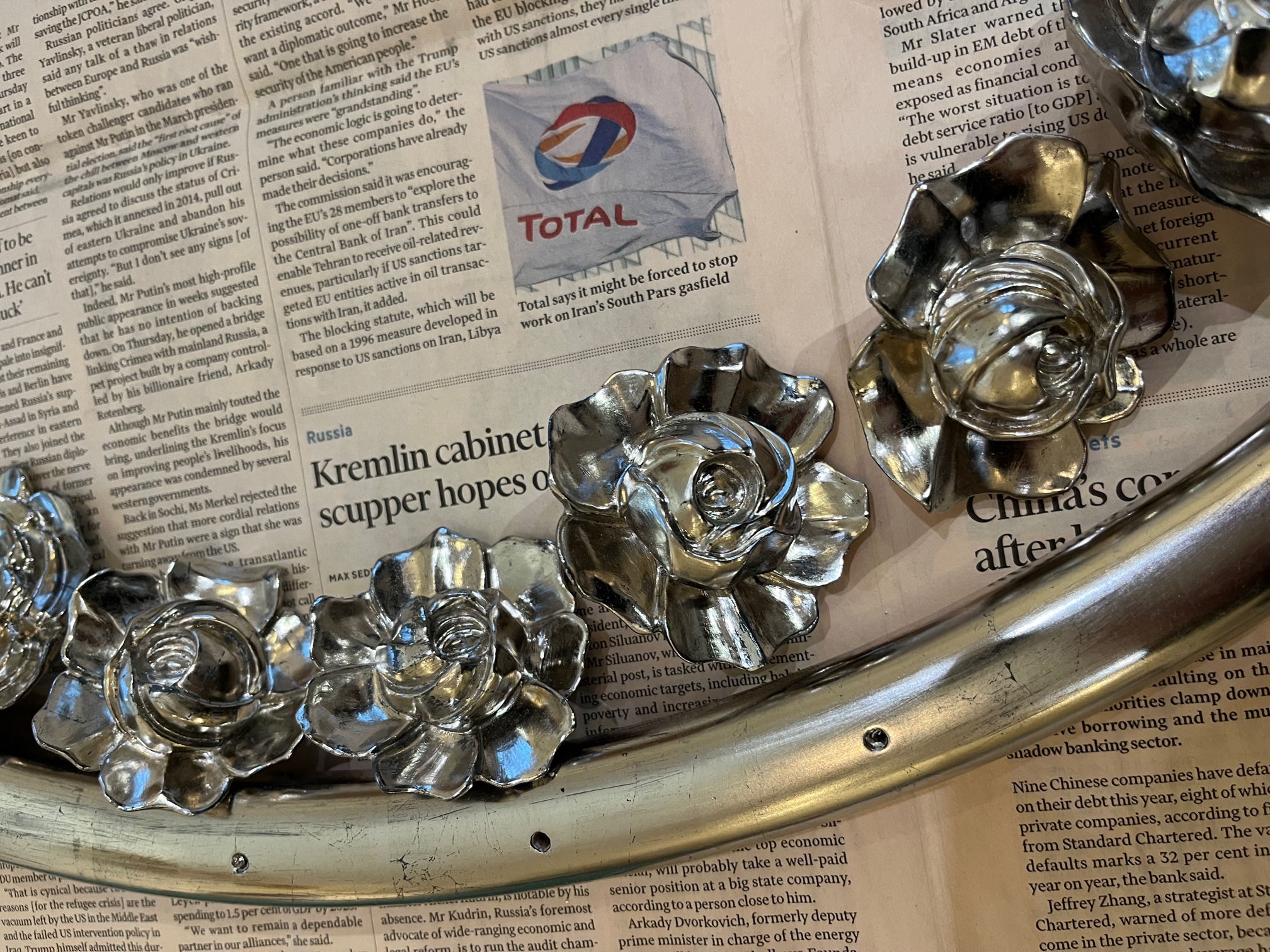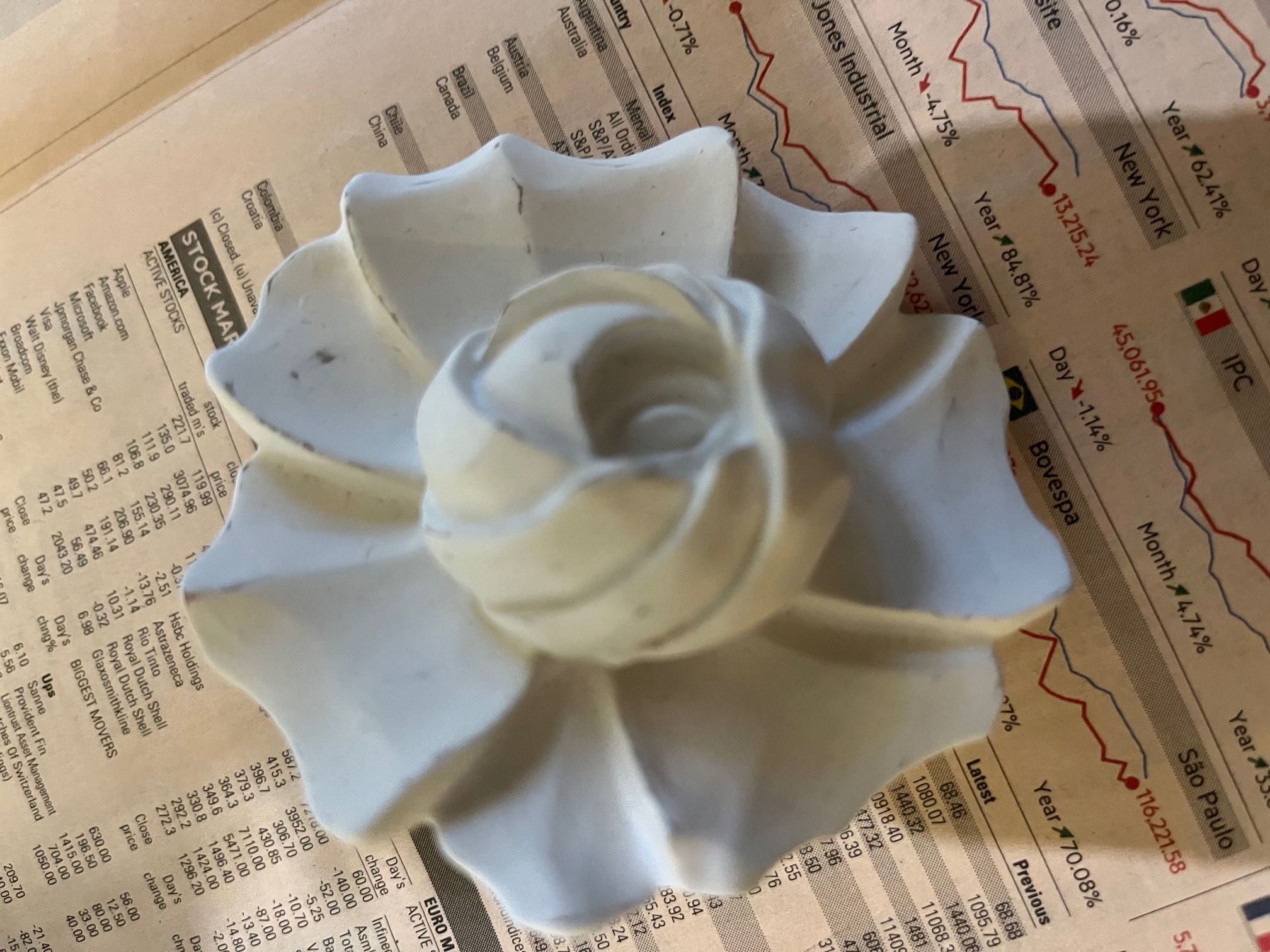 December 2021
Noir AD White Gold
Gilded rose mirror, Noir AD white gold with platinum glass.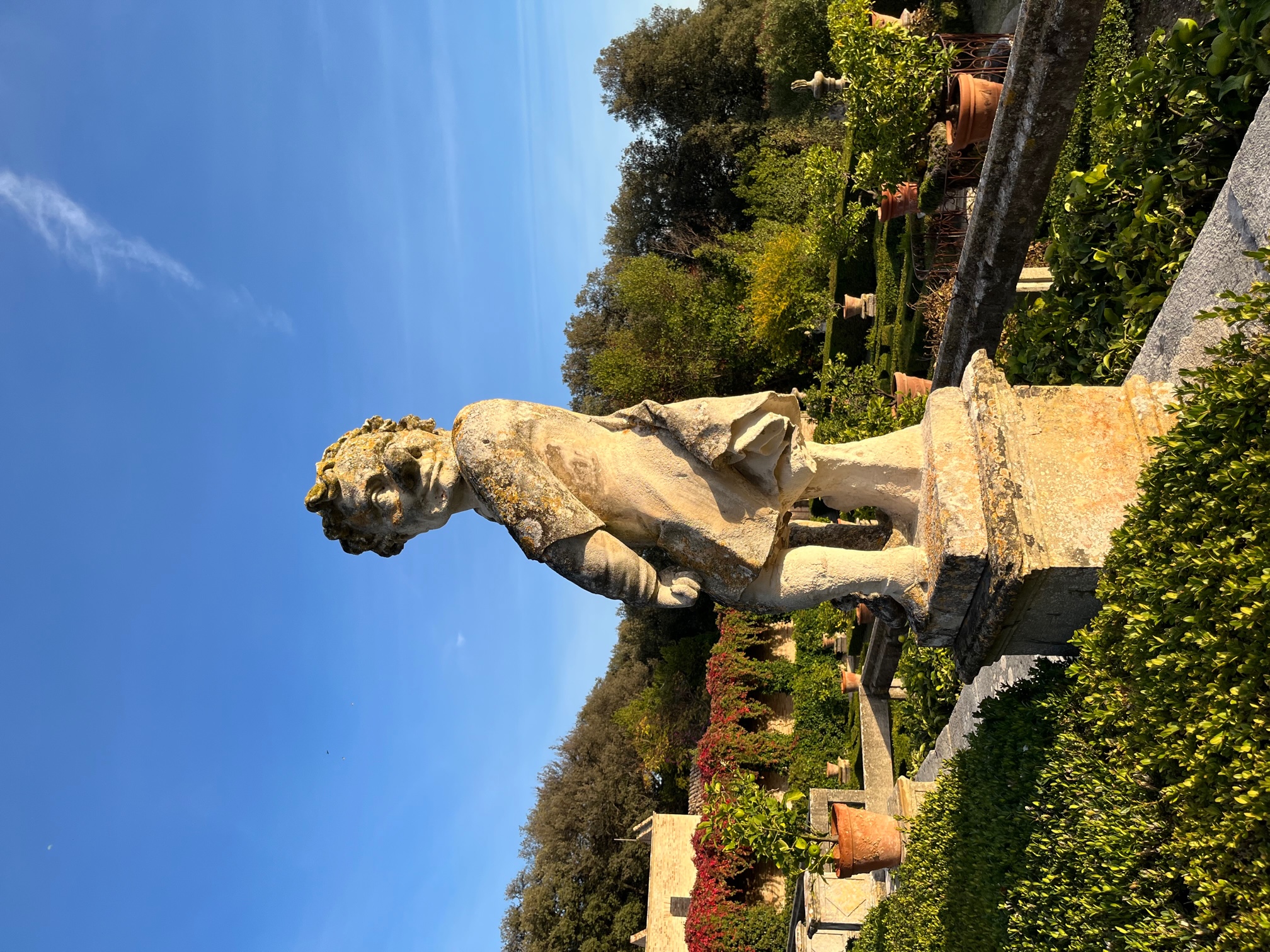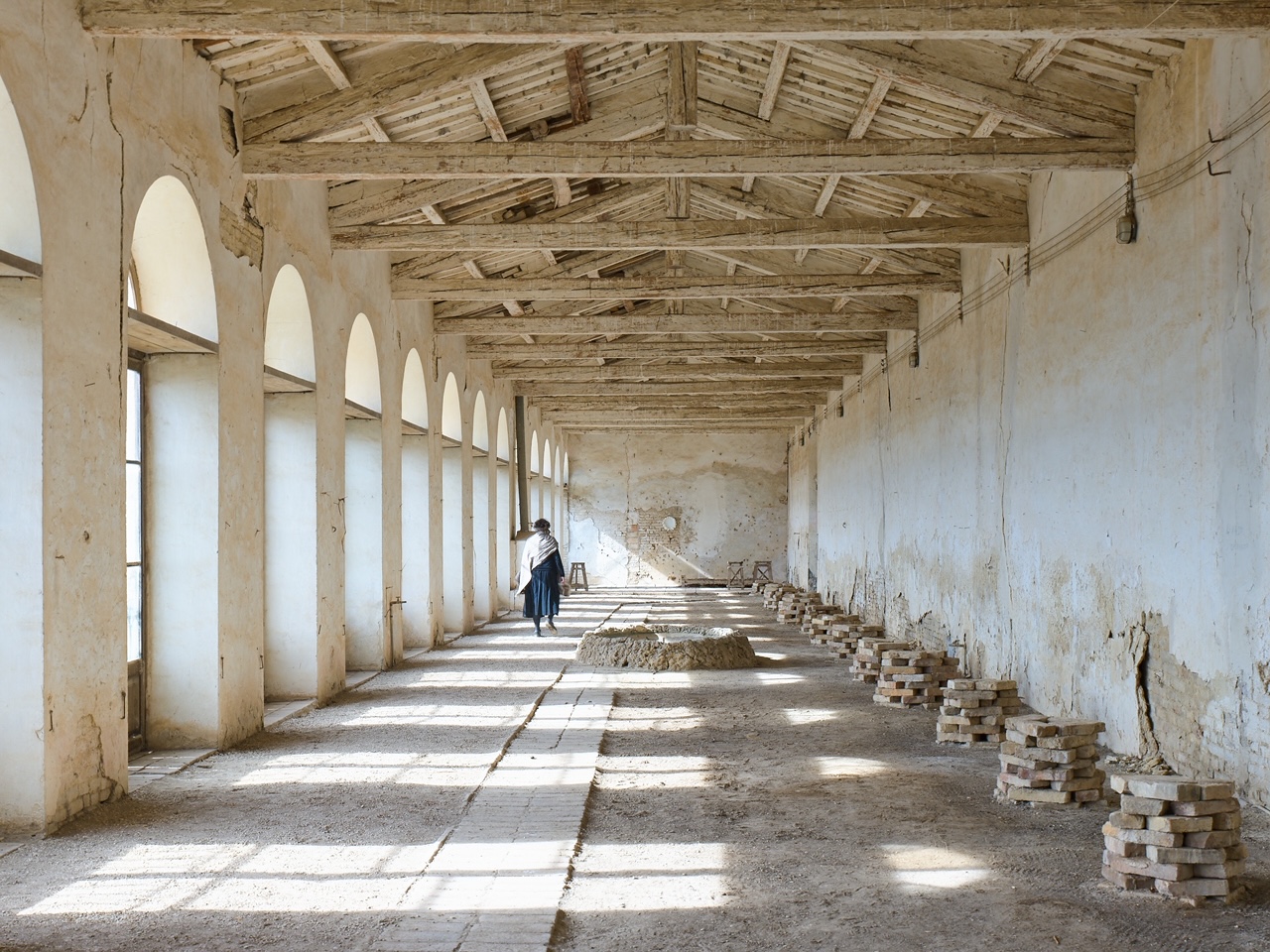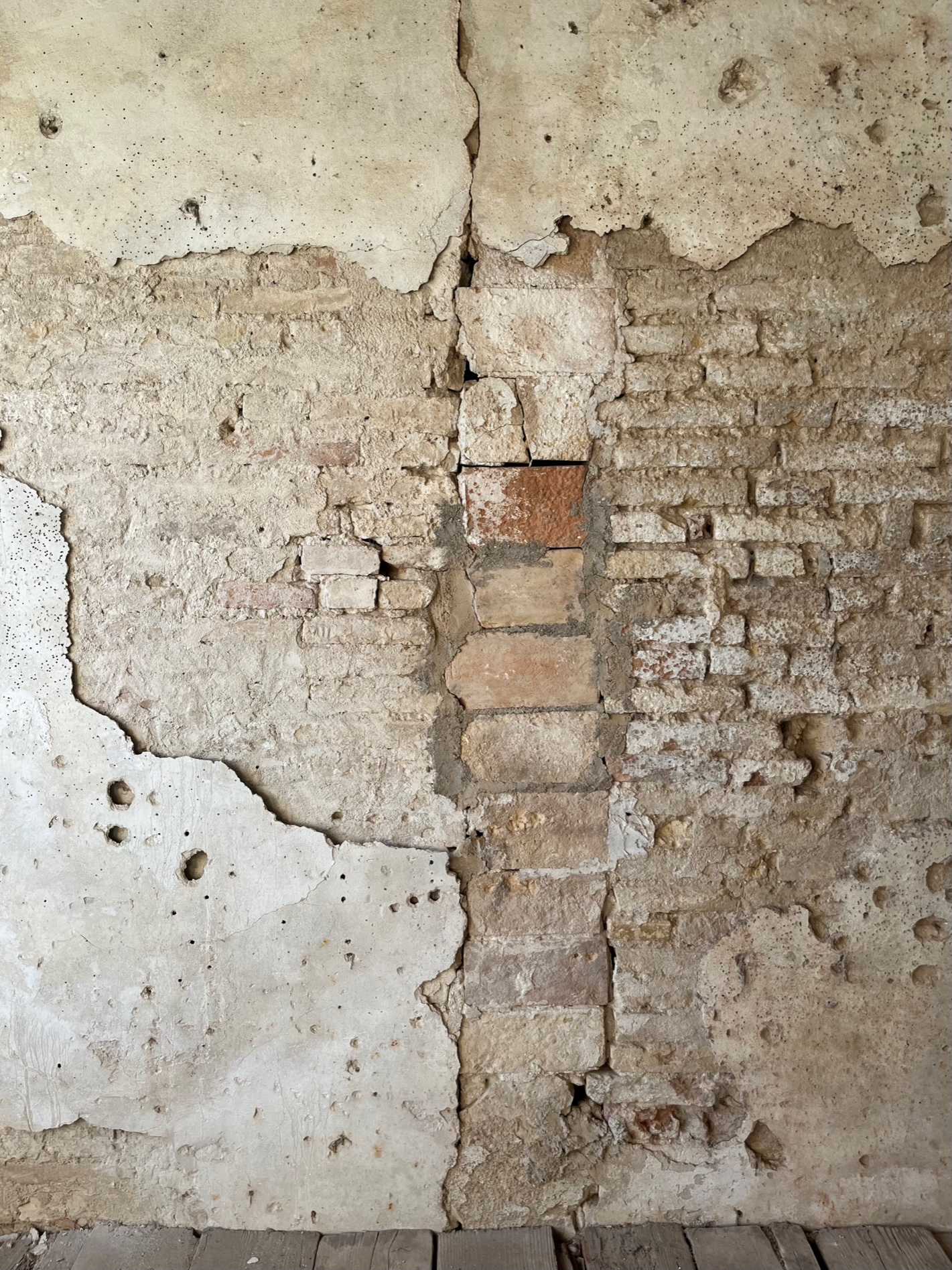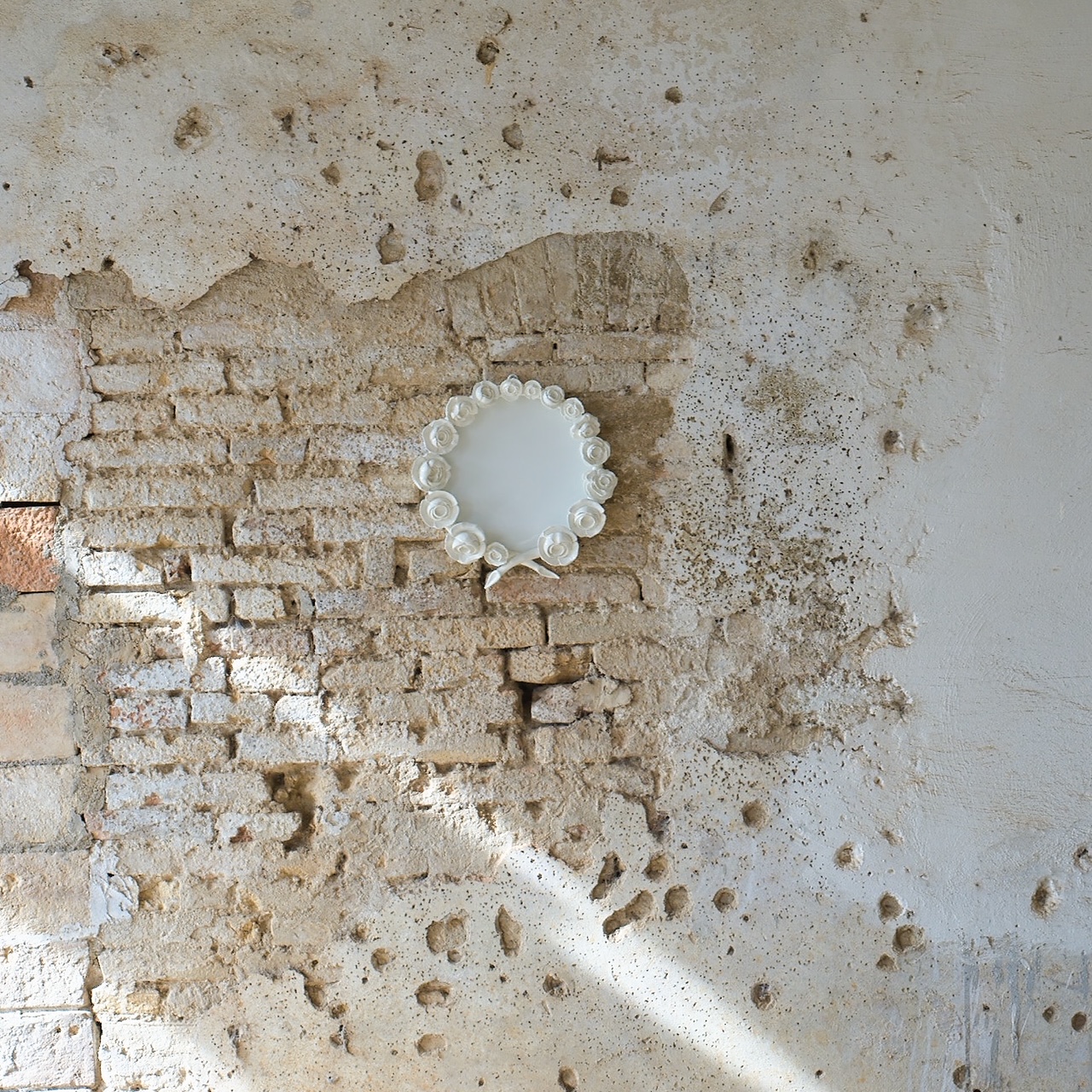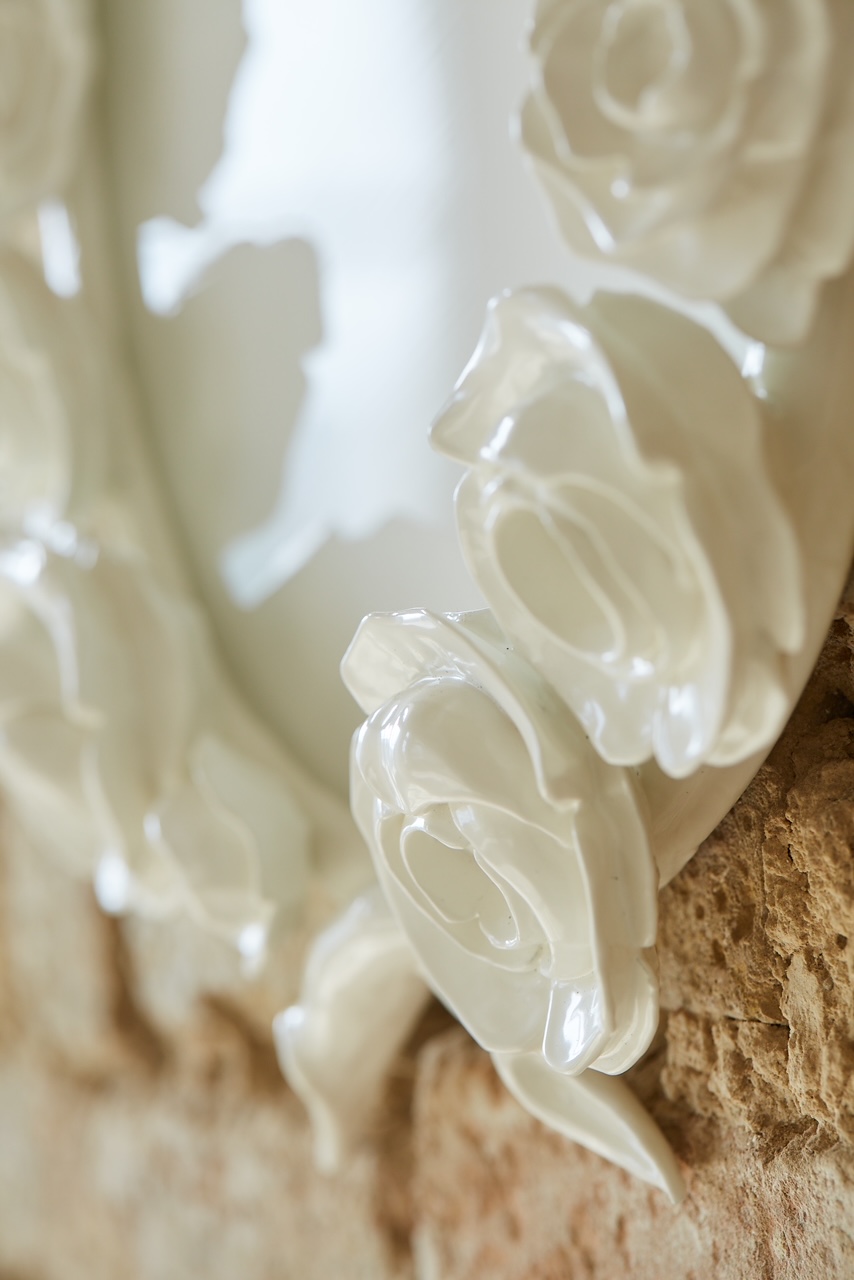 November 2021
Villa Buonaccorsi La Marche
Shooting our film in La Marche.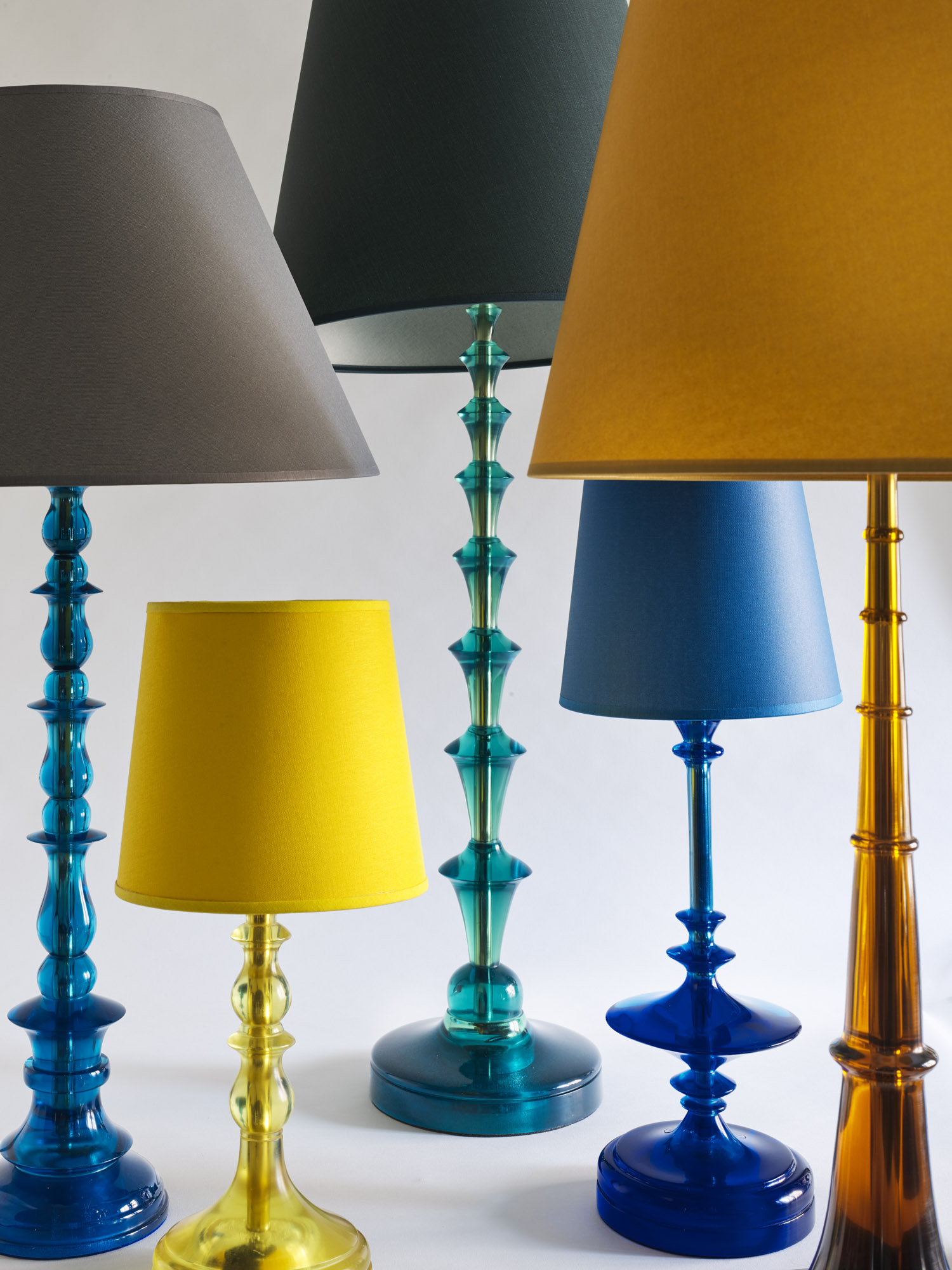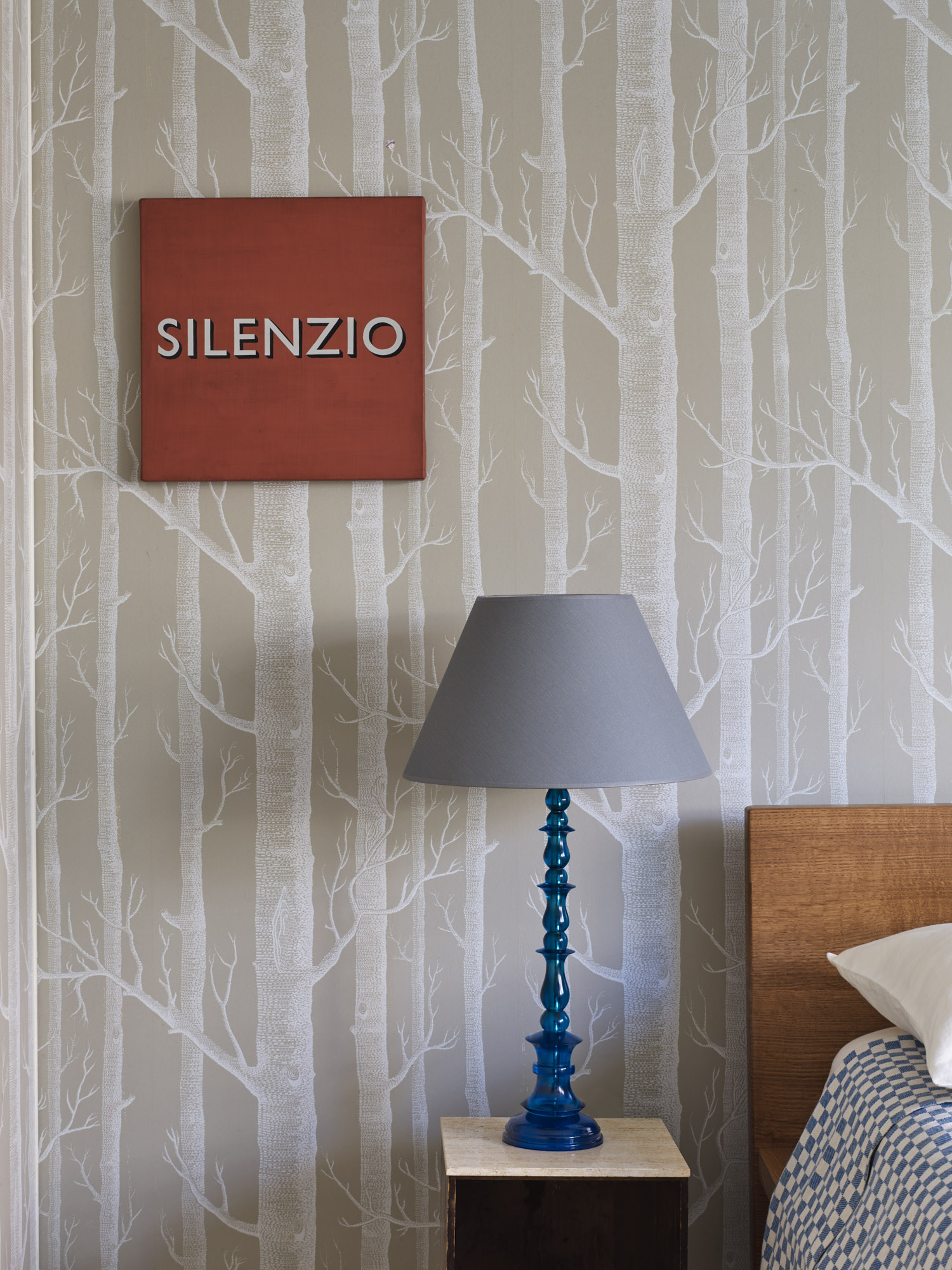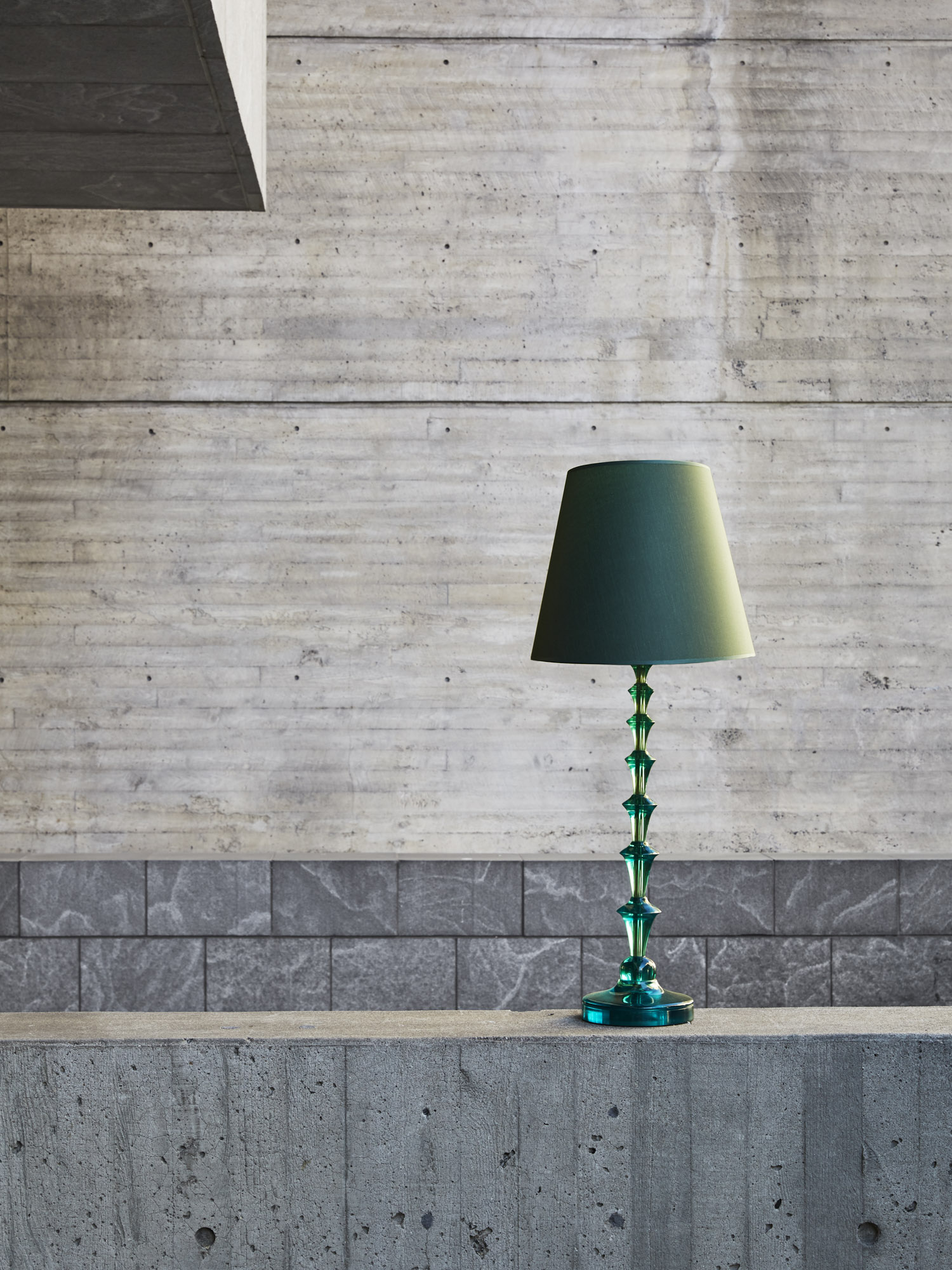 October 2021
Lamp photographs by Annie Schlechter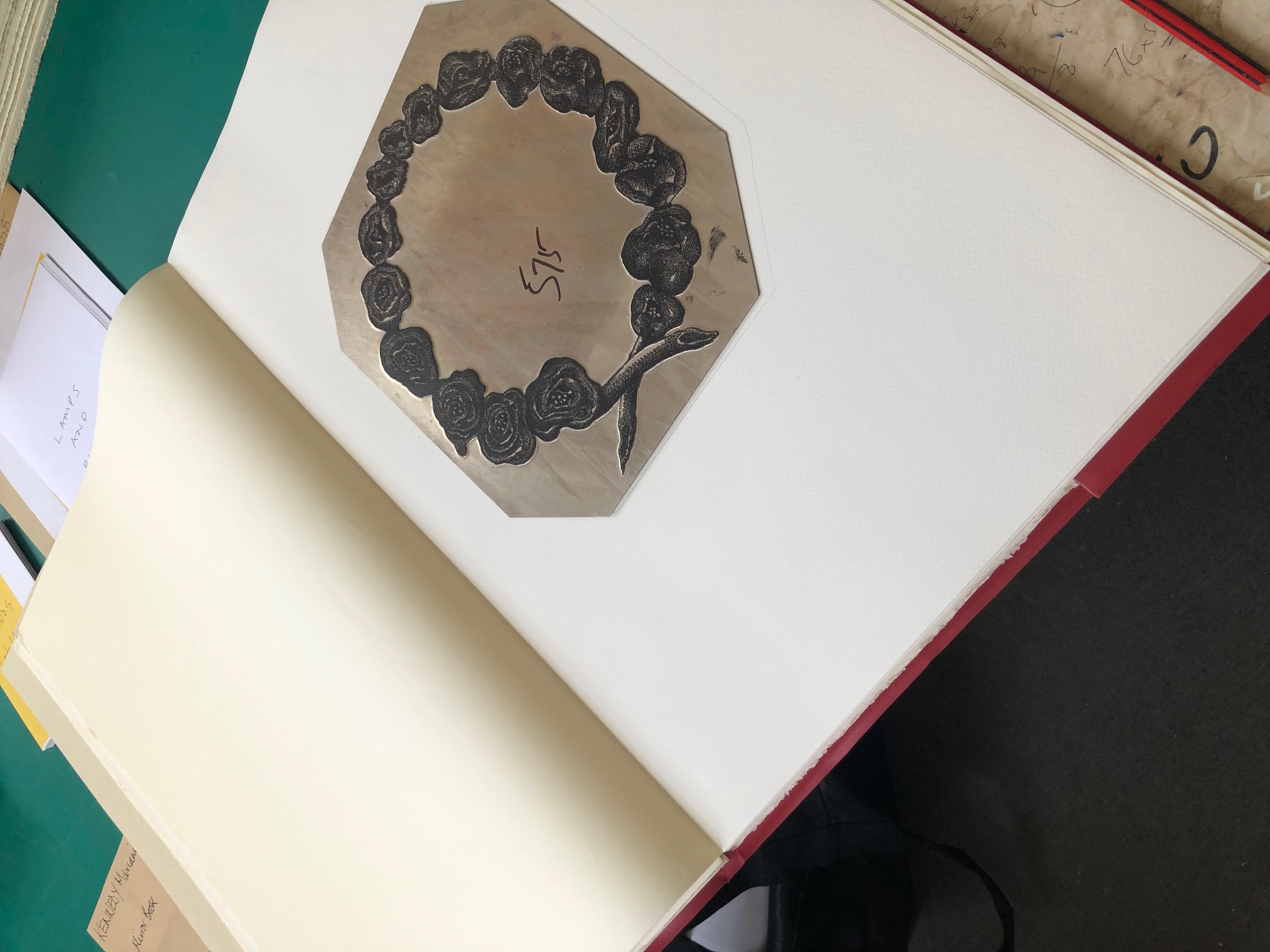 September 2021
New catalogue for Hortus Alchemicus
Printed by John Grice at Evergreen Press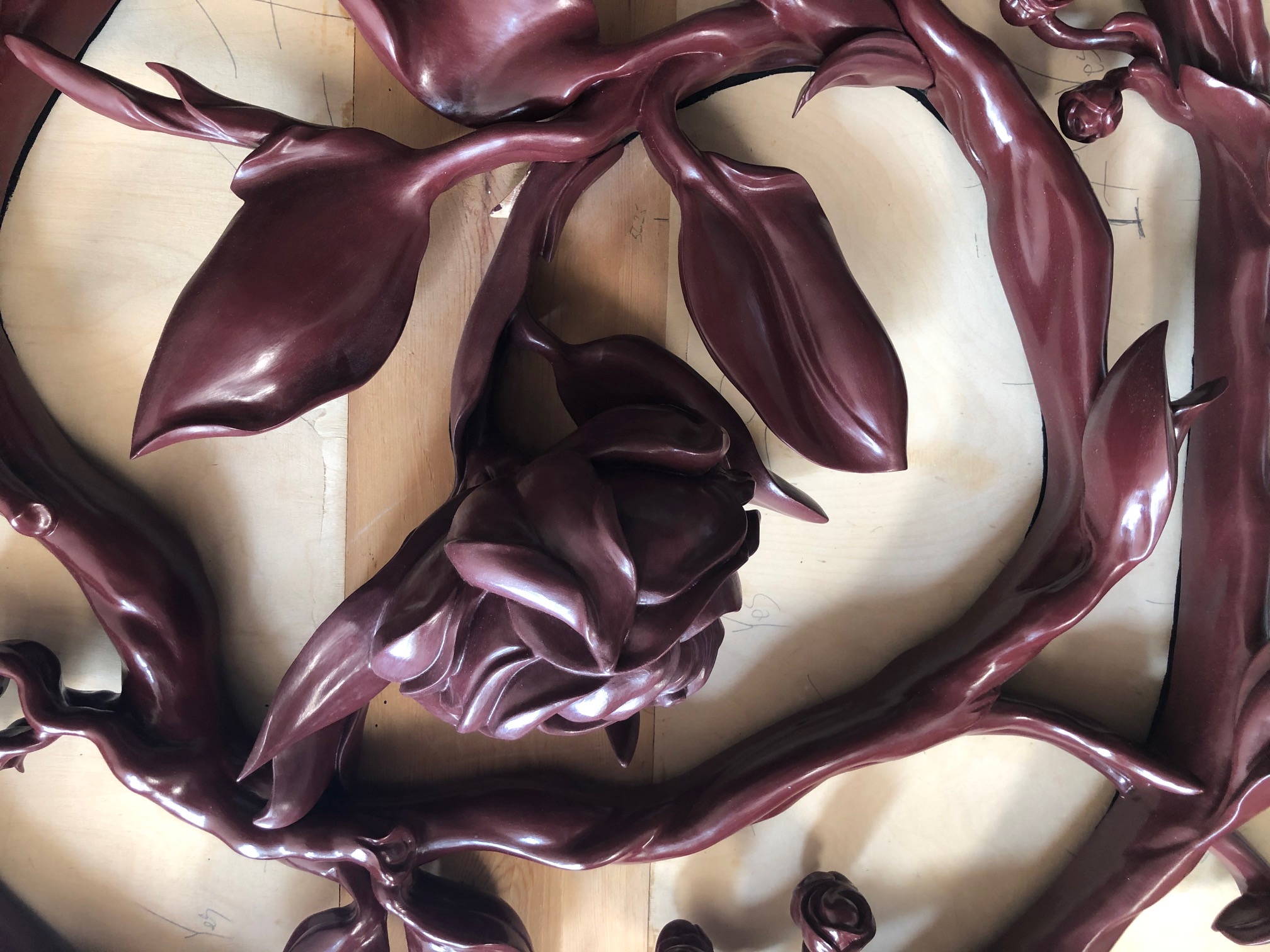 June 2021
Carved Mirror in progress
With caput mortuum pigment/pink glass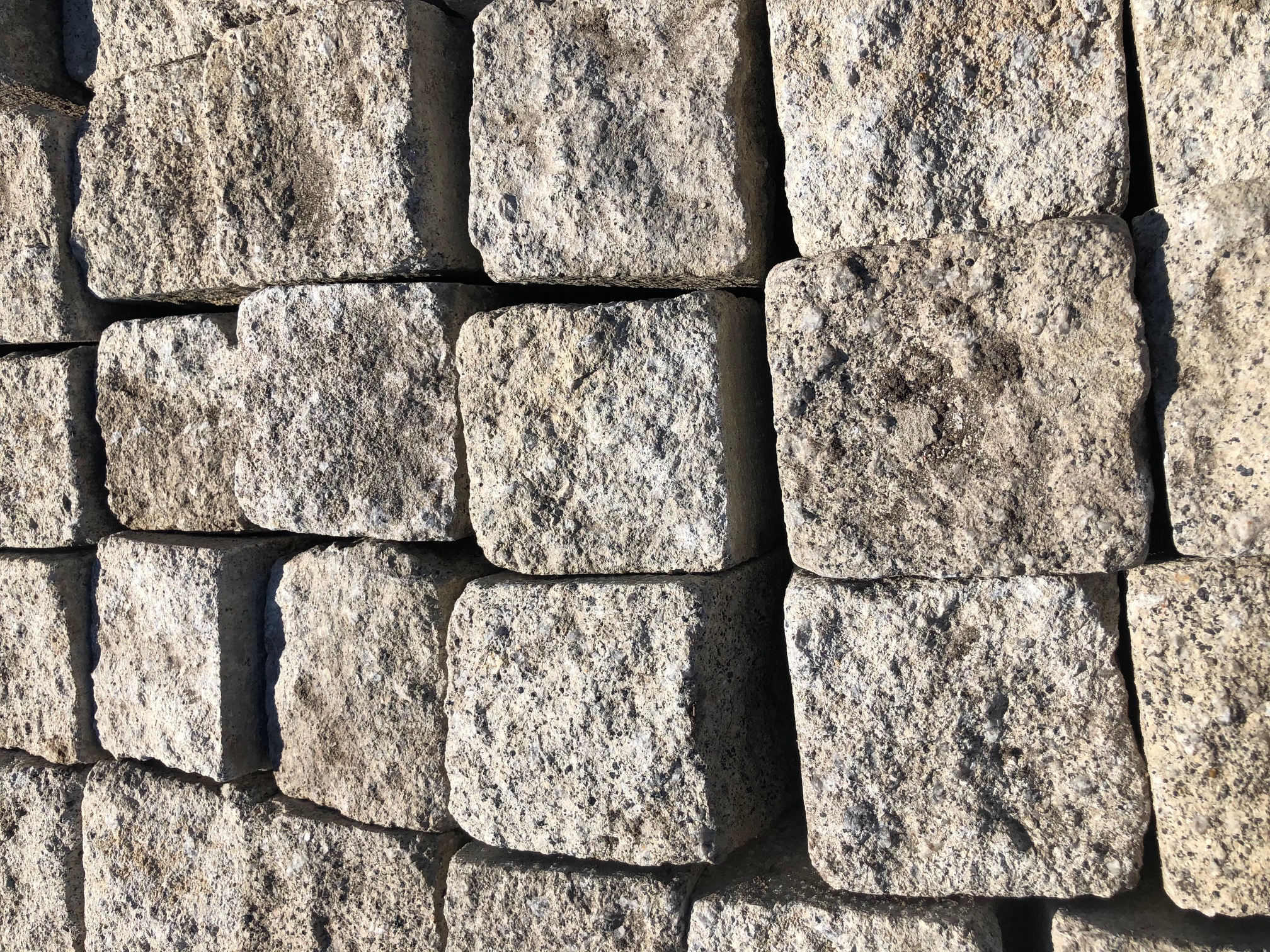 April 2021
Stone
18 century stone sets for our back court yard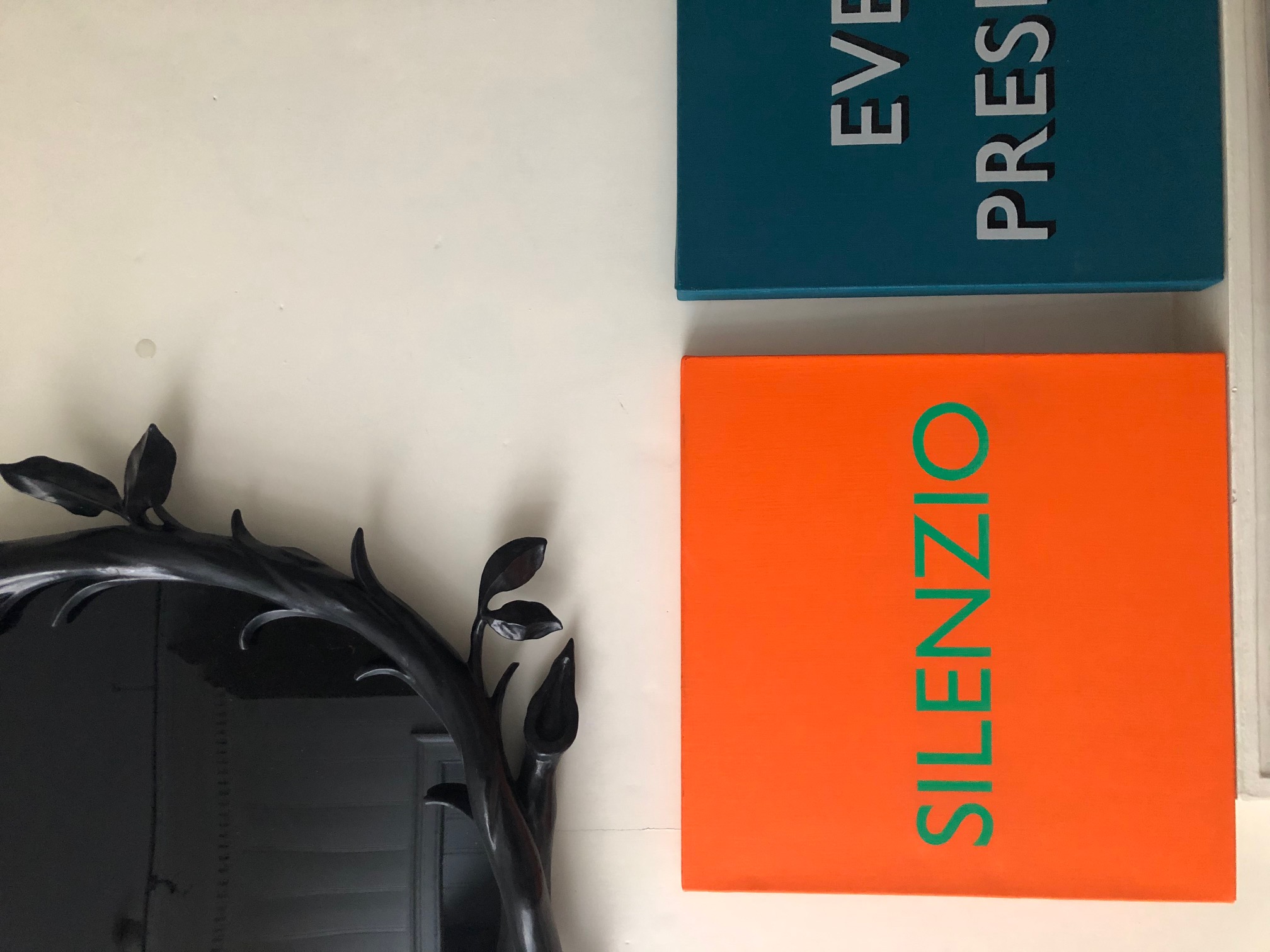 February 2021
Silenzio
Painted emblems with carved and gessoed noir mirror.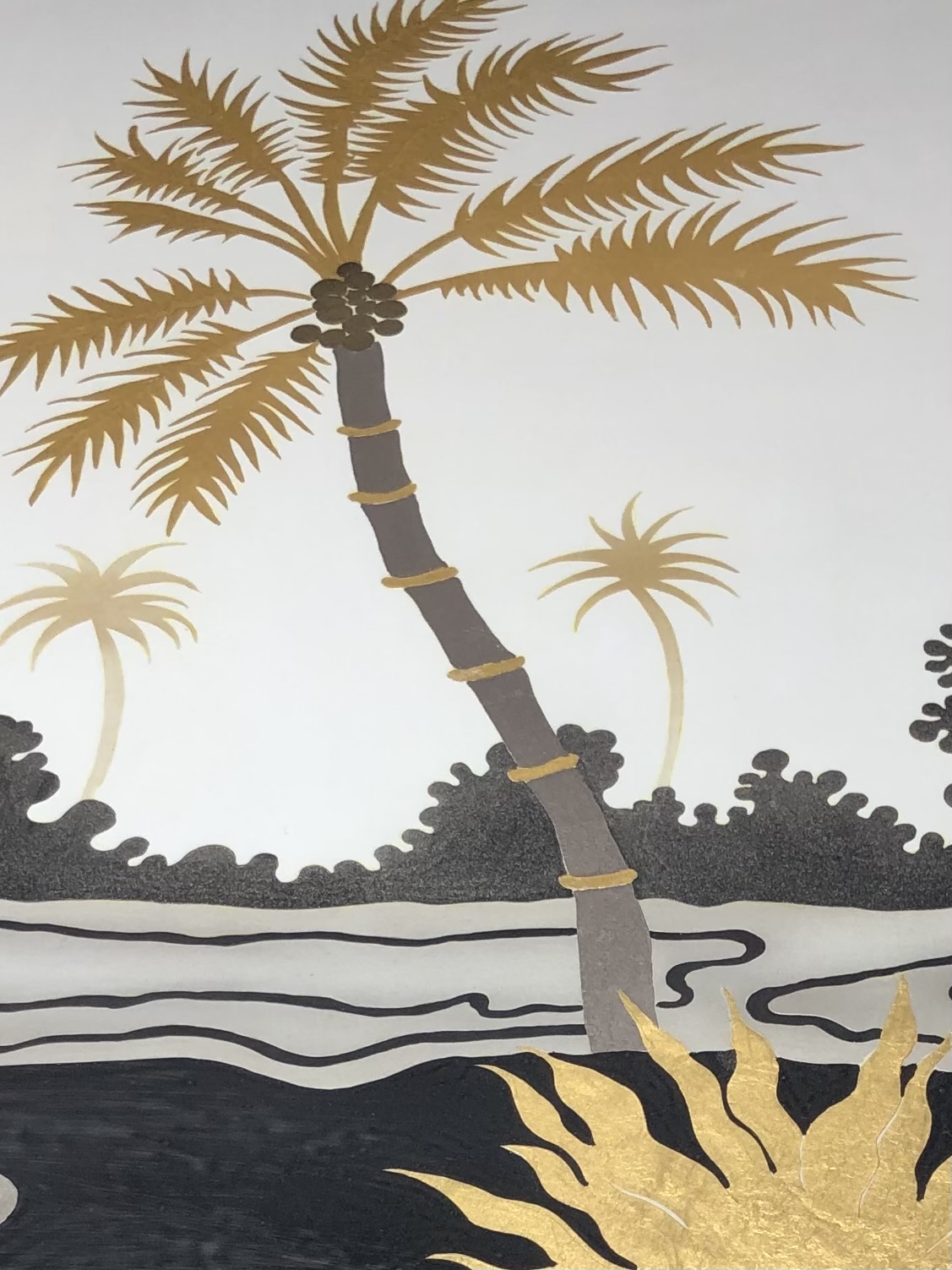 December 2020
New lacquer
Detail from a pair of new lacquer tables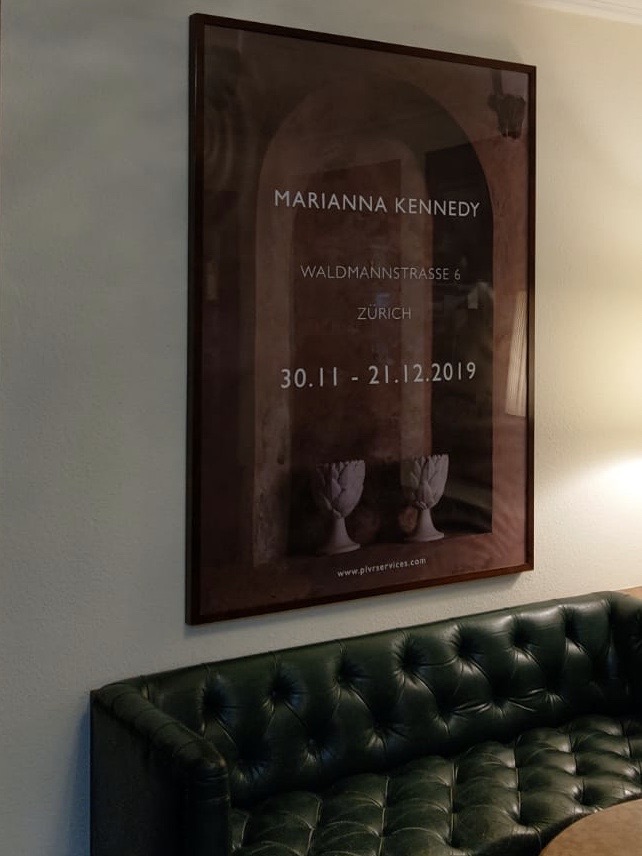 January 2020
Kronenhalle bar, Zurich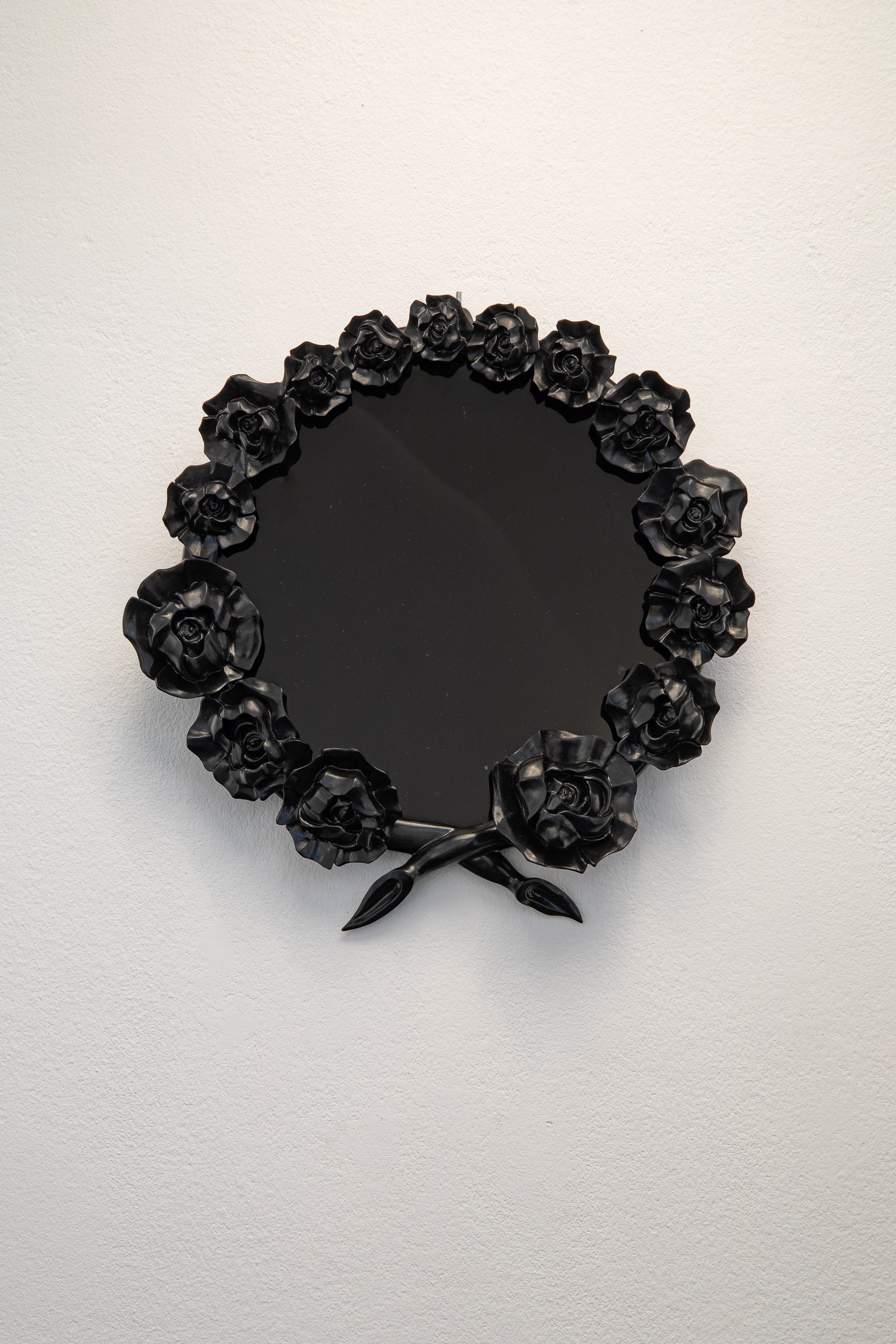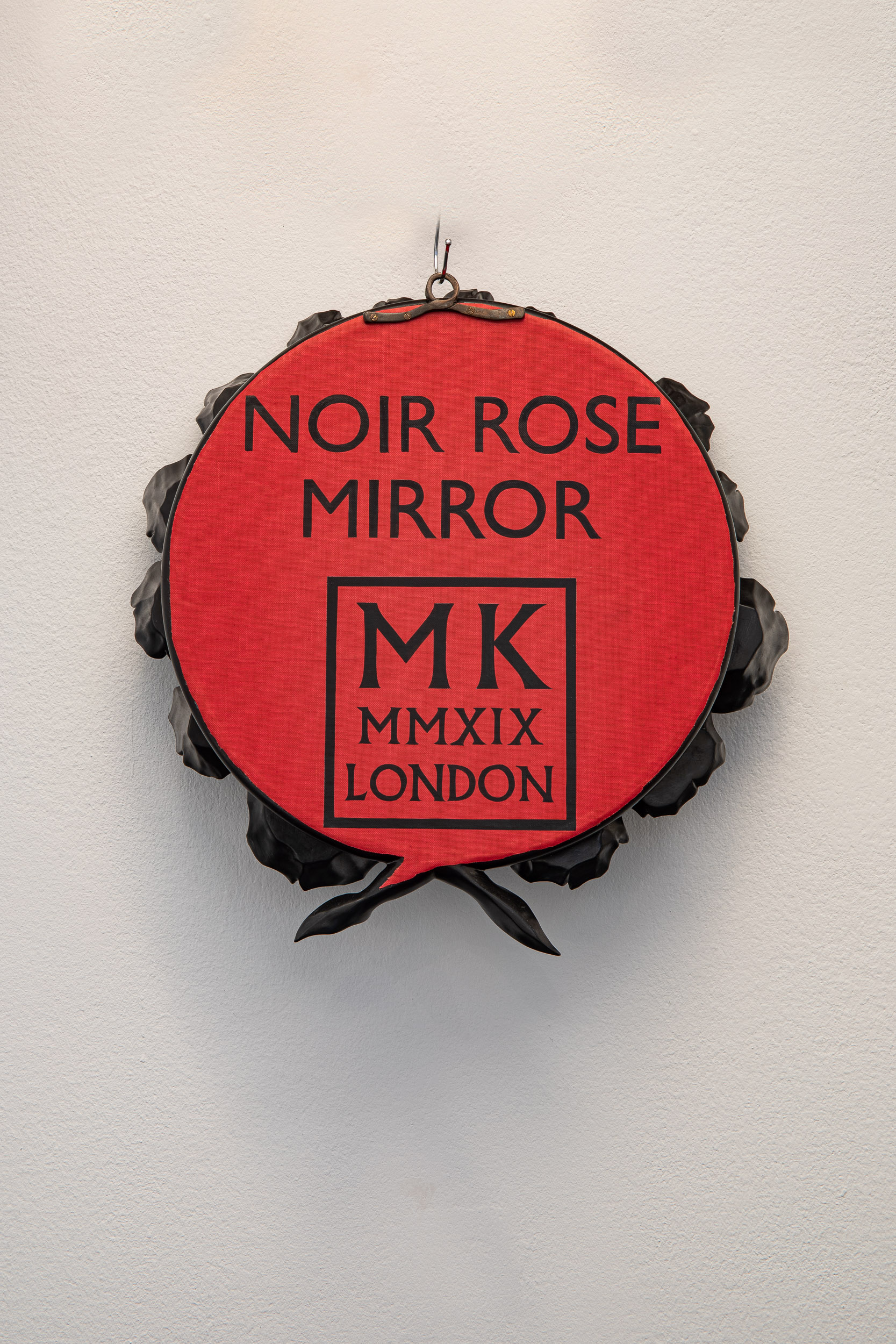 December 2019
Noir Rose Mirror
ES BLÜHT OFT WAS VERDORRT SCHIEN
Often, what seems withered will bloom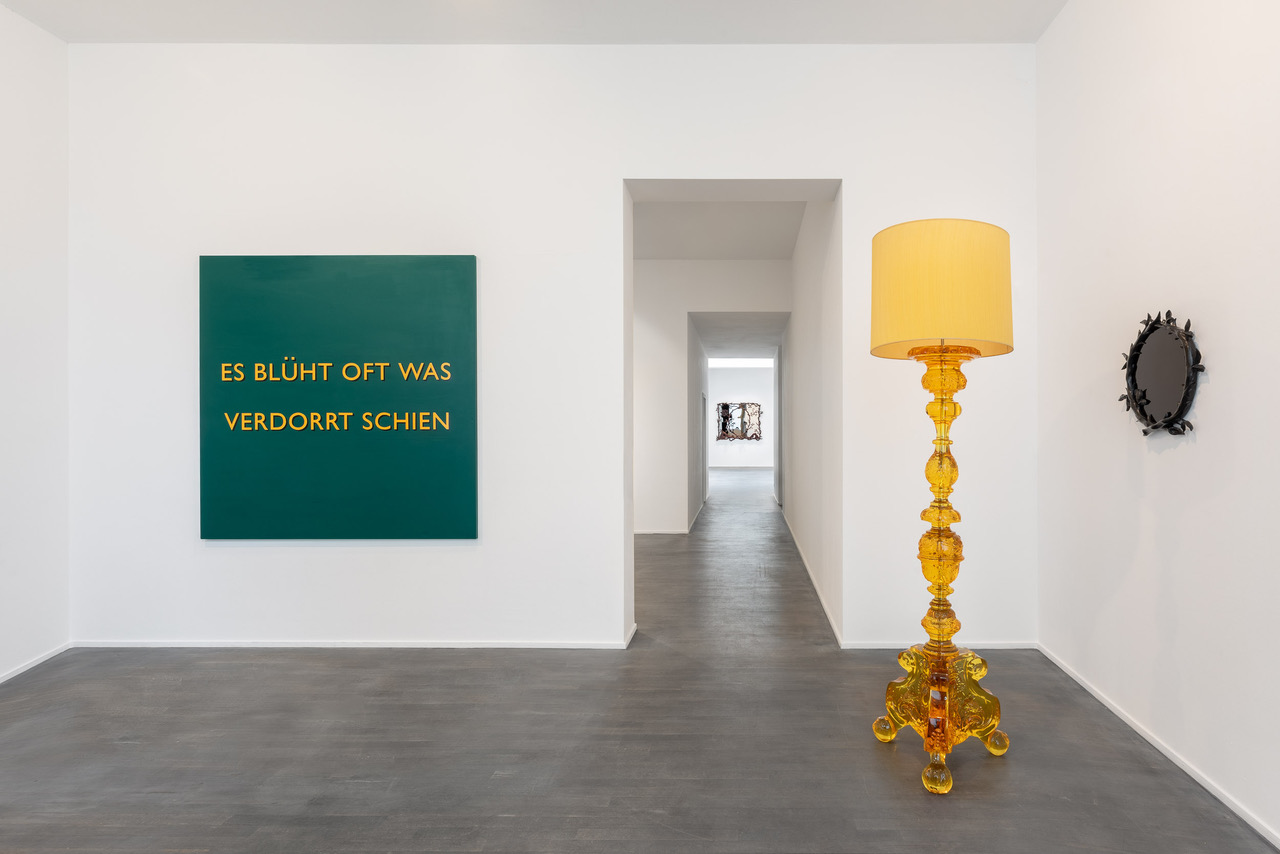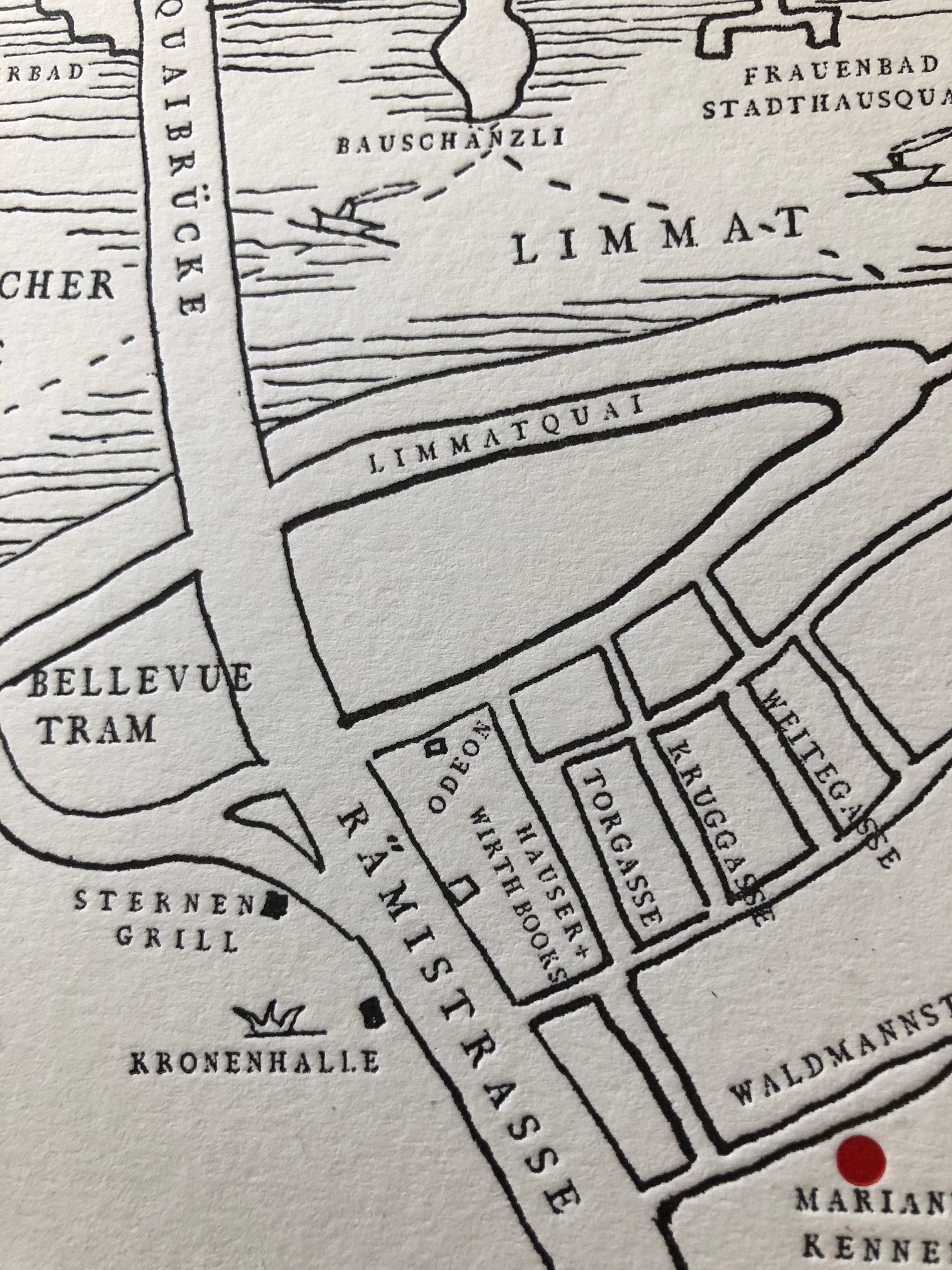 November 2019
Exhibition at Waldmannstrasse 6, Zurich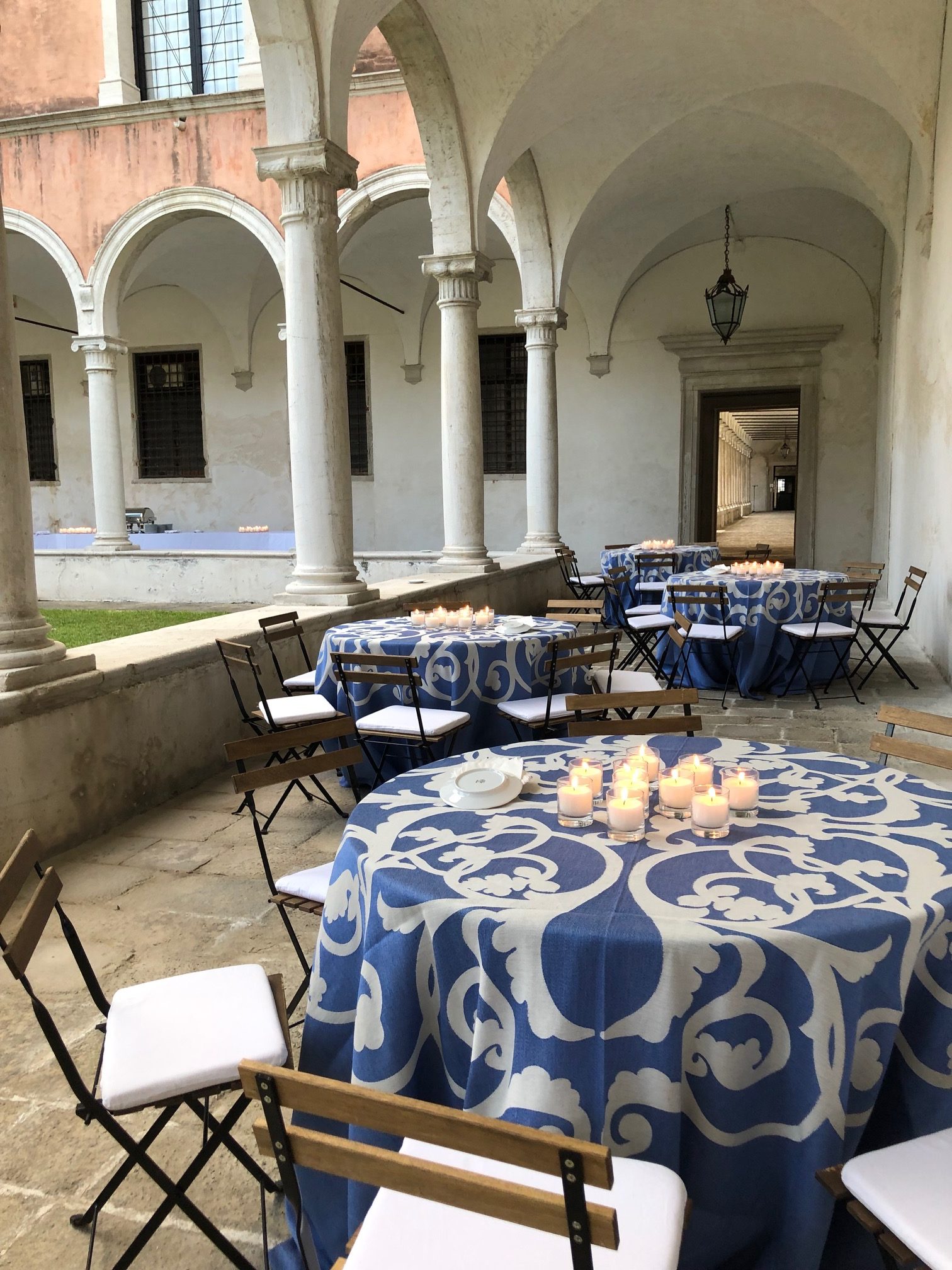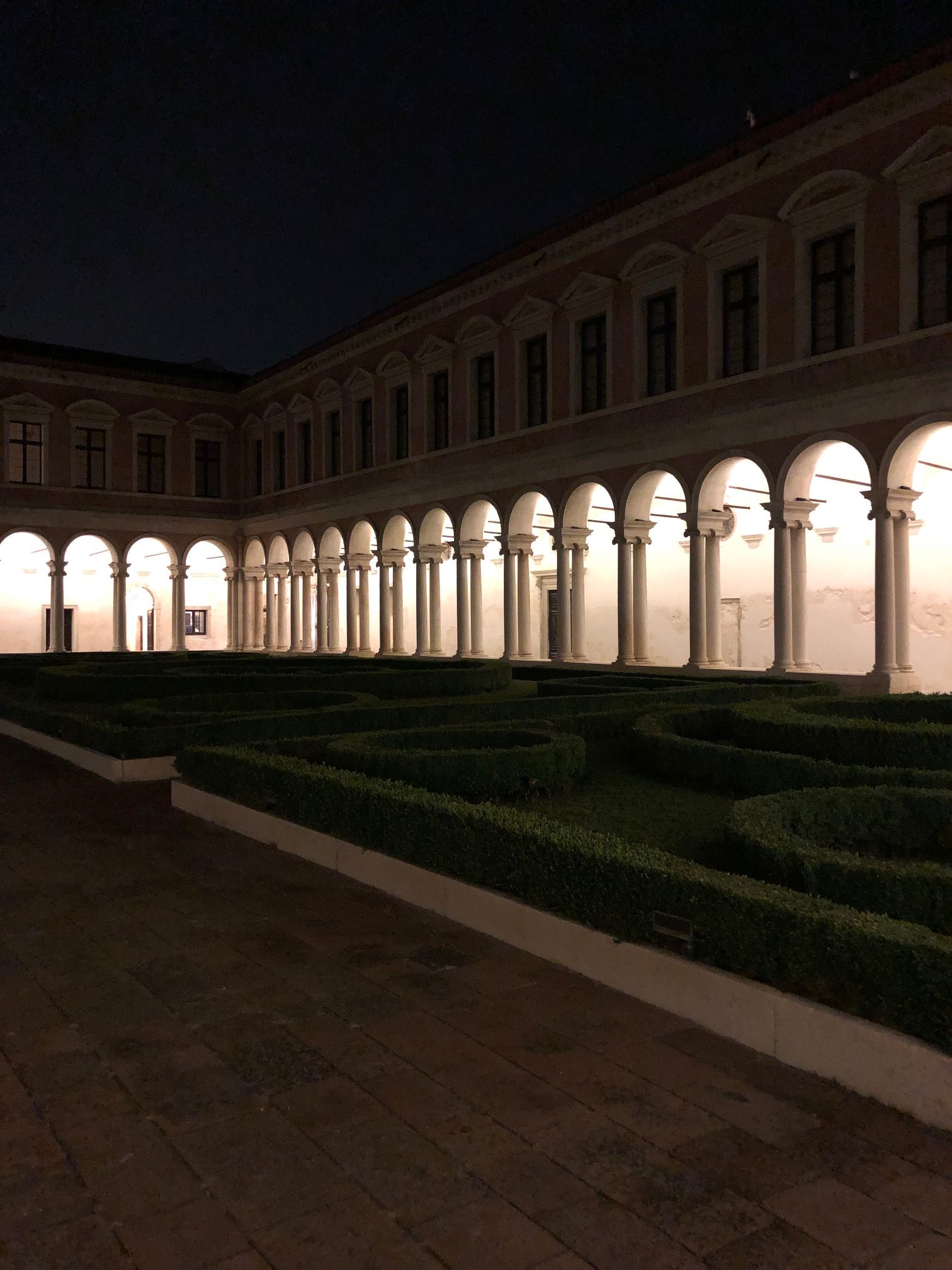 September 2019
Invincible Truth Exhibition
Exhibition Opening at Fondazione Giorgio Cini.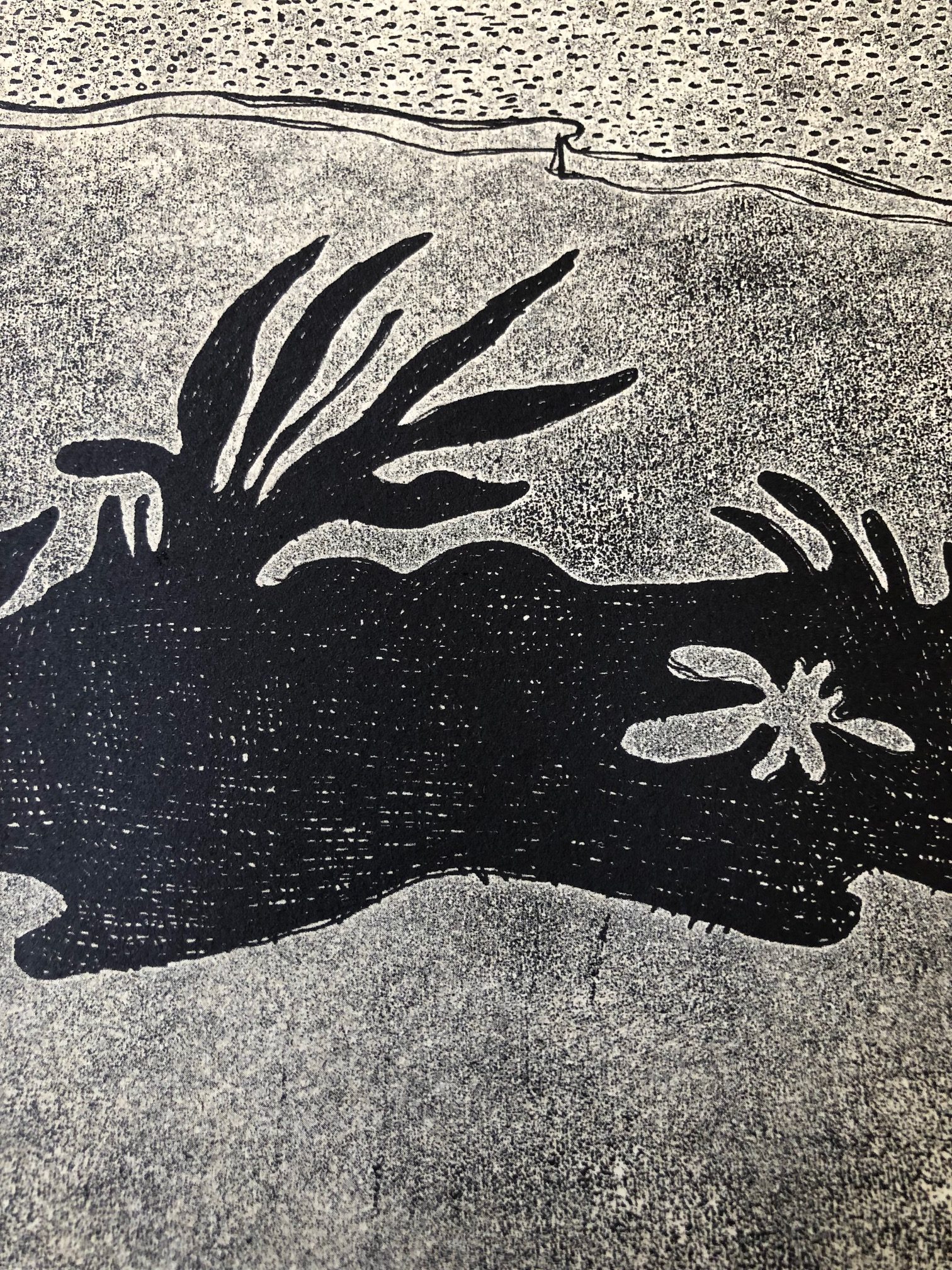 July 2019
Invincible Truth a printed book
A detail from one of the plates printed by Evergreen Press.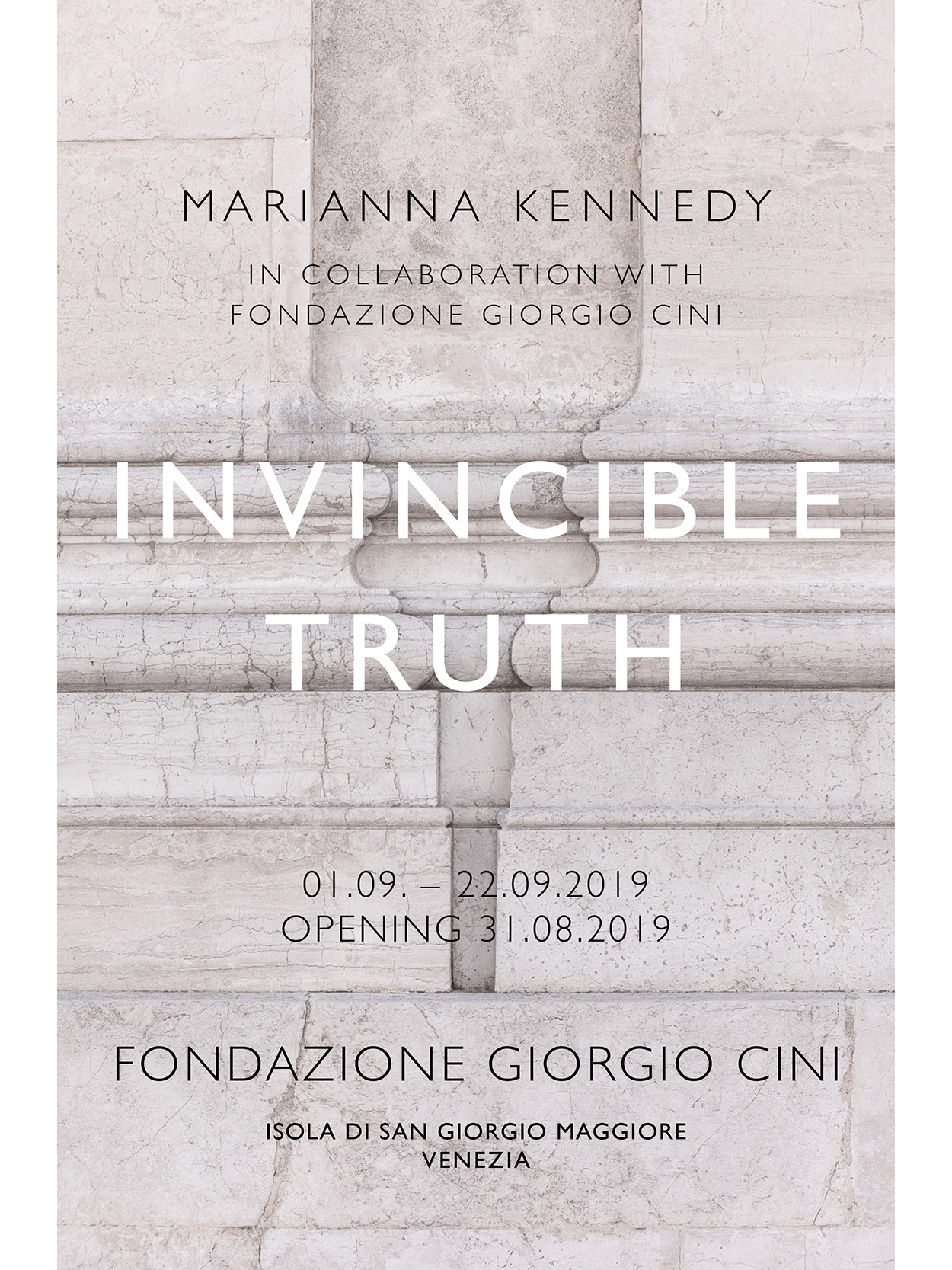 May 2019
Invincible Truth
An exhibition in collaboration with Fondazione Giorgio Cini, will be held at Sala Borges from September 1st though September 22nd, opposite the Borges labyrinth on the island of San Giorgio Maggiore.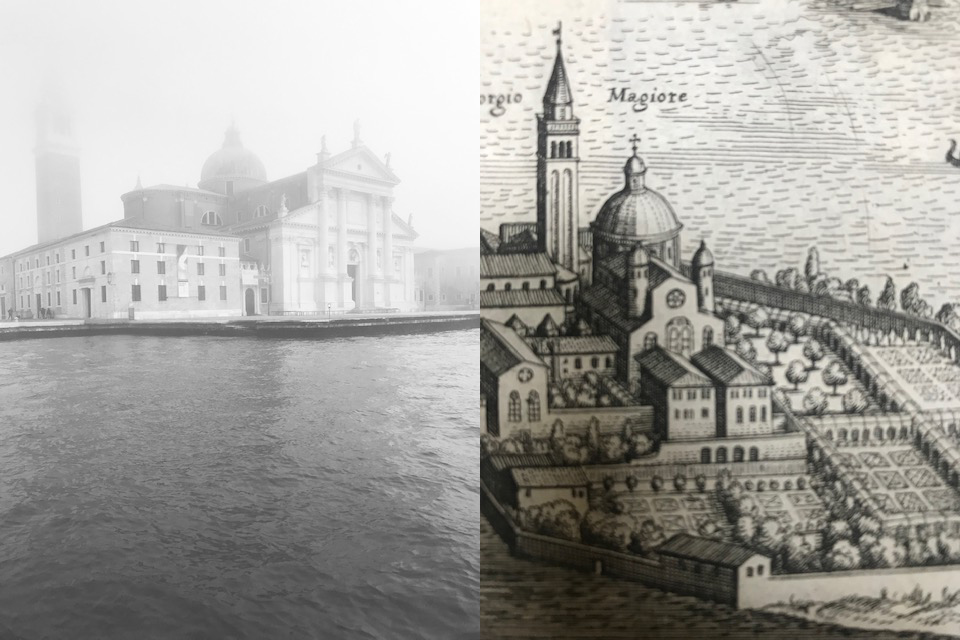 April 2019
San Giorgio Maggiore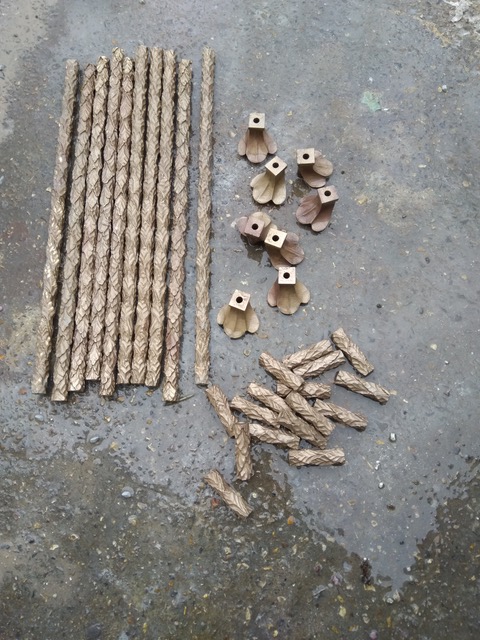 March 2019
Bronze Petal Table
Made in bronze and ready for dark patina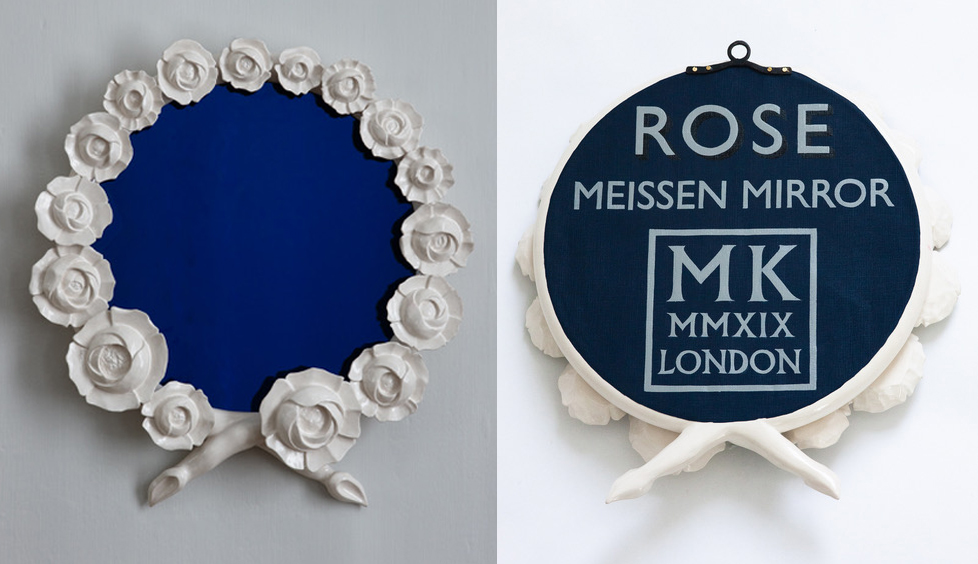 February 2019
Meissen Mirror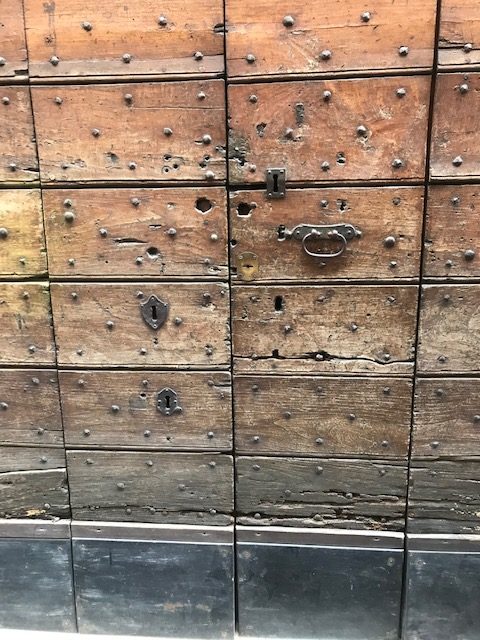 December 2018
A door in Rome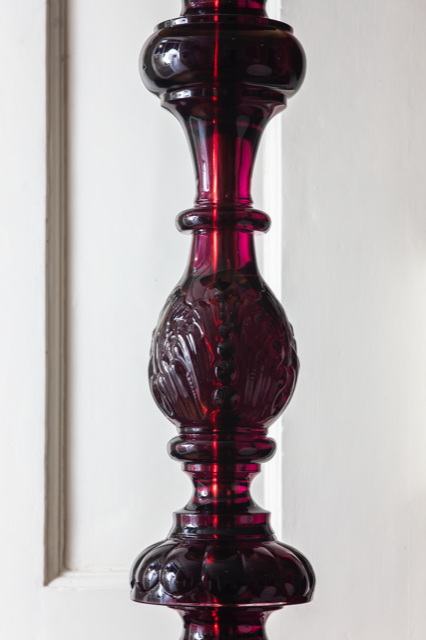 October 2018
Cappellin Cawdor Lamp
Inspired by amethyst coloured bowl made by Vittorio Zecchin.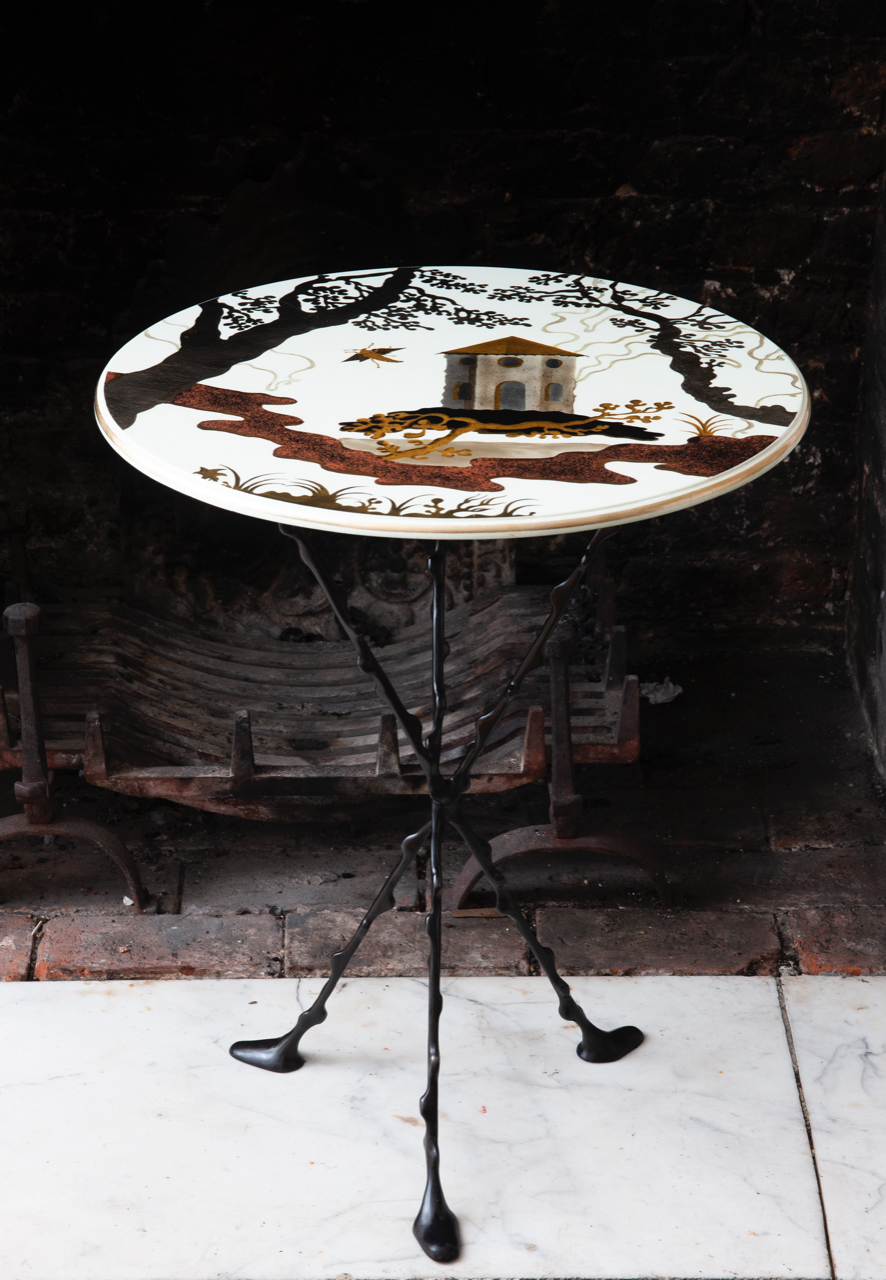 September 2018
White Gueridon Table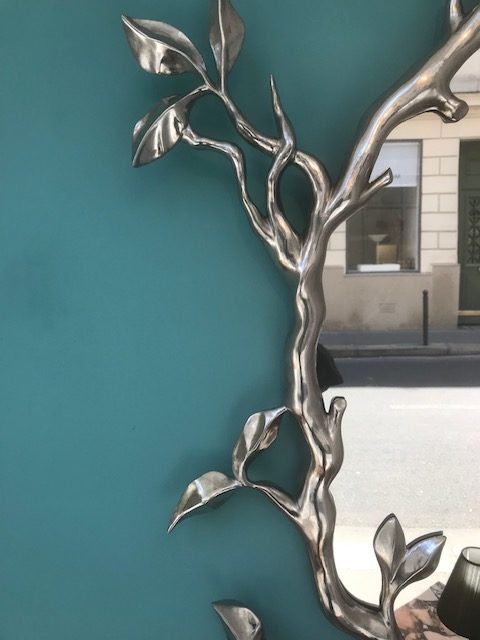 July 2018
Records of Time
A detail of Records of Time, our mirror in Paris with platinum glass and caplain white gold.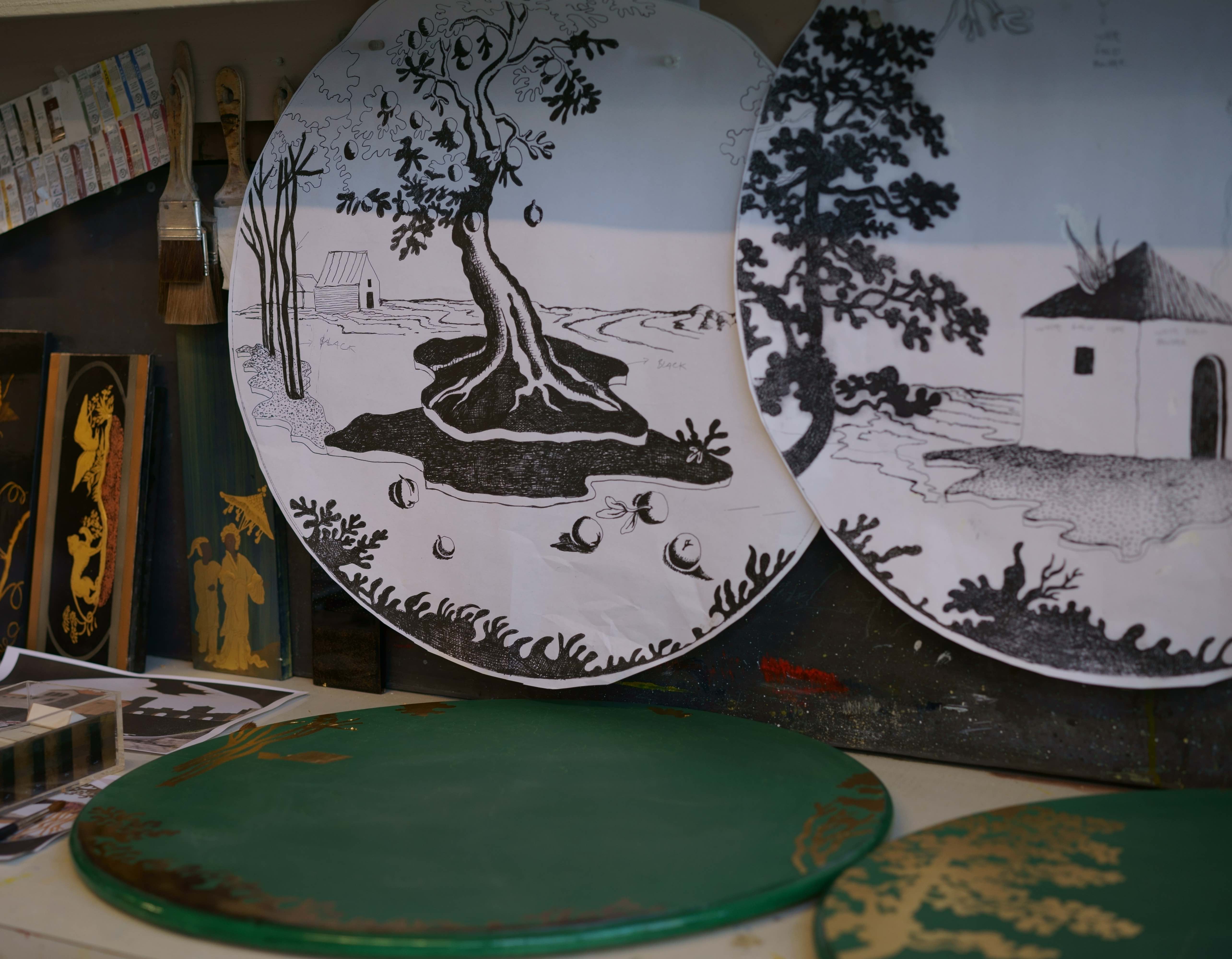 May 2018
Green lacquer tables
Drawings for our green lacquer tables in progress.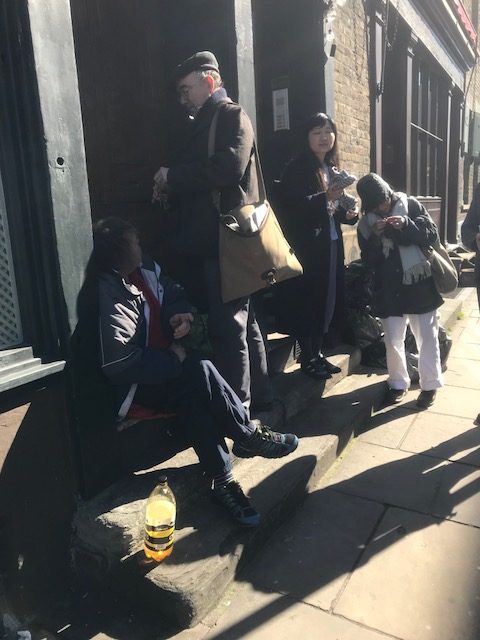 April 2018
Early morning at No 3 Fournier street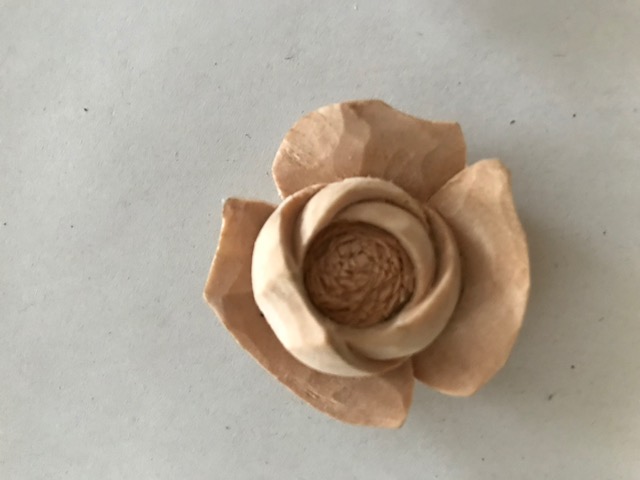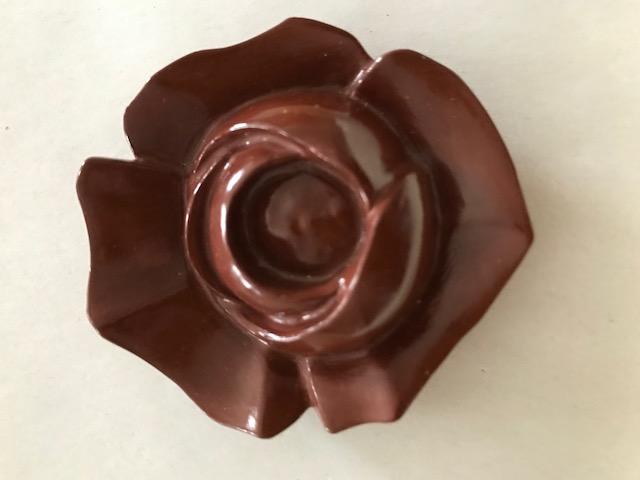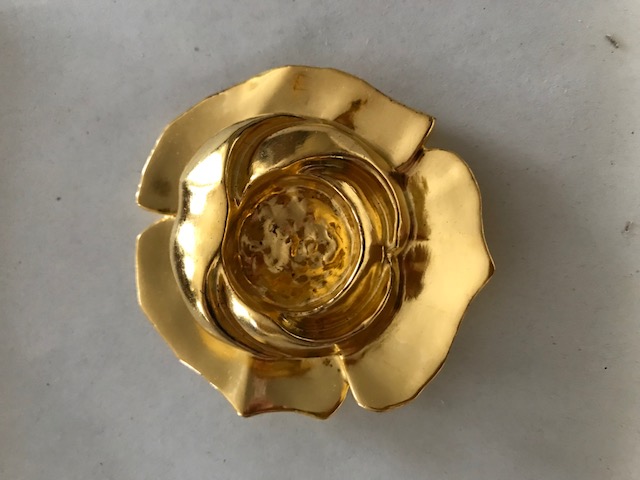 March 2018
Gilded Roses
Gessoed and gilded carved rose samples for our next mirror.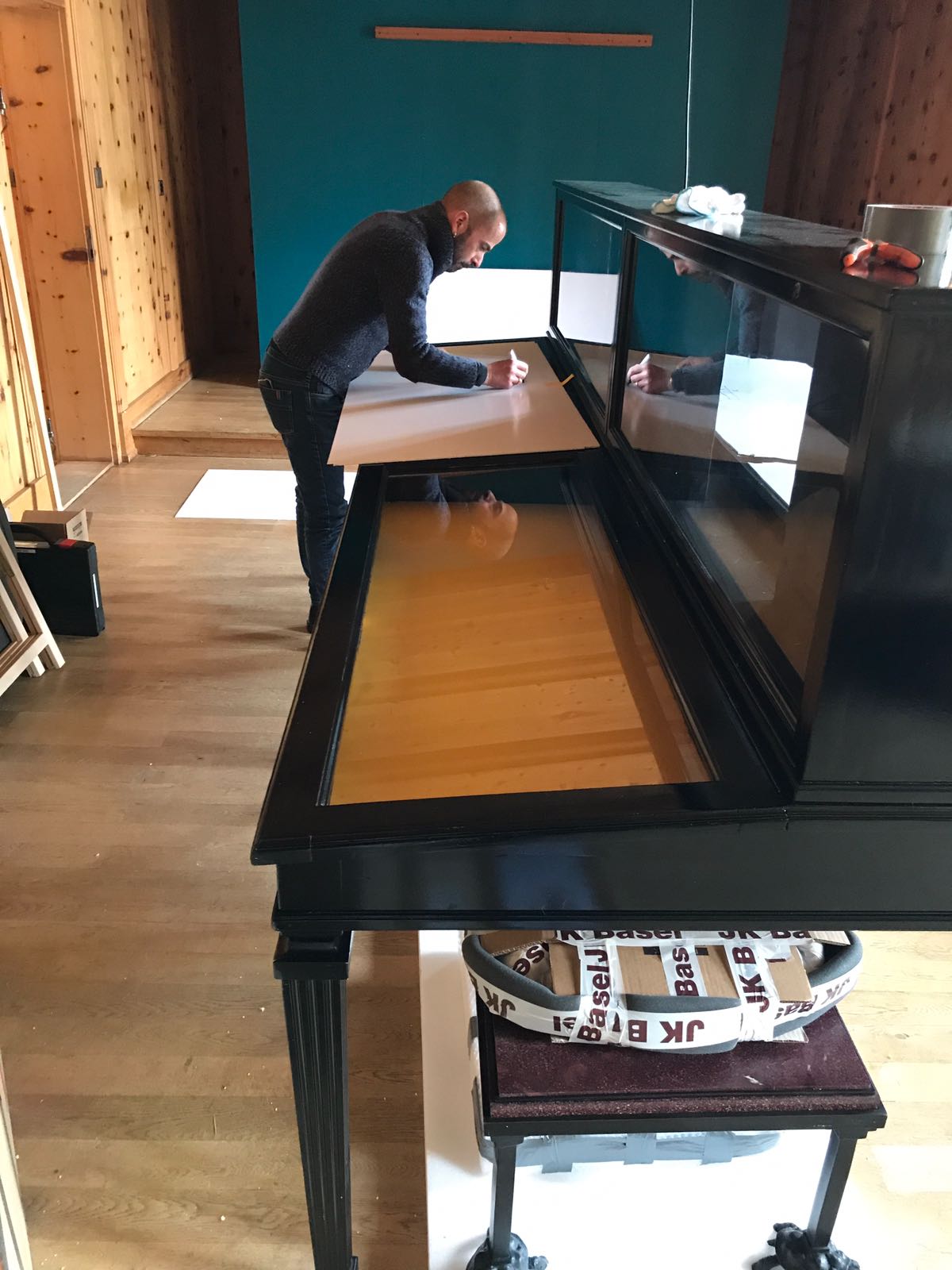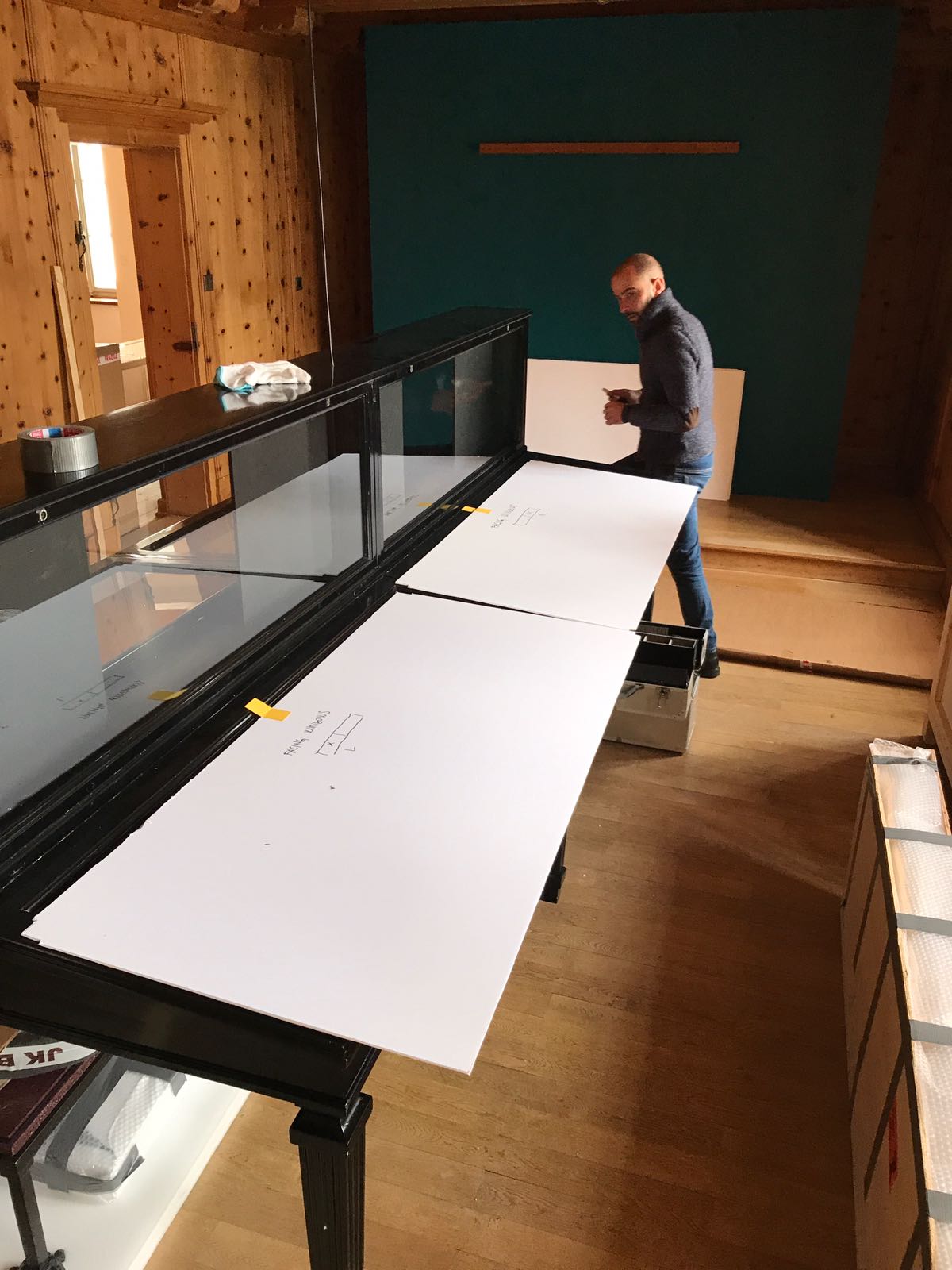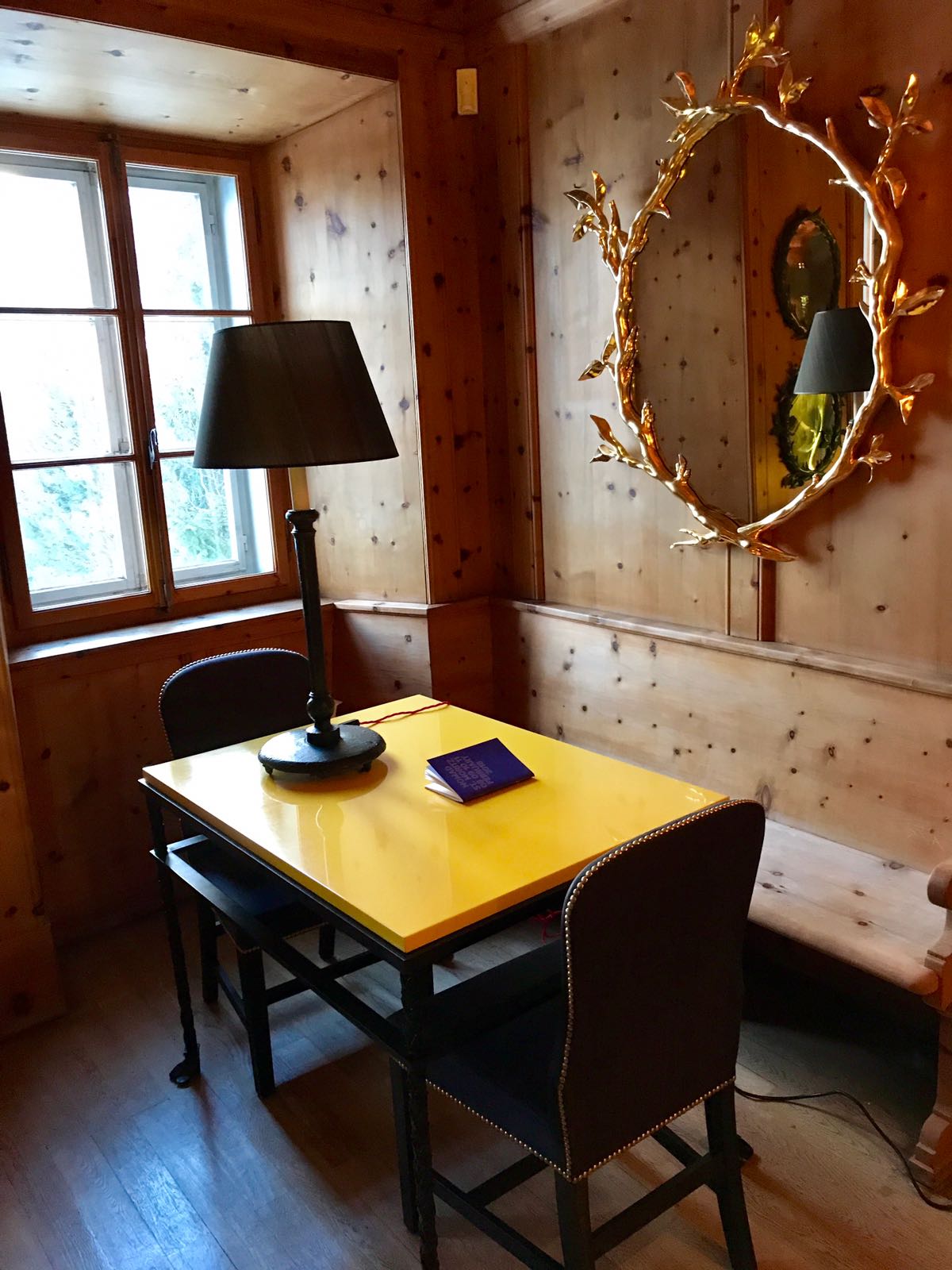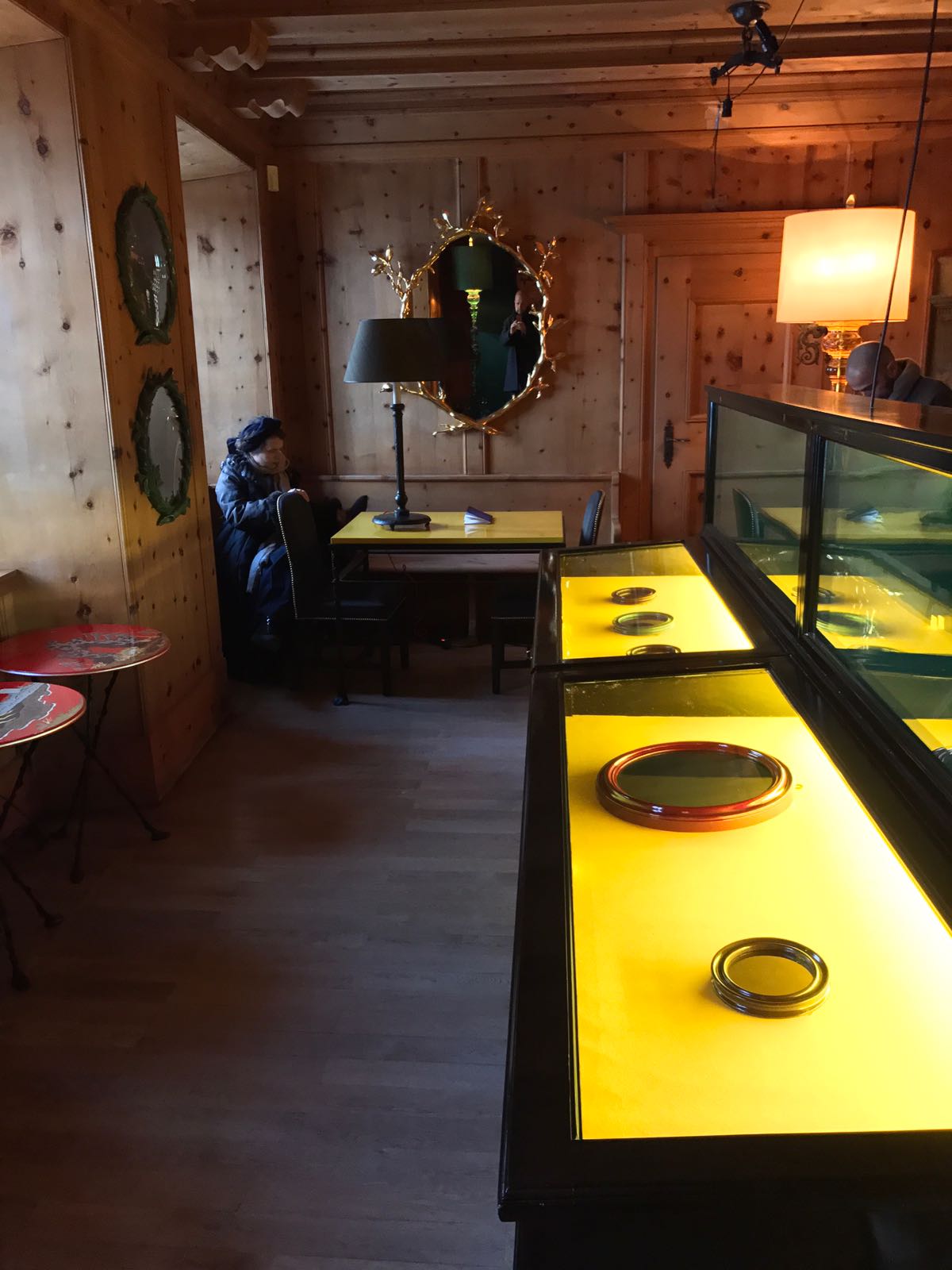 February 2018
Nomad Exhibition
Setting up at Nomad 2018.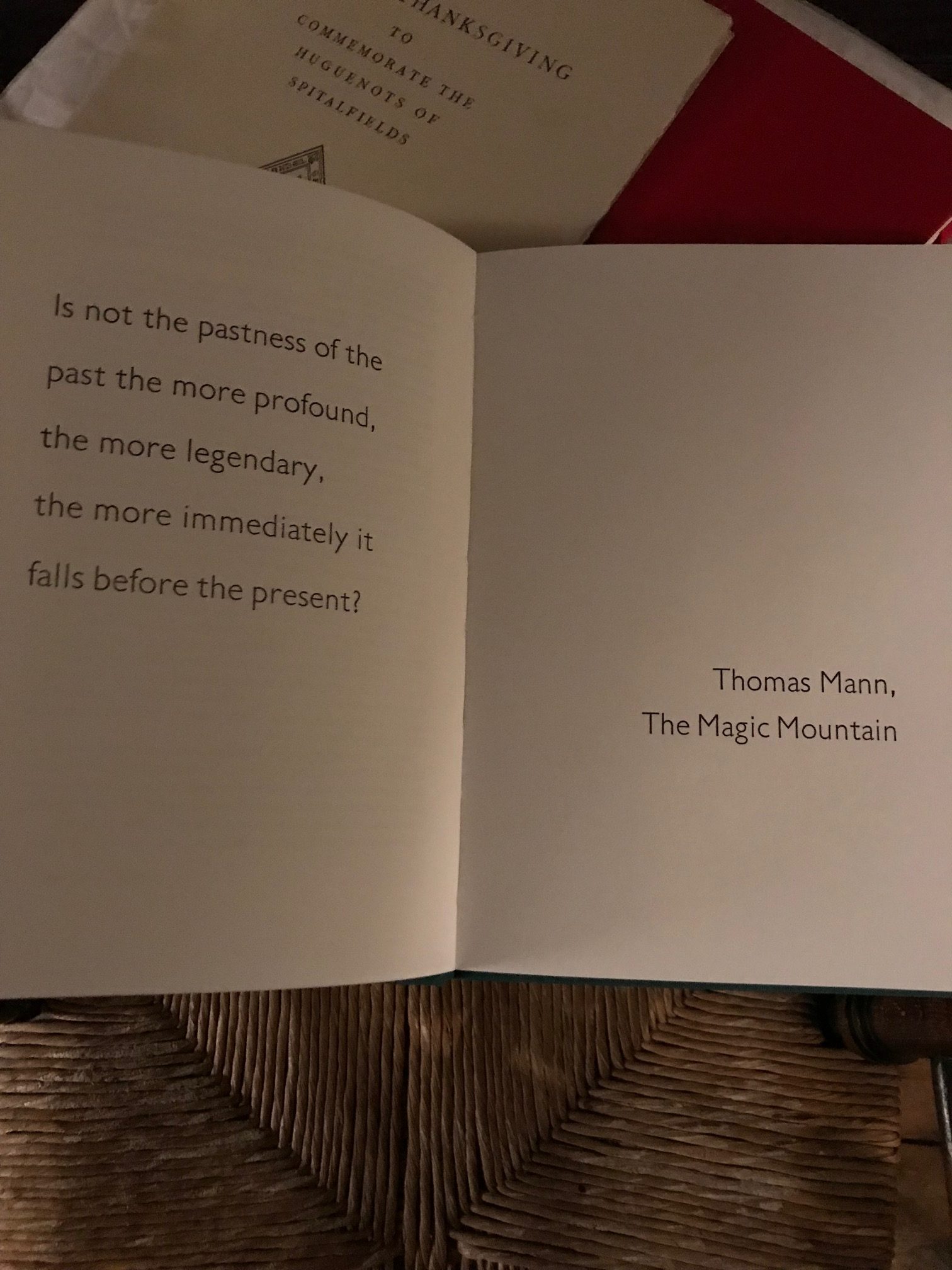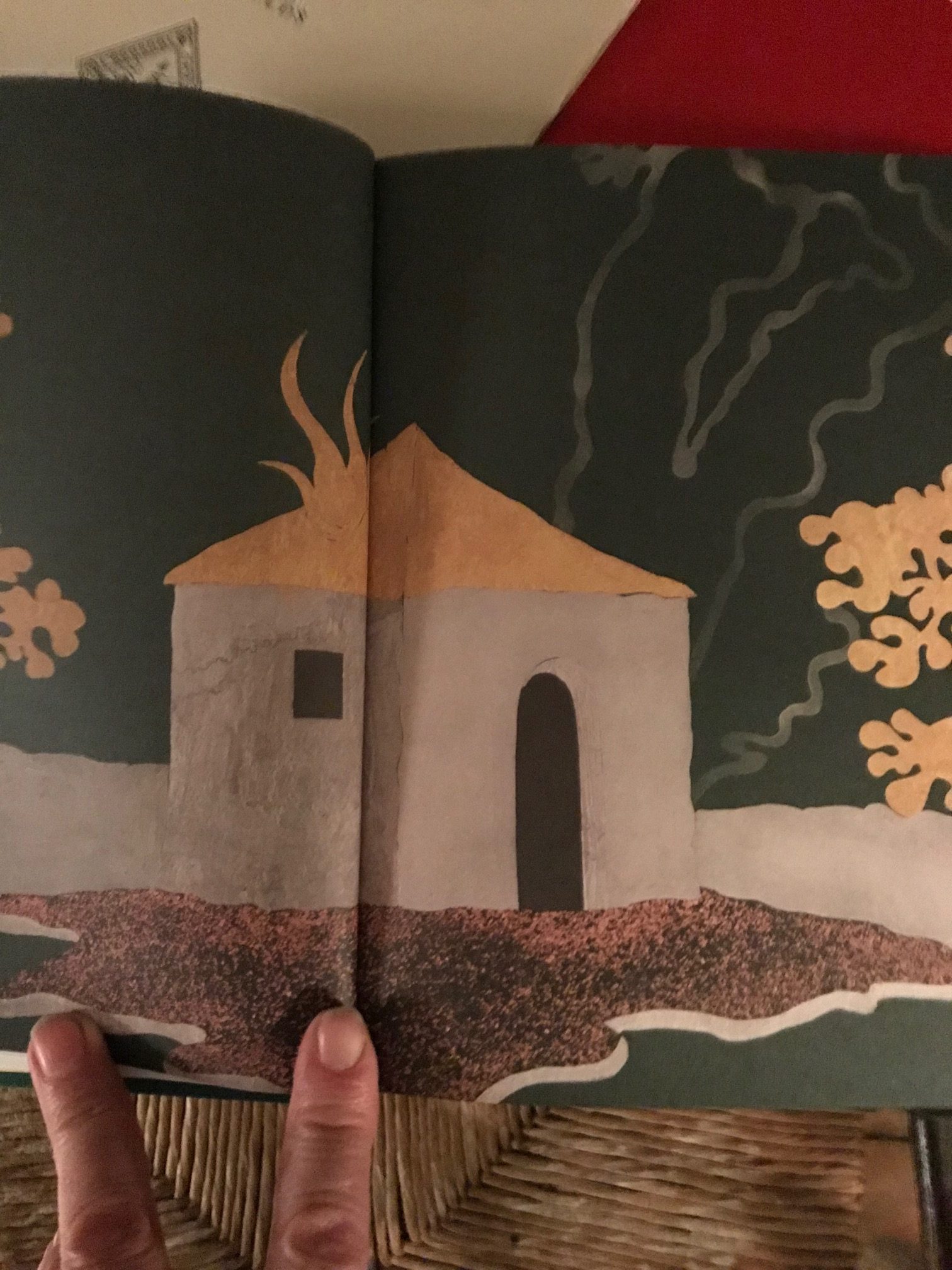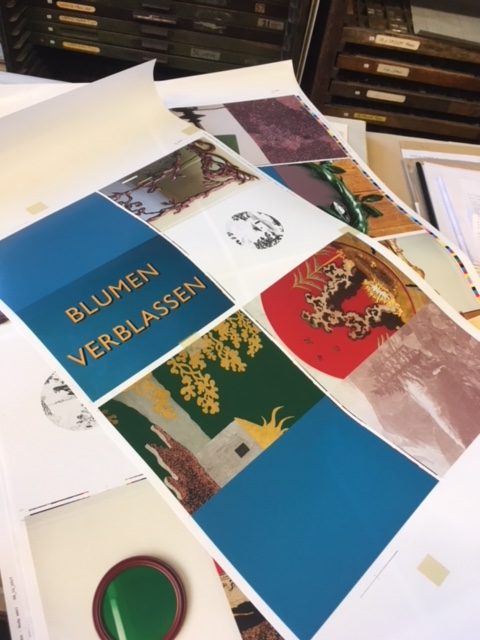 January 2018
Booklet for Nomad
Booklet designed by Brynn Heminway written by Alex Heminway and printed by Evergreen Press 2018.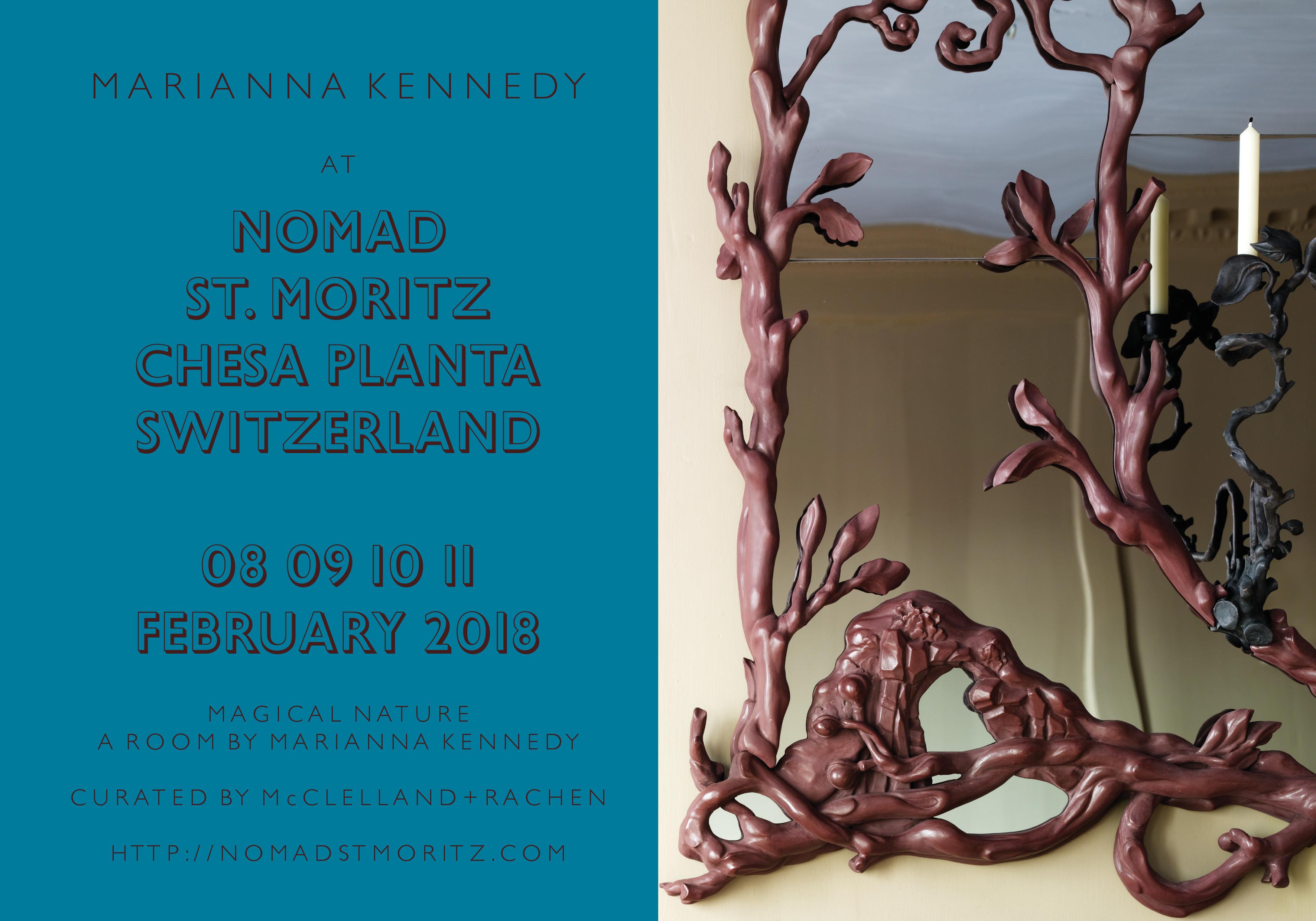 December 2017
MAGICAL NATURE
A special project with McClelland+Rachen for NOMAD, 08-11 February 2018, St Moritz, Switzerland.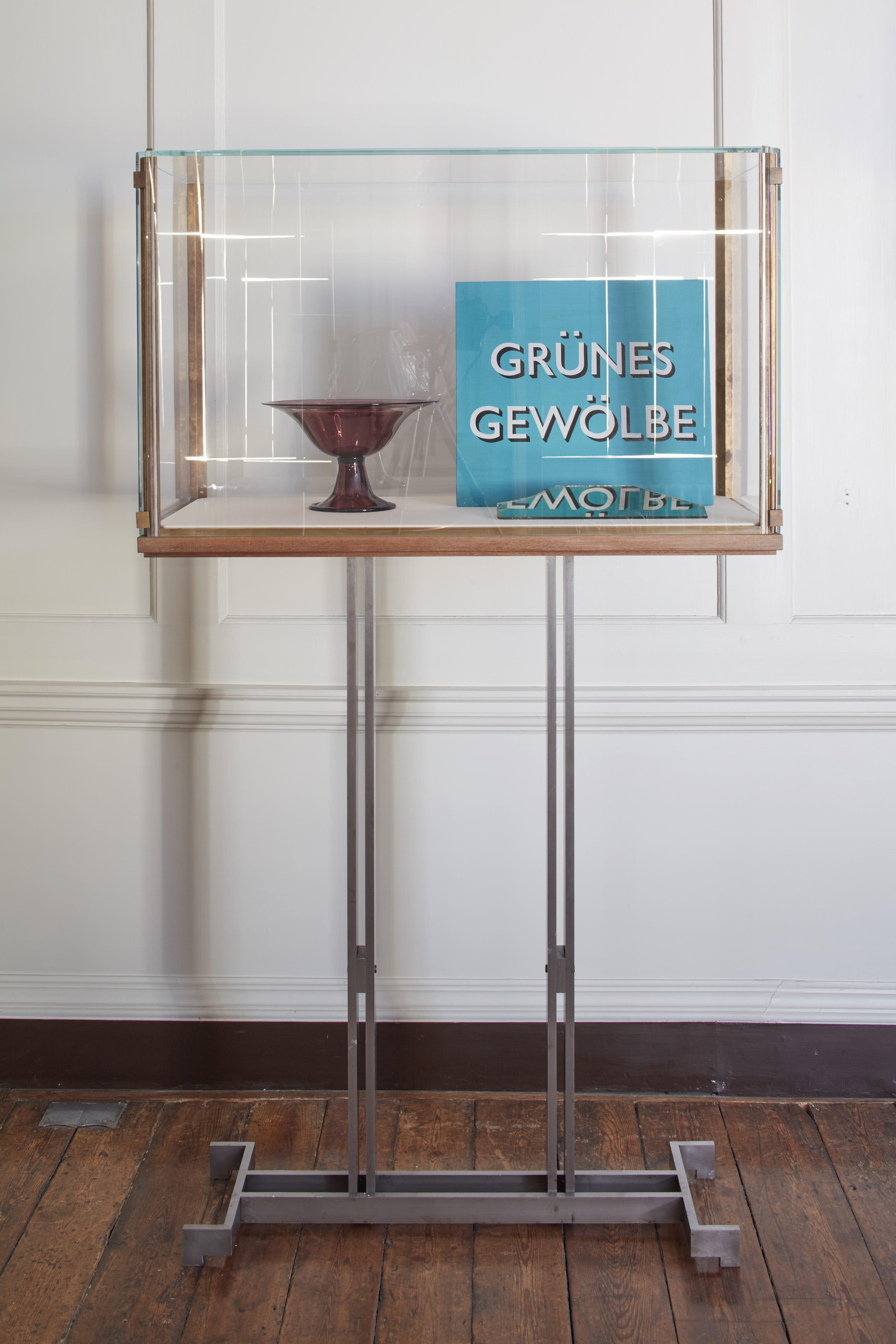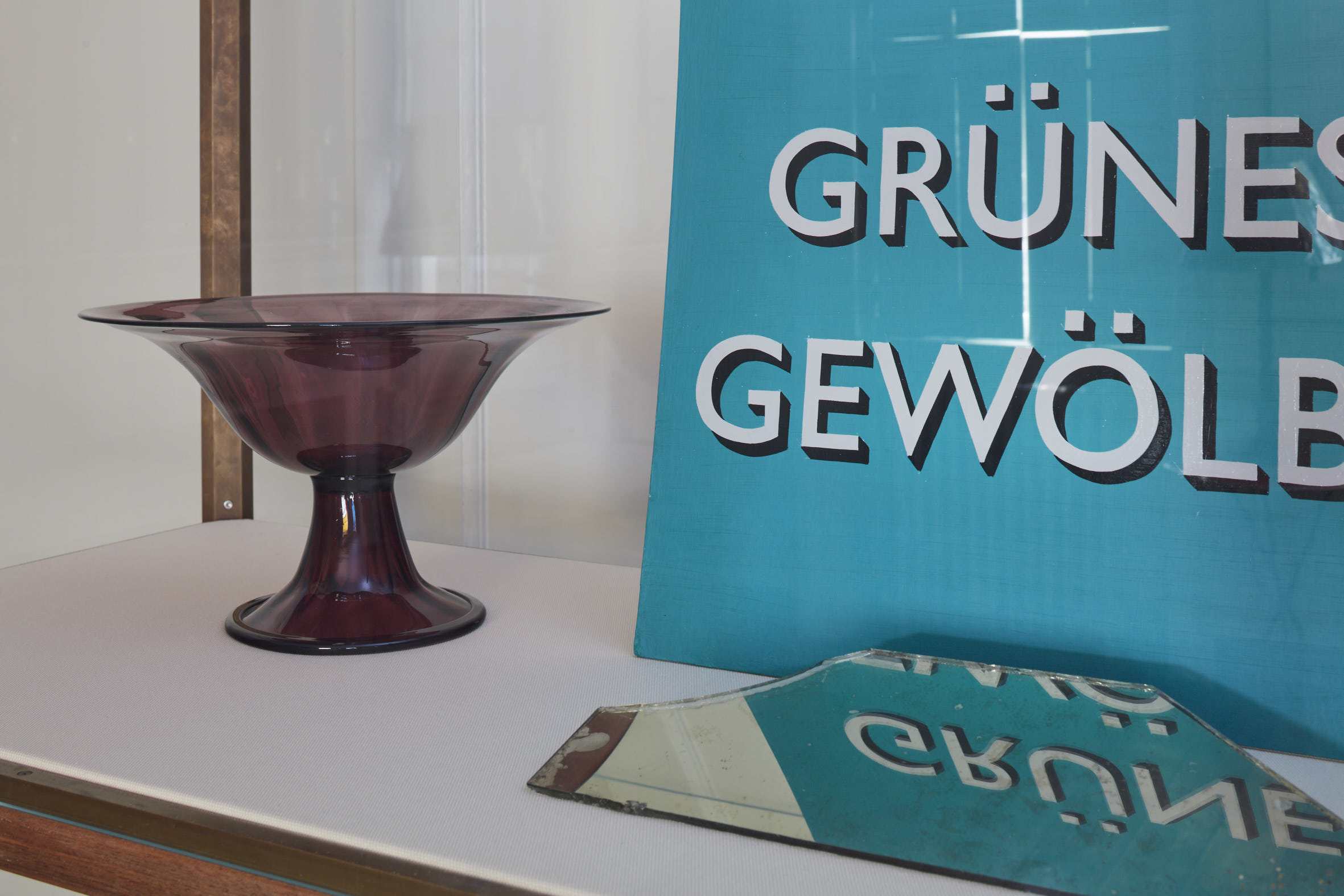 June 2017
Grünes Gewölbe
Historic glass from the Grünes Gewölbe combined with a venetian glass.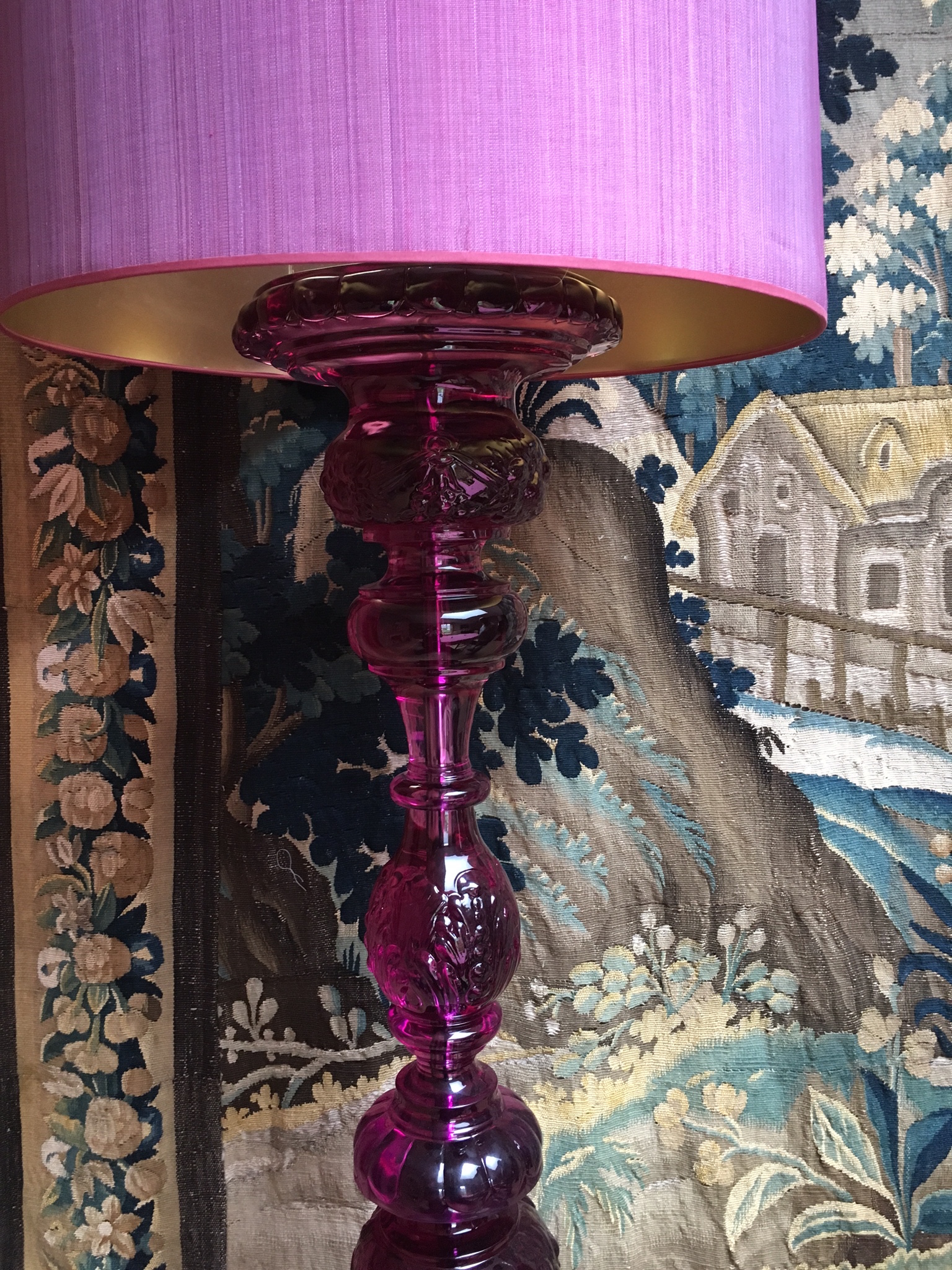 May 2017
Cawdor
New Fuschia cawdor lamp in situ at Cawdor.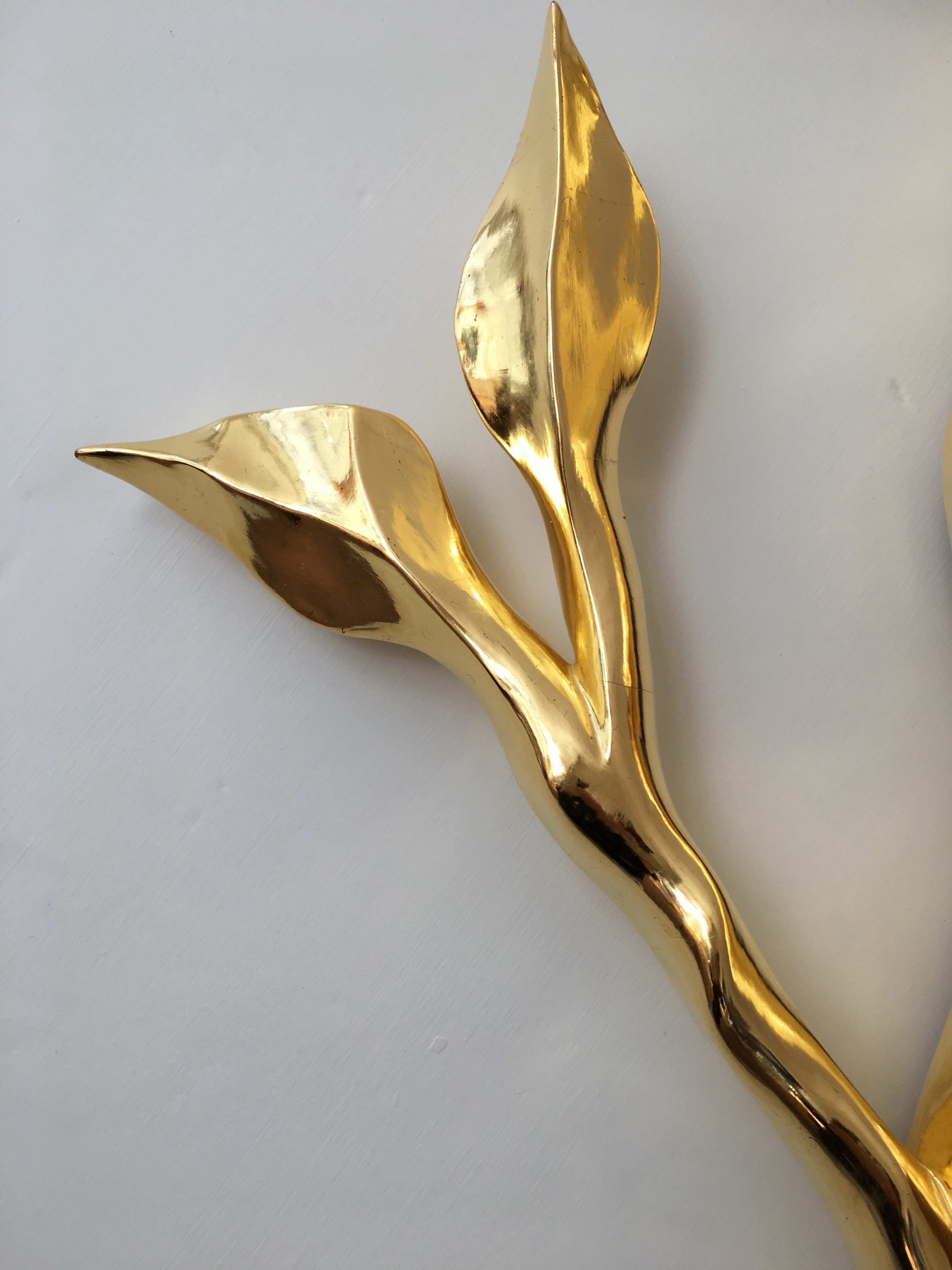 April 2017
Spring in Paris
A leafy detail of our latest mirror in Paris for the PAD fair at the Jardin des Tuileries.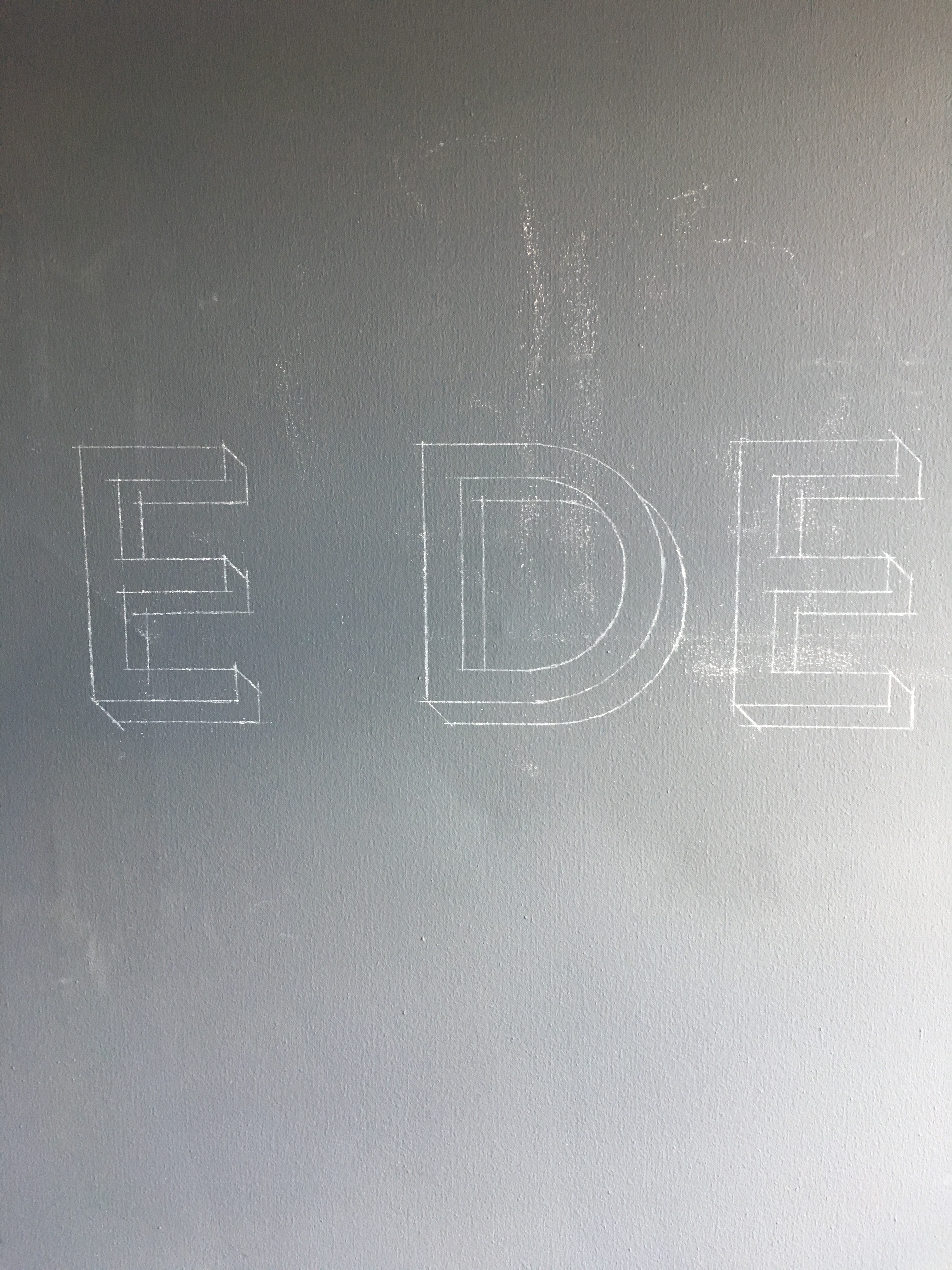 March 2017
Pan e dei
The beginning of our painted sign for the new cafe at 3 Fournier Street.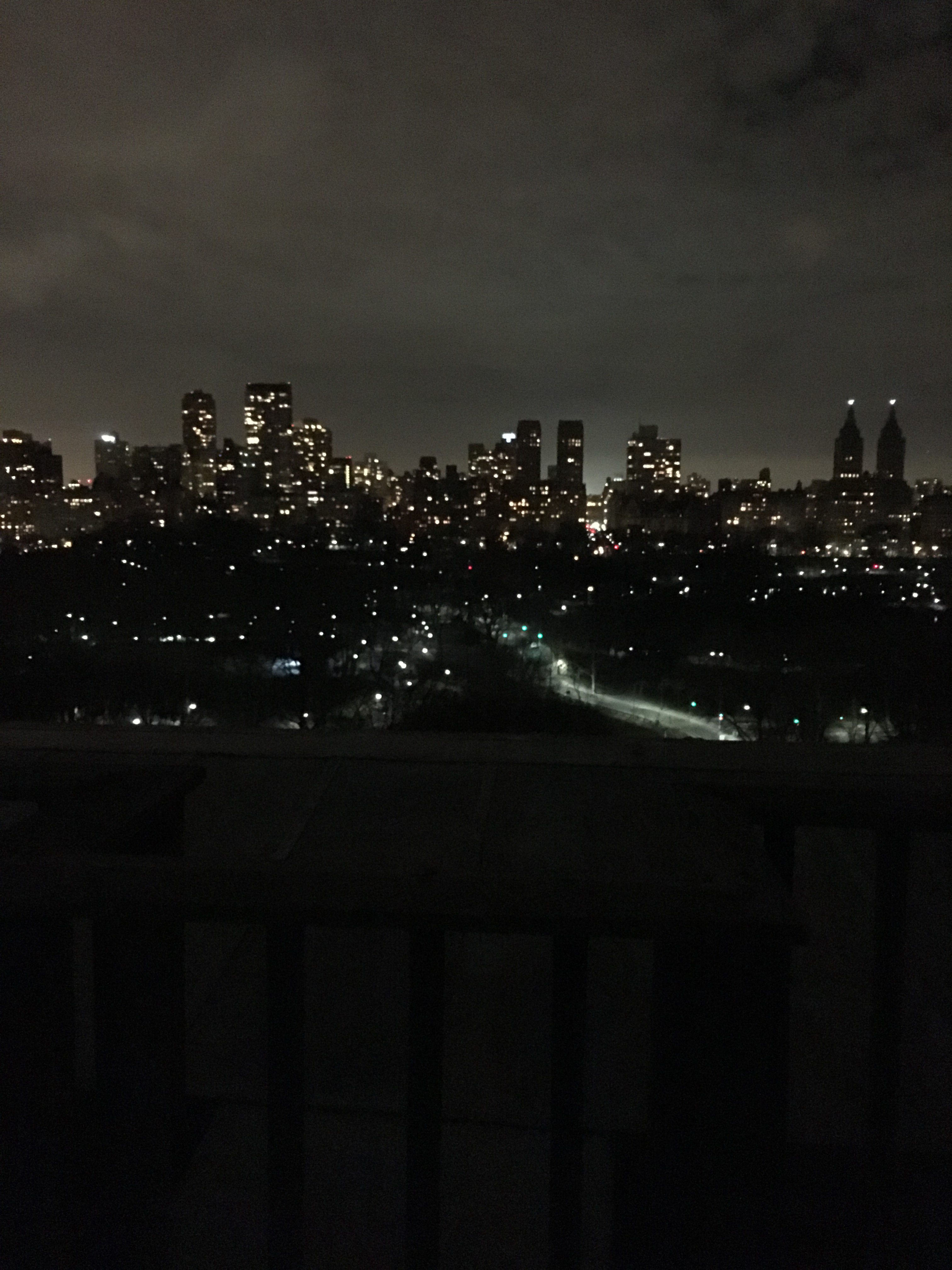 February 2017
New York in February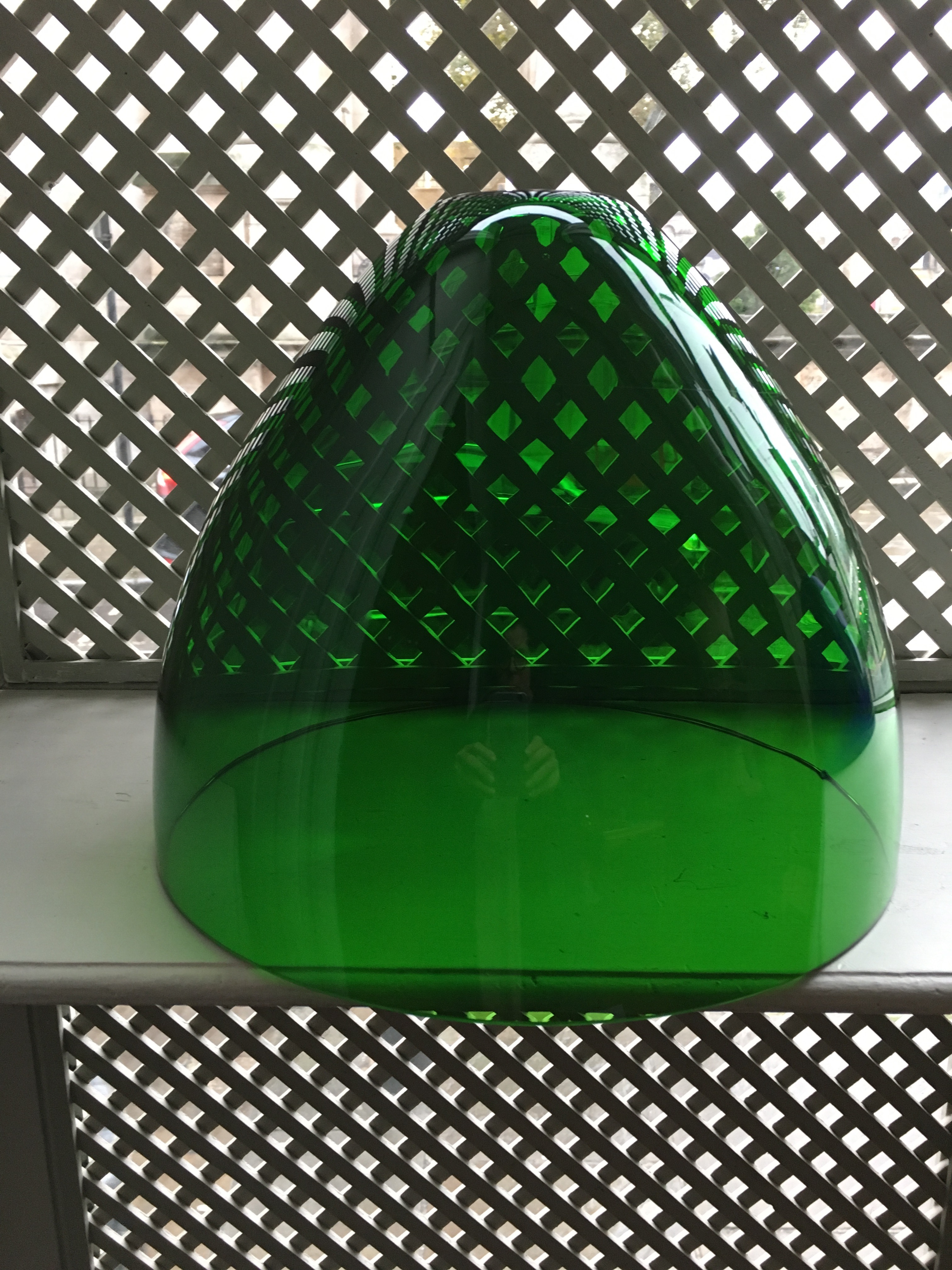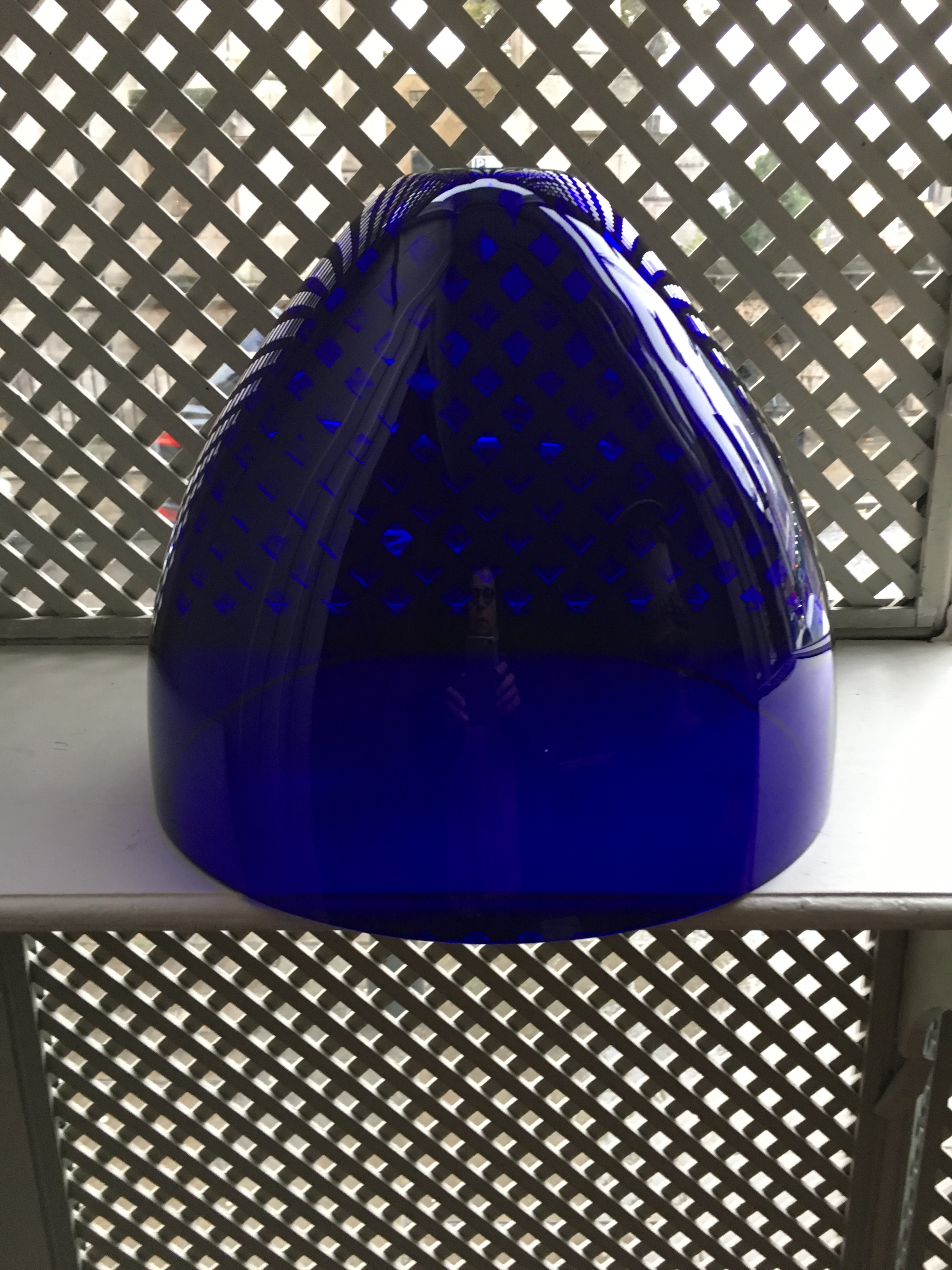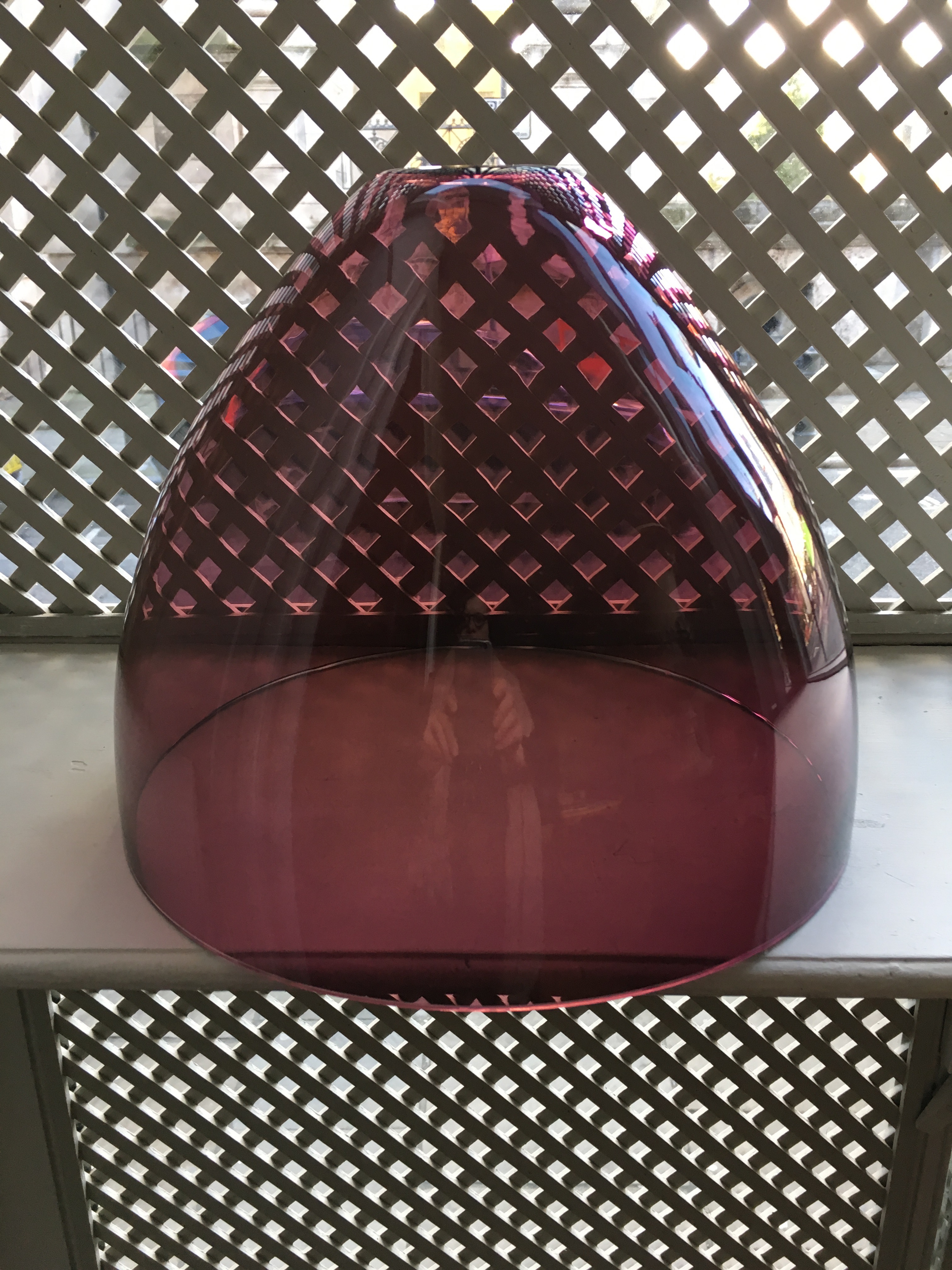 December 2016
Murano glass
Artichoke vase glass inserts from Murano. Green, ultramarine blue and carmine.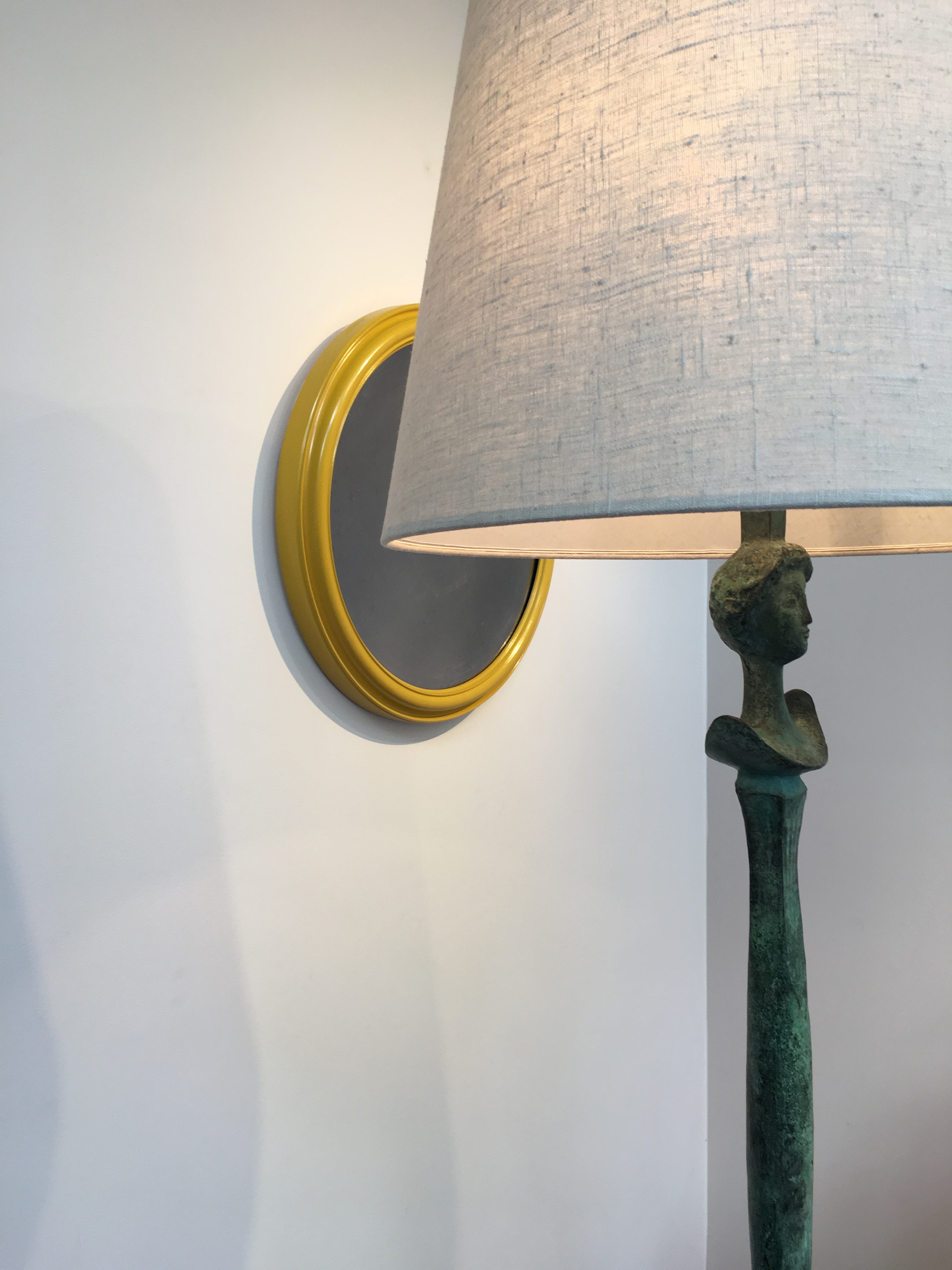 November 2016
Rue bonaparte
Our platinum mirror with giacometti lamp, rue bonaparte, Paris.
October 2016
Rose
Thinking again of Venice.
Our next mirror inspired by the five gold roses in the treasury presented to the Republic by the five different popes.
Rose, a jewel like mirror starts with a drawing and then is carved lime wood. It is then gilded with Roma gold. The glass is deep blue azure.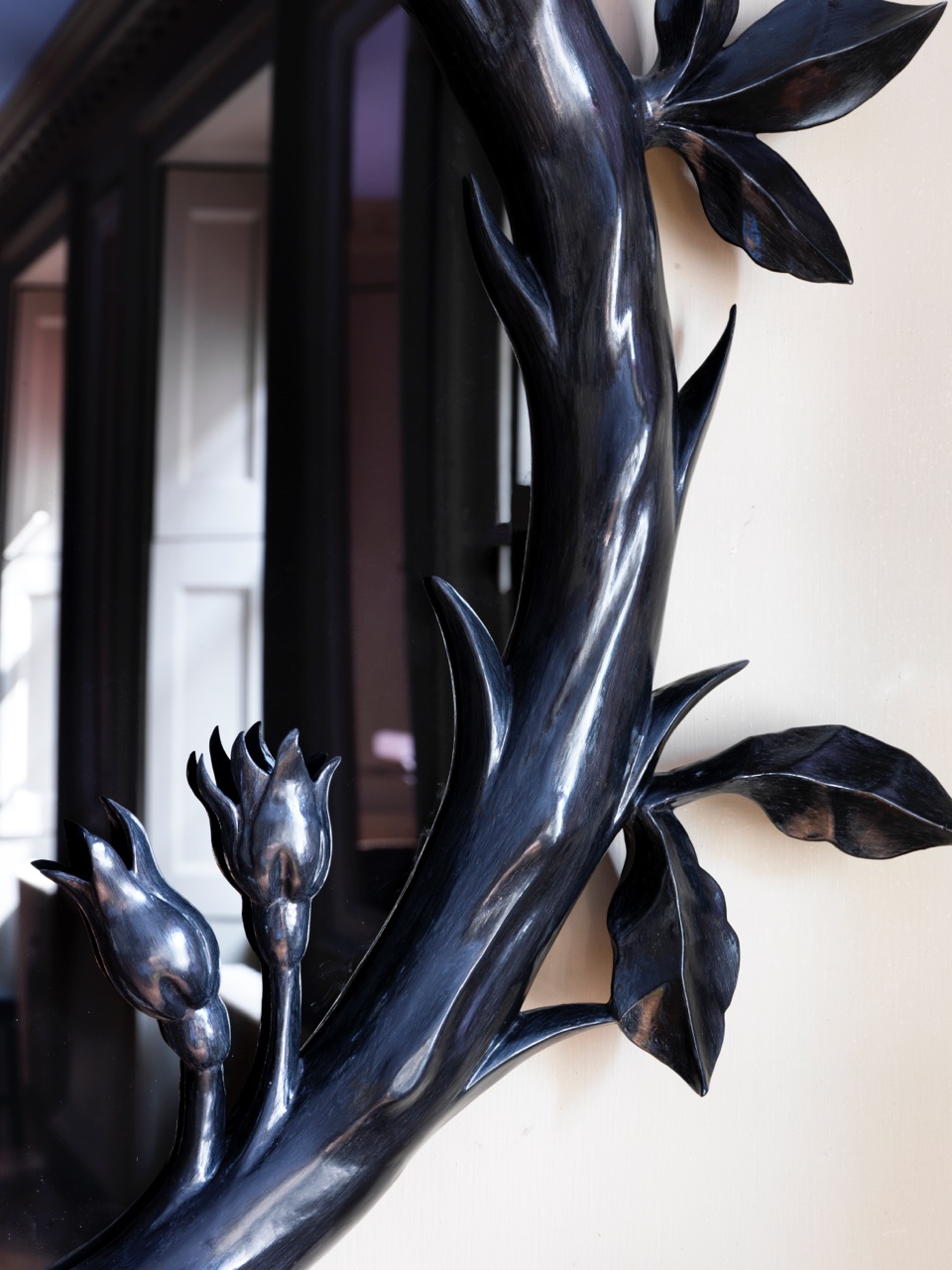 September 2016
Noir
Noir was the favorite colour of Yves St Laurent. My favorite mirror is NOIR. The frame of the Noir mirror is hand-carved in cherrywood. It is subsequently gessoed and painted in black bole, then burnished, using gilding technique. The glass is hand cast in black. One mirror is concave, the other is convex.
The Black Glass has two forms of antecedent:
Claude and other landscape artists would utilize the reflection on a blackened mirror to set the perspective for landscape and view, the reflection being from the surface rather than from behind the thickness of glass, allows for a finess of line with minimal distortion. This is known as "Claude Glass."
John Dee, Queen Elizabeth's Astrolger and necromancer, made use of a small convex black polished obsidian glass, as a crystal ball, it had, by repute, been looted from Aztec Mexico.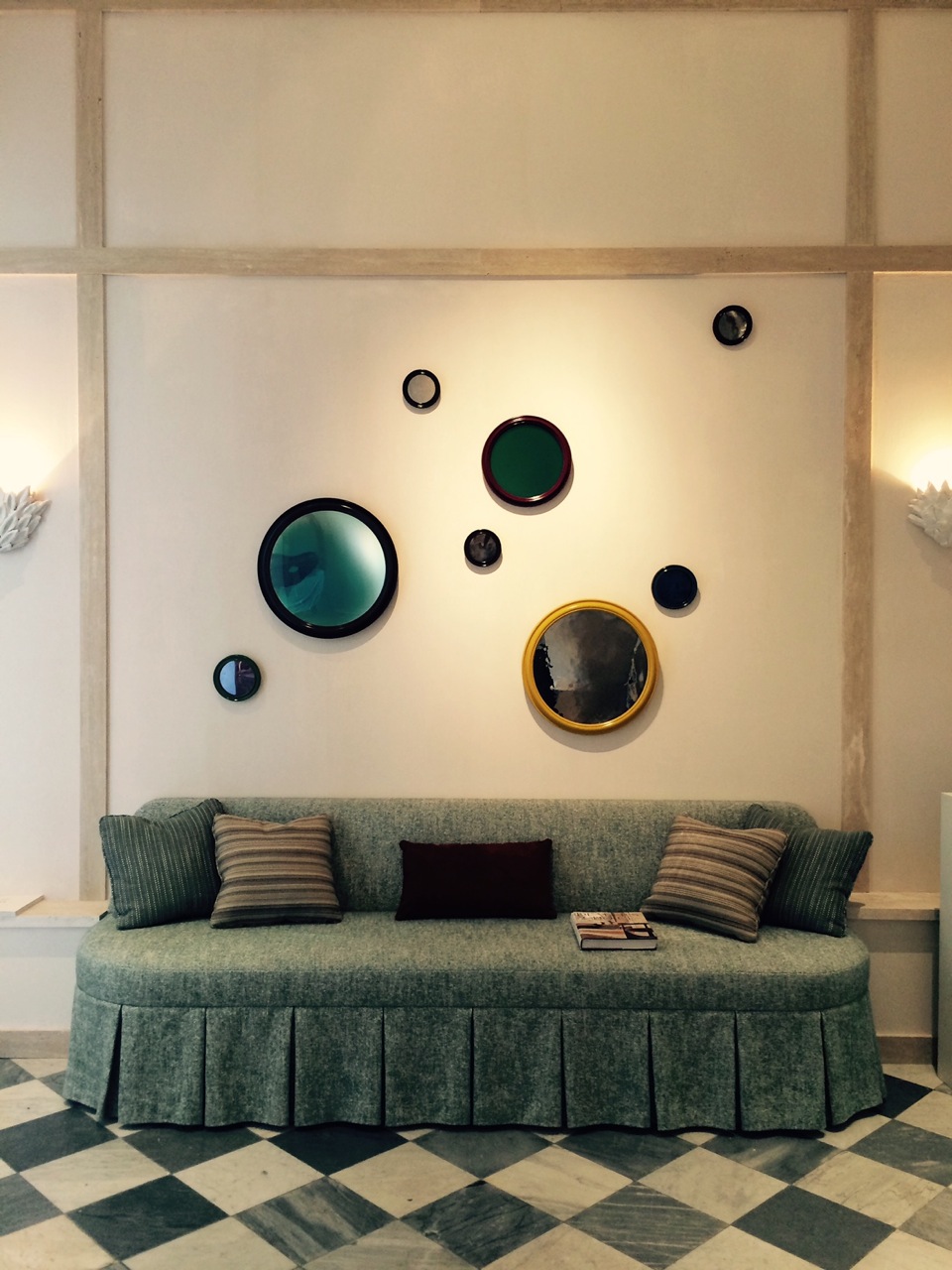 August 2016
AD Monnaie de Paris
Colour spot mirrors. Hand made glass with infused colour.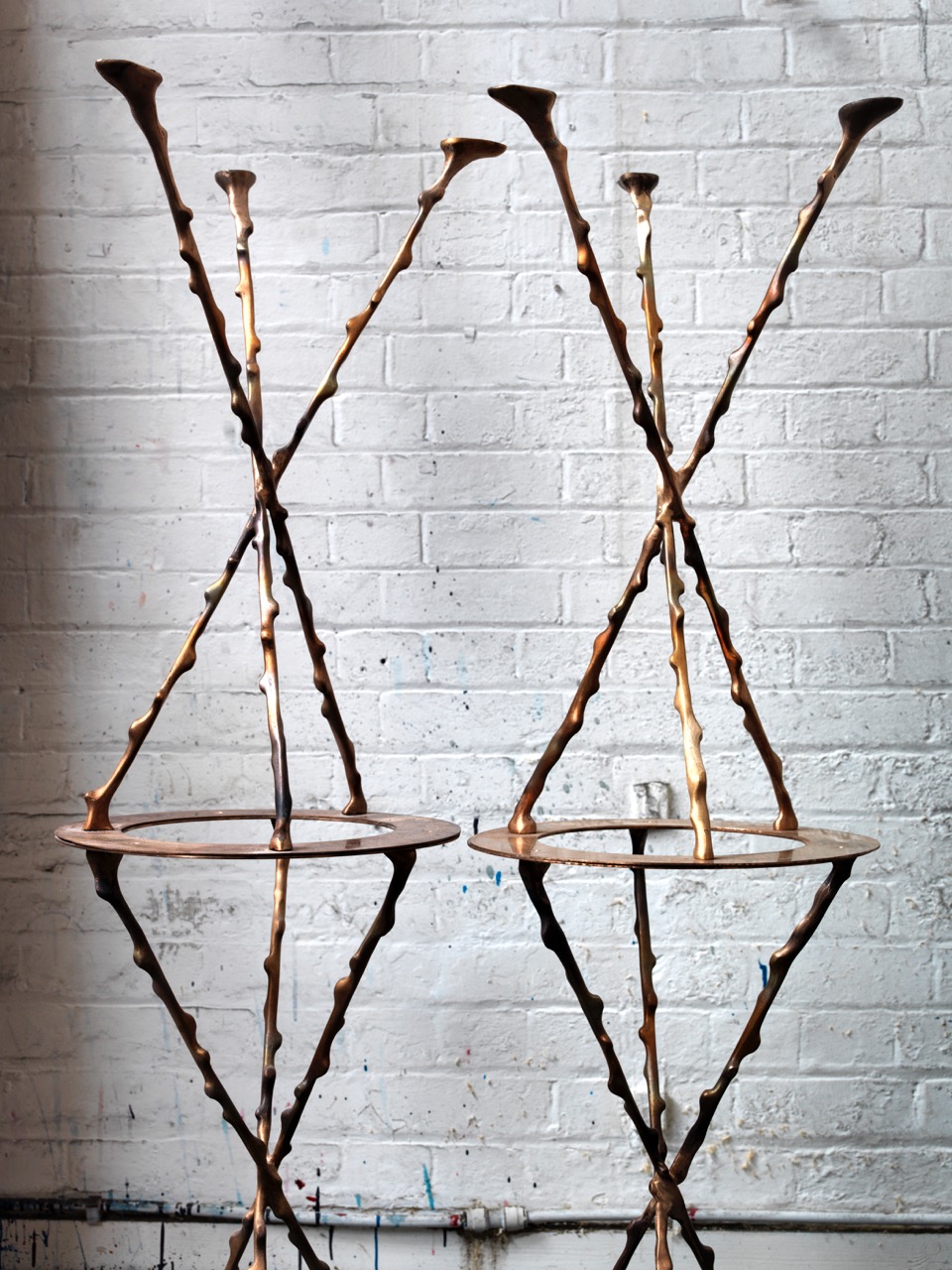 June 2016
Gueridon
Gueridons are a three legged table. Ours are made in bronze with a dark patina finish, or, gilded with rose gold, or caplain gold.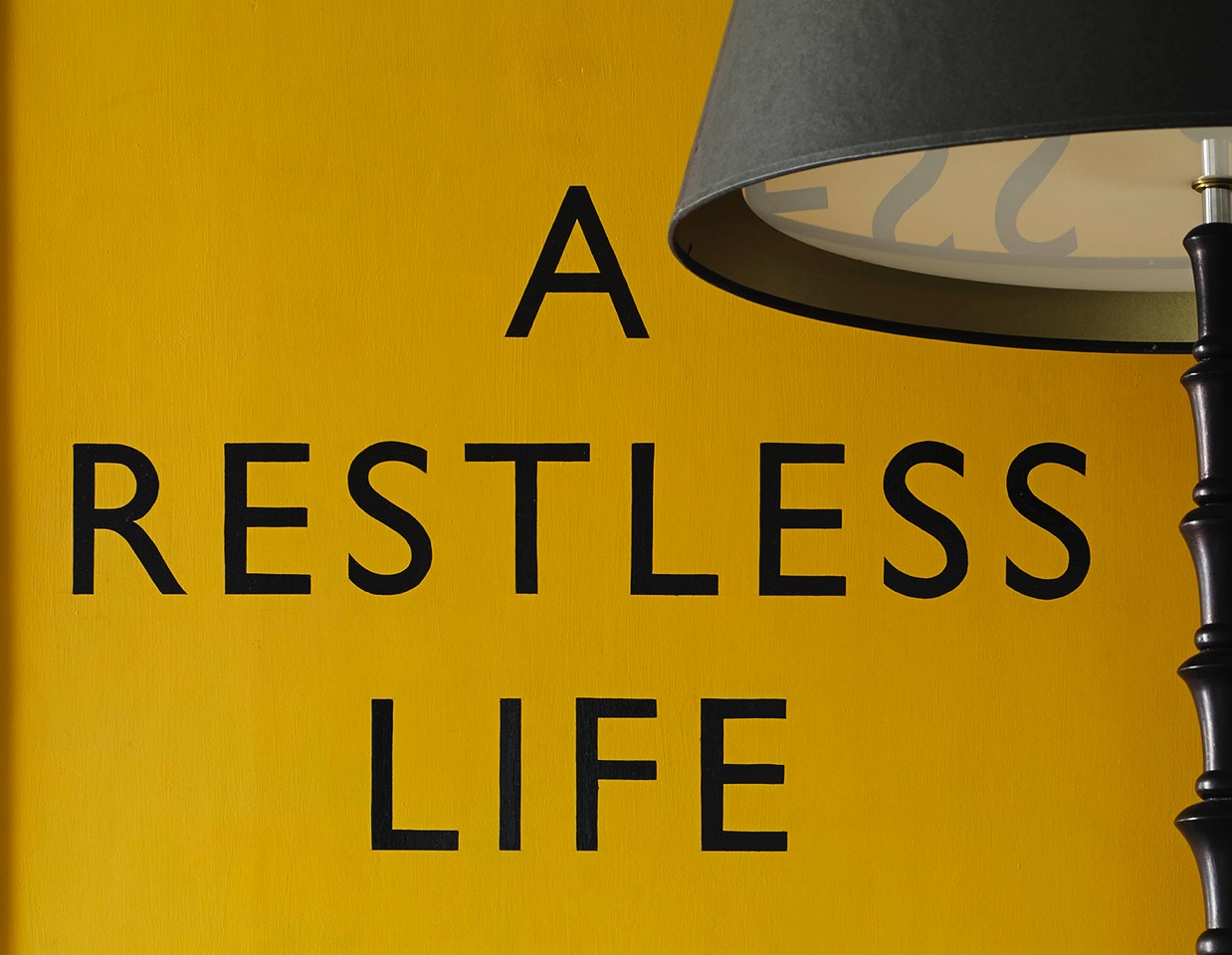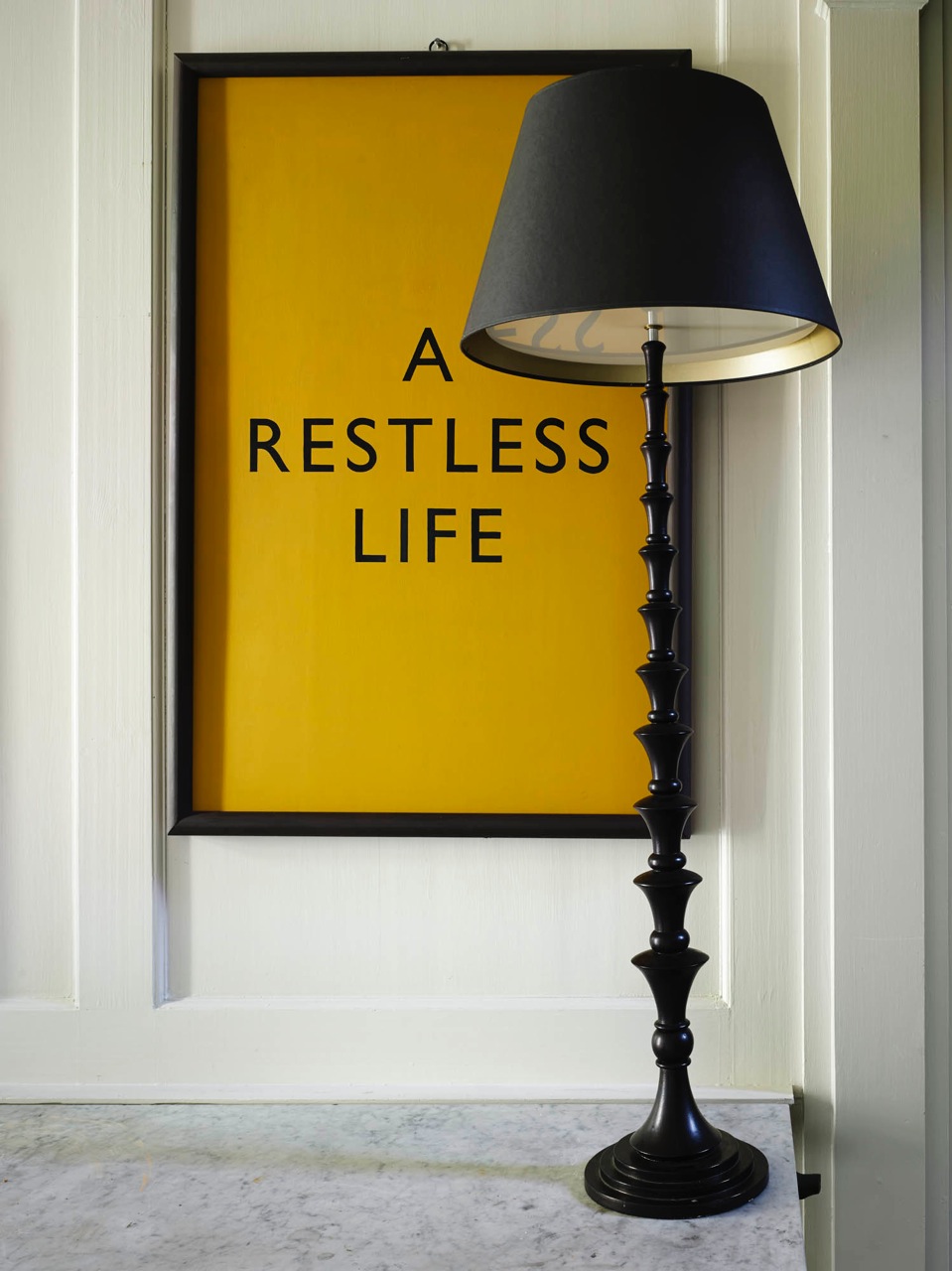 May 2016
A Restless Life
Tulip table lamps with gesso finish and a painted emblem sign.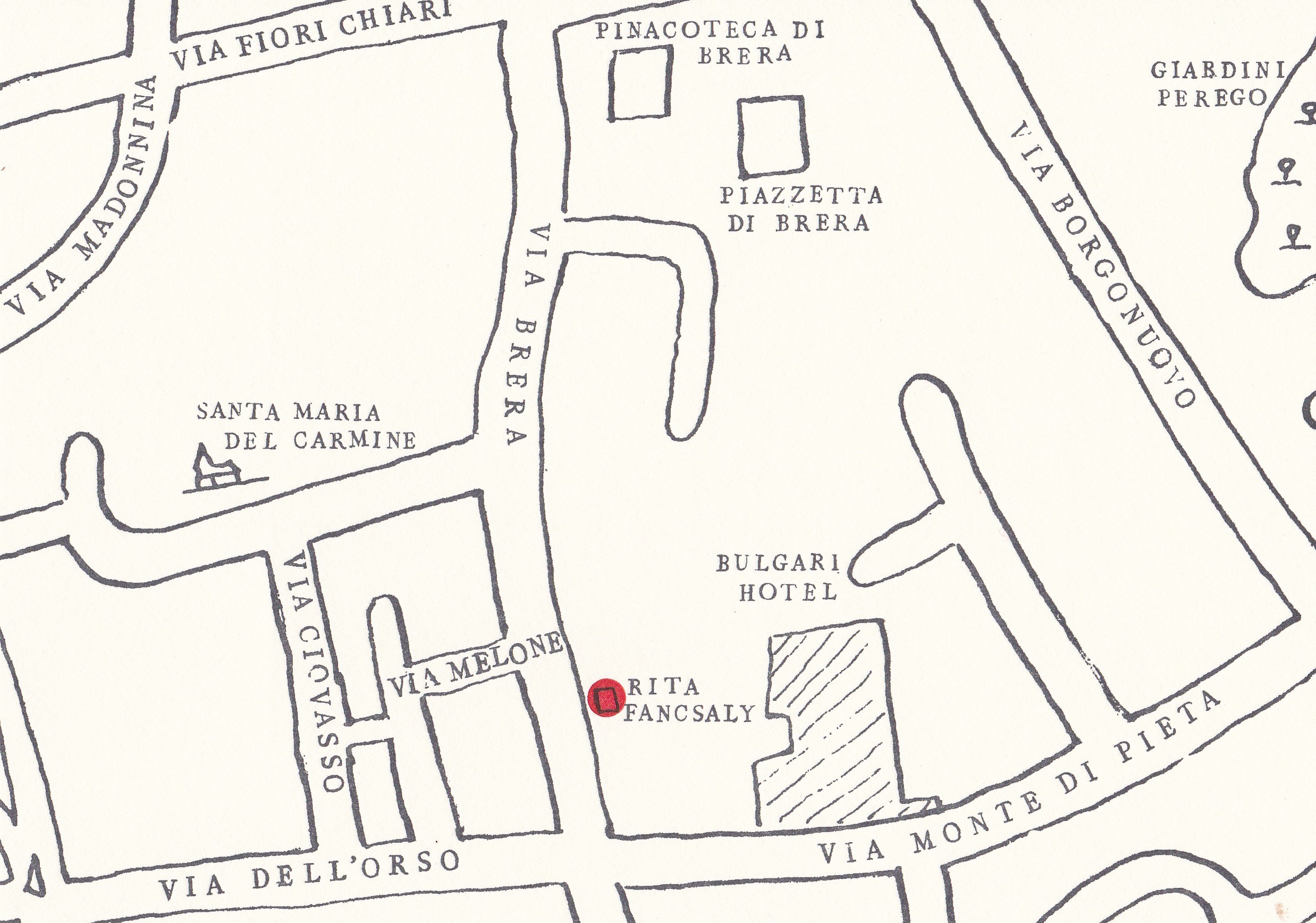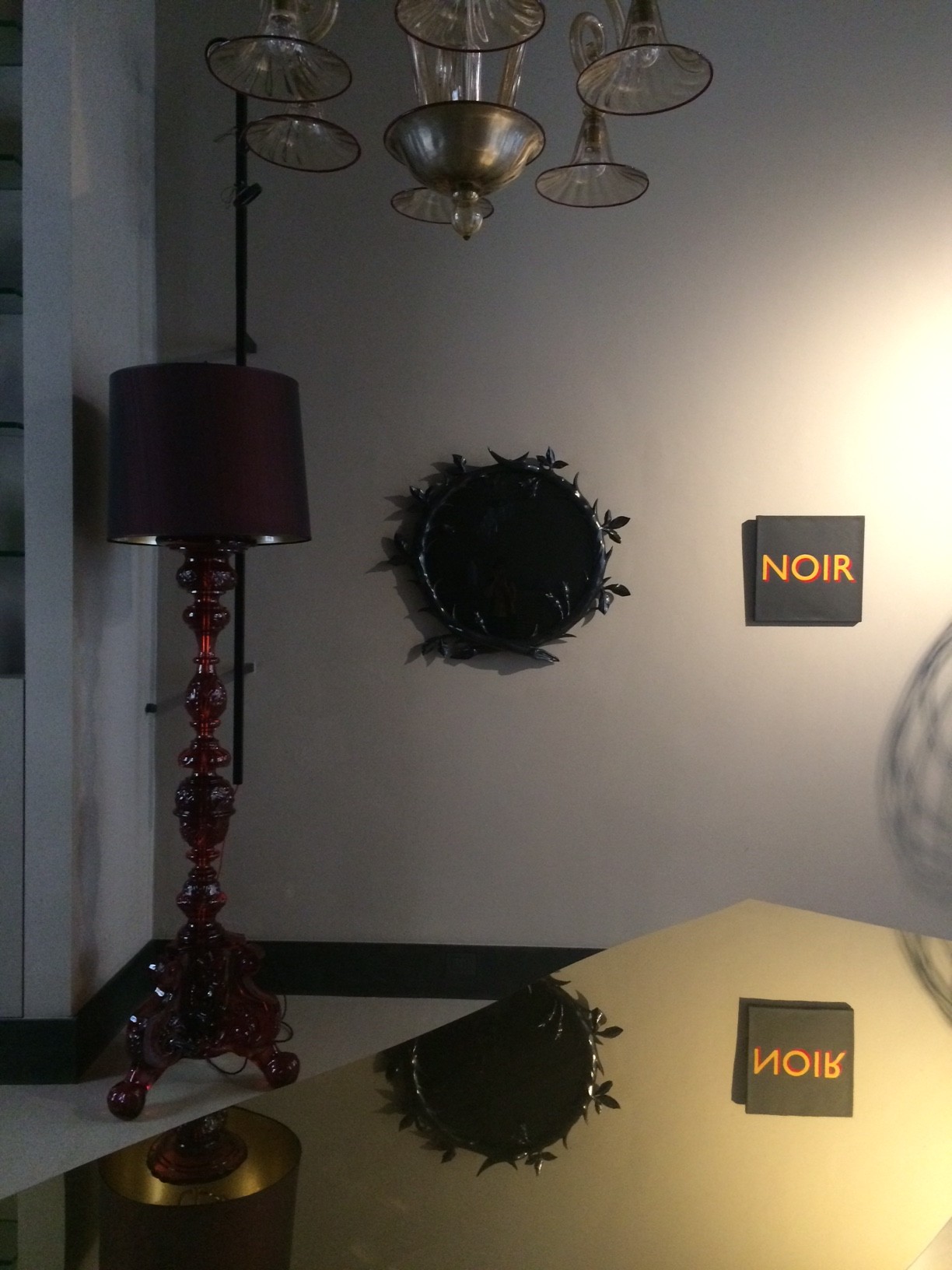 April 2016
Salone del mobile
Gabriella Crespi and Marianna Kennedy celebrate the Salone Del Mobile 2016 at Galleria Rita Fancsaly, Milano. Cappellin Cawdor, a bespoke colour made for the gallery, based on the purple blue hues of glass made by Cappellin Venini & Co.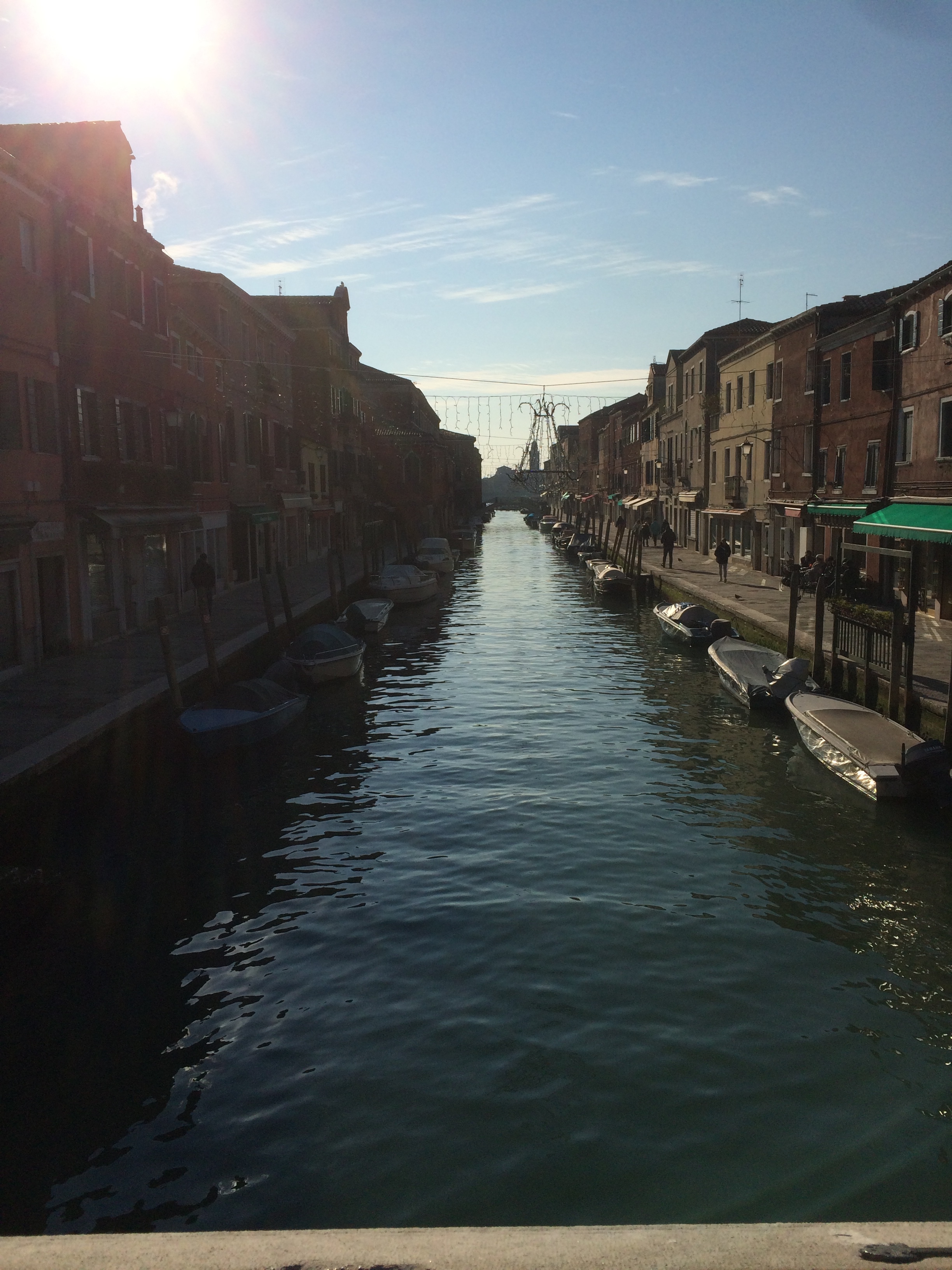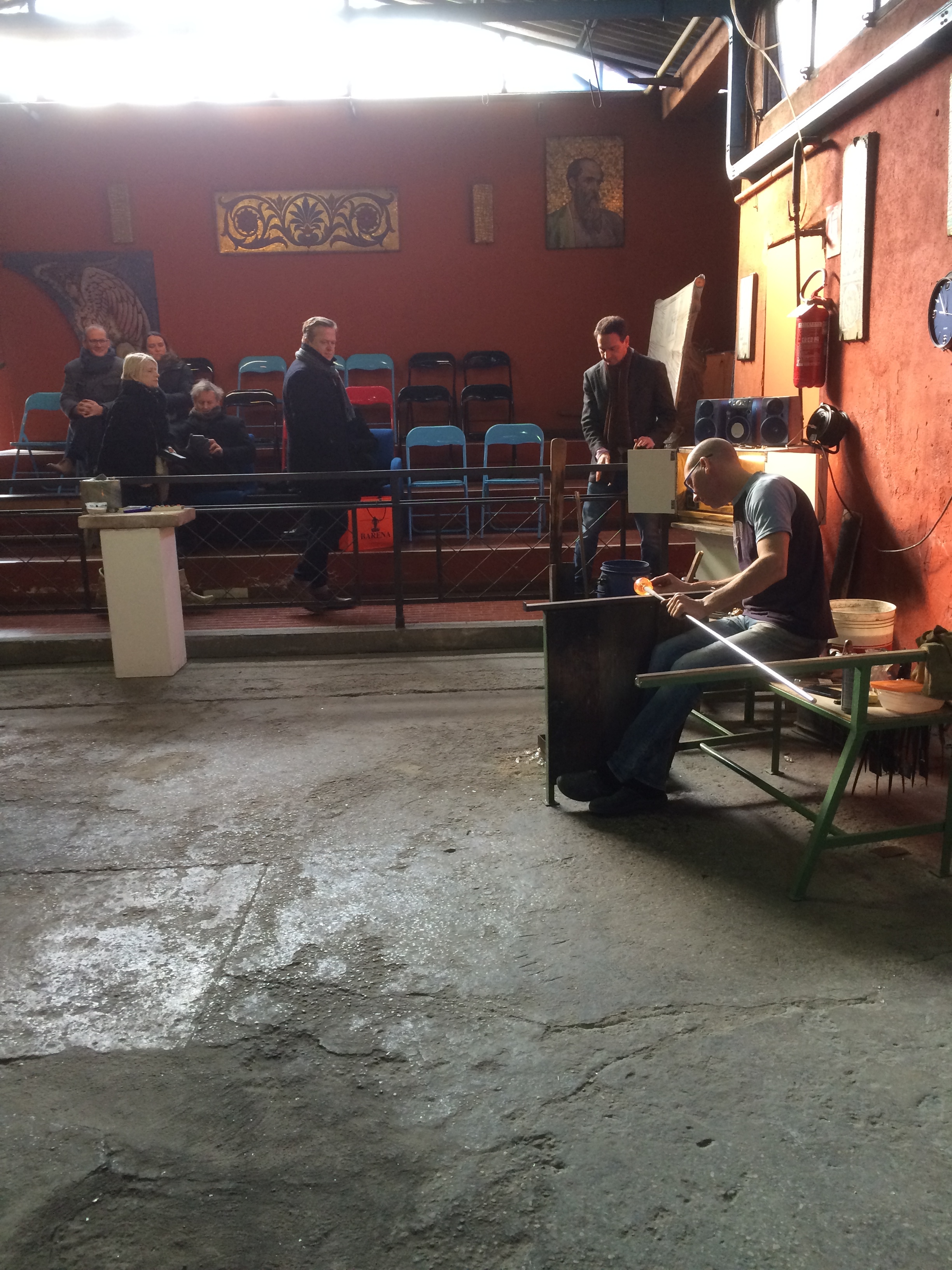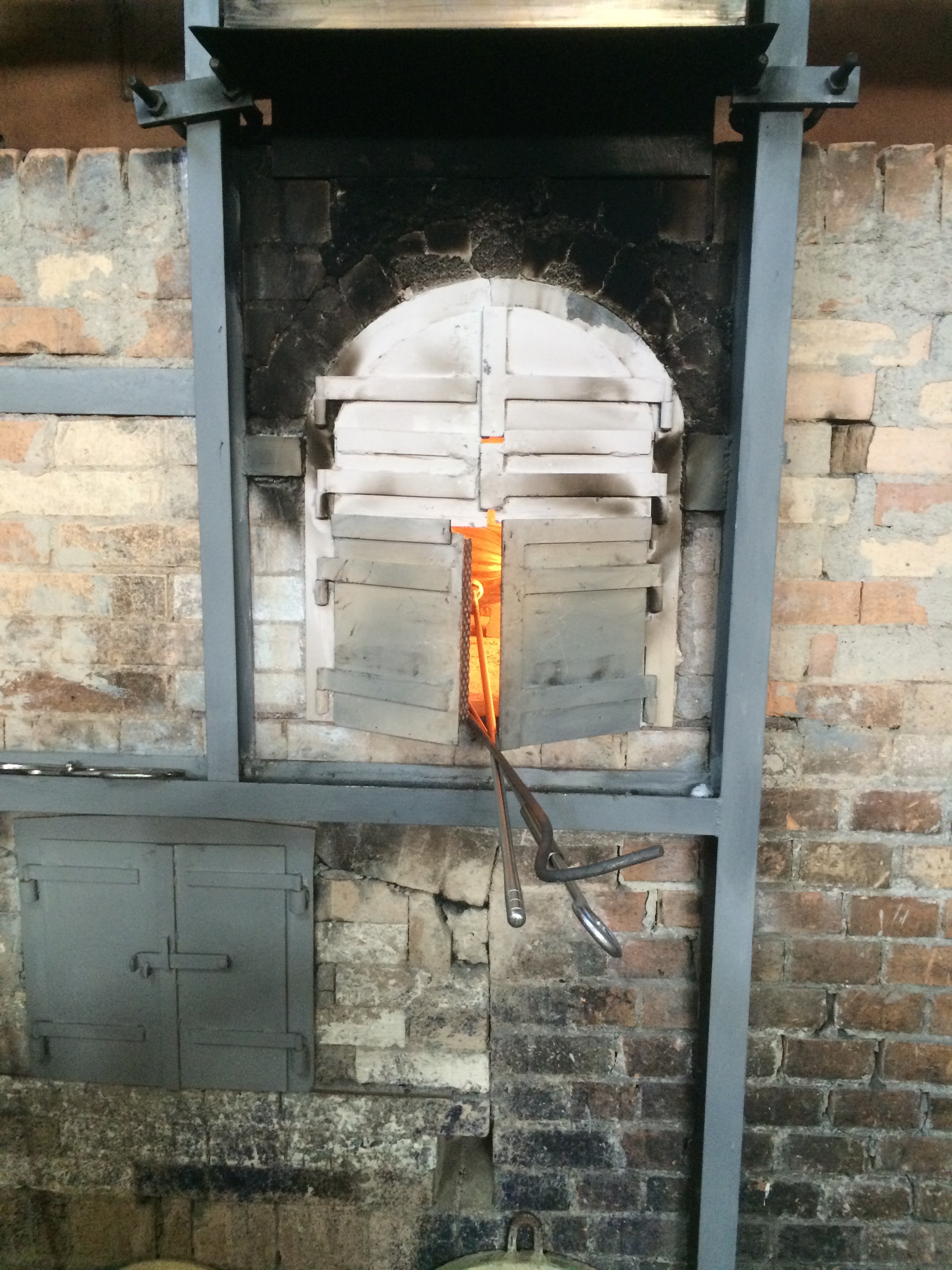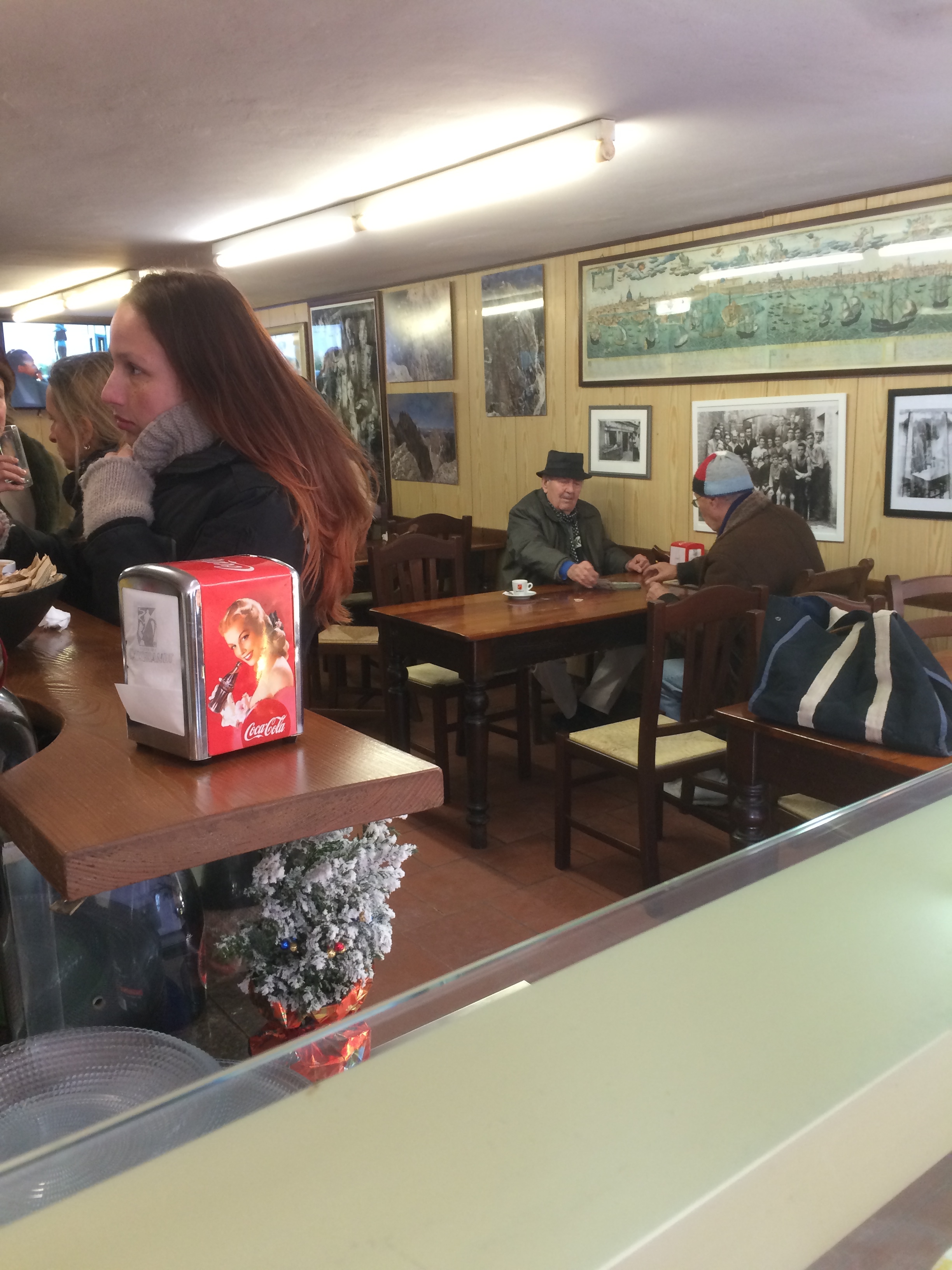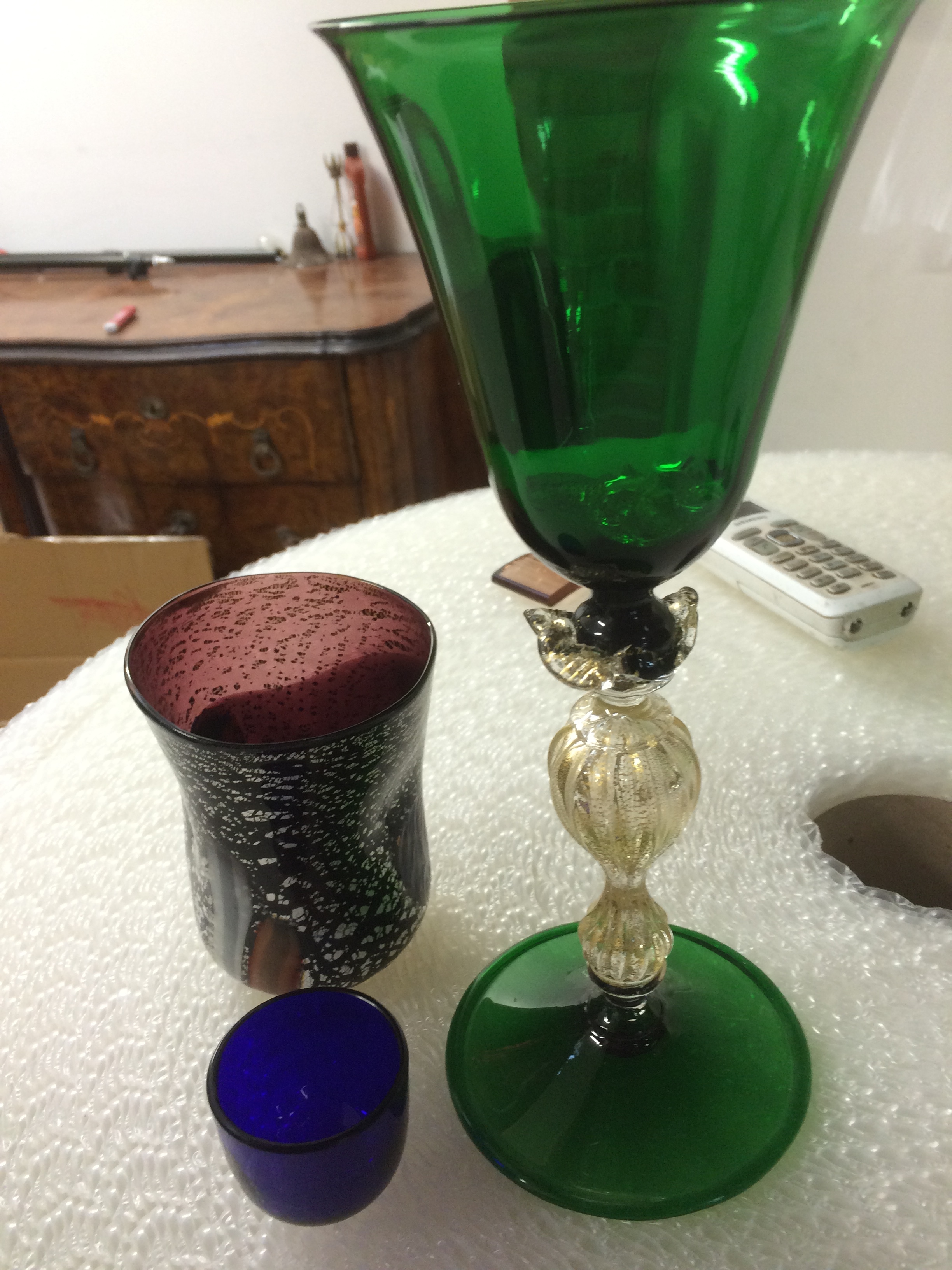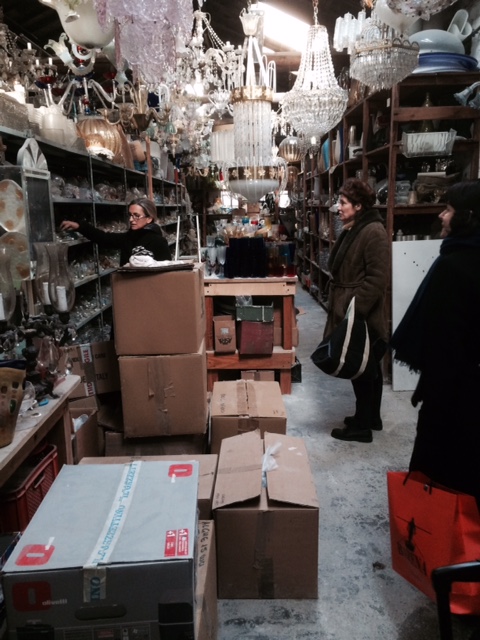 January 2016
Venices
Murano is another venice. This island linked by bridges in the lagoon is a village of fire, fornace and glass – smalto, aventurine and lattimo to name a few. We took the artichoke vase by boat to Murano and chose 3 colours for a small edition by Nuova Biemmeci a small family of makers on the island. Each glass insert is made to fit inside the vase. Green,ultramarine and a colour we call purple cappellin.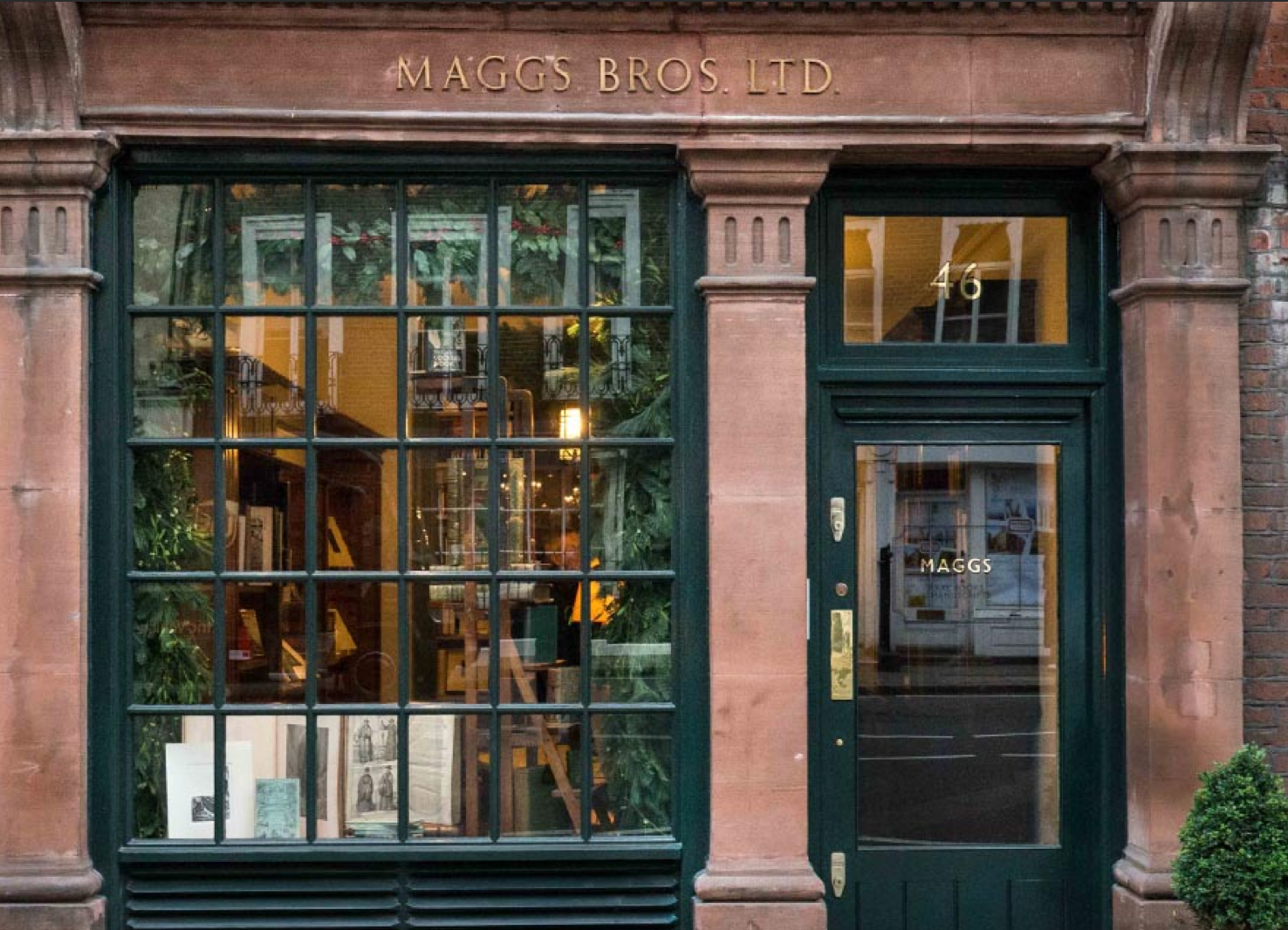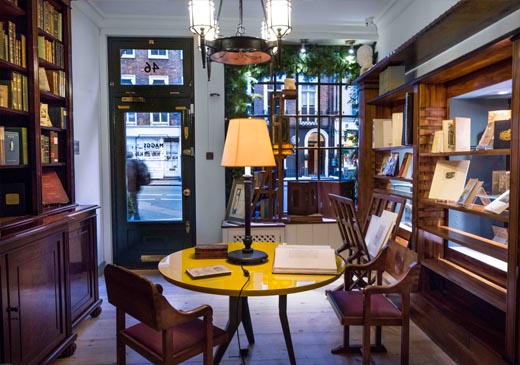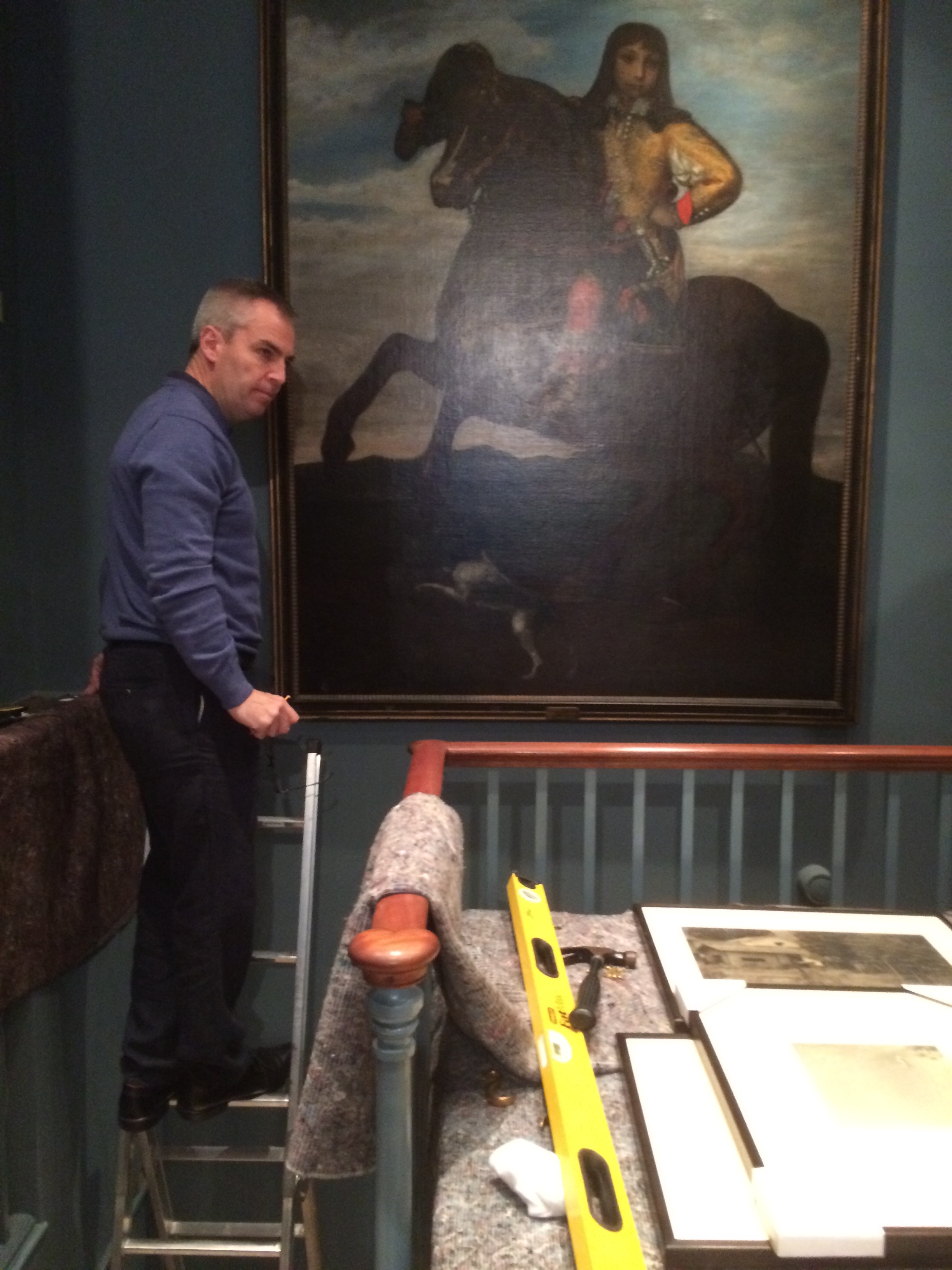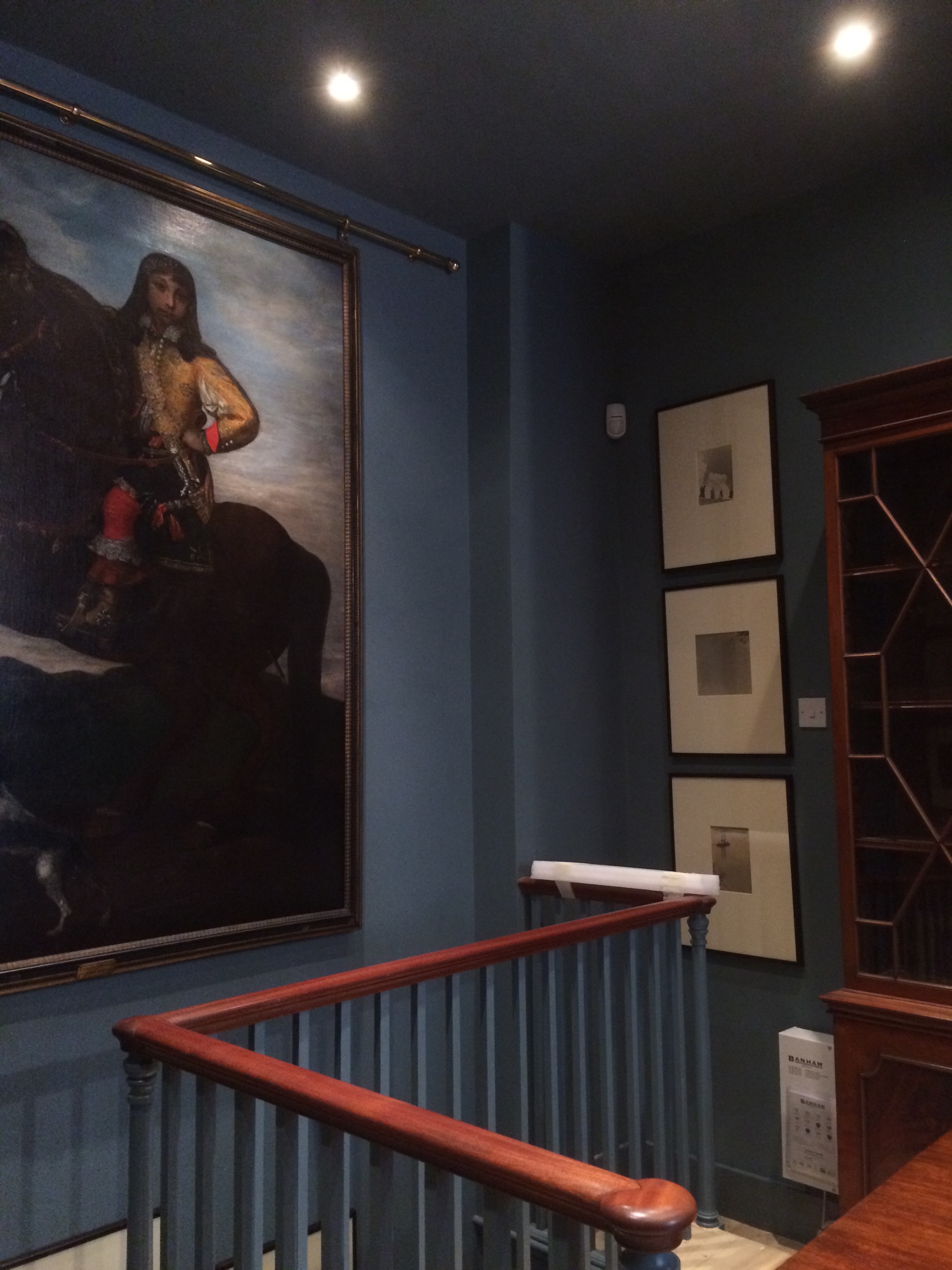 December 2015
Maggs Bros.
The idea was to make a Mayfair shop for the eminent book dealers Maggs. Books have been my best friends so very pleased to make a beautiful shop to look at them. The centrepiece is a yellow lacquer table surrounded by arts and crafts chairs covered with violet horsehair. Simplicity is a good way to look at objects – or, as Coco Channel said "Simplicity is the keynote of elegance."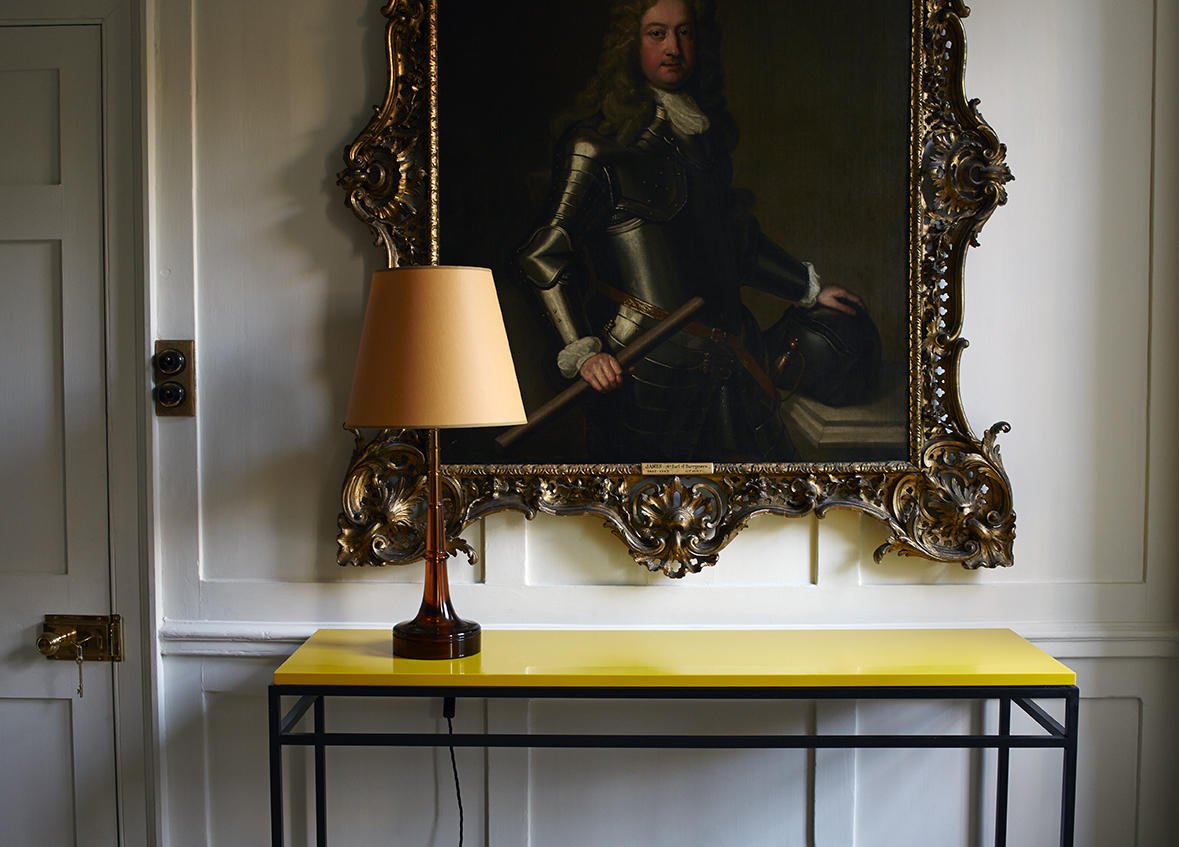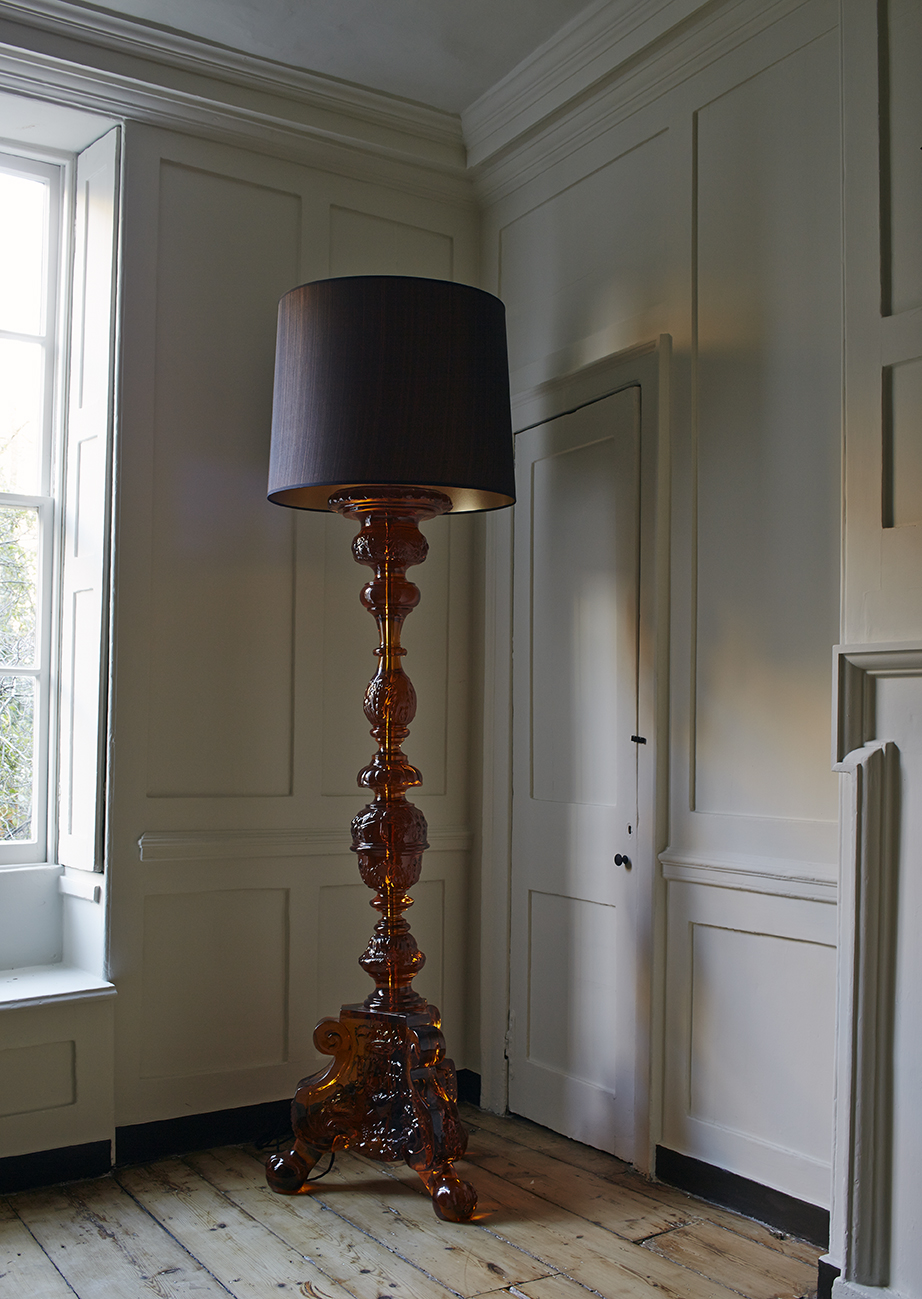 October 2015
Dirty Pond
Dirty Pond is the favorite colour of resin lamps amongst antique dealers and clients with historic houses. We did a one-off version of the Cawdor lamp in Dirty Pond. The trumpet lamp is in the same colour with a simple yellow lacquer and bronze console.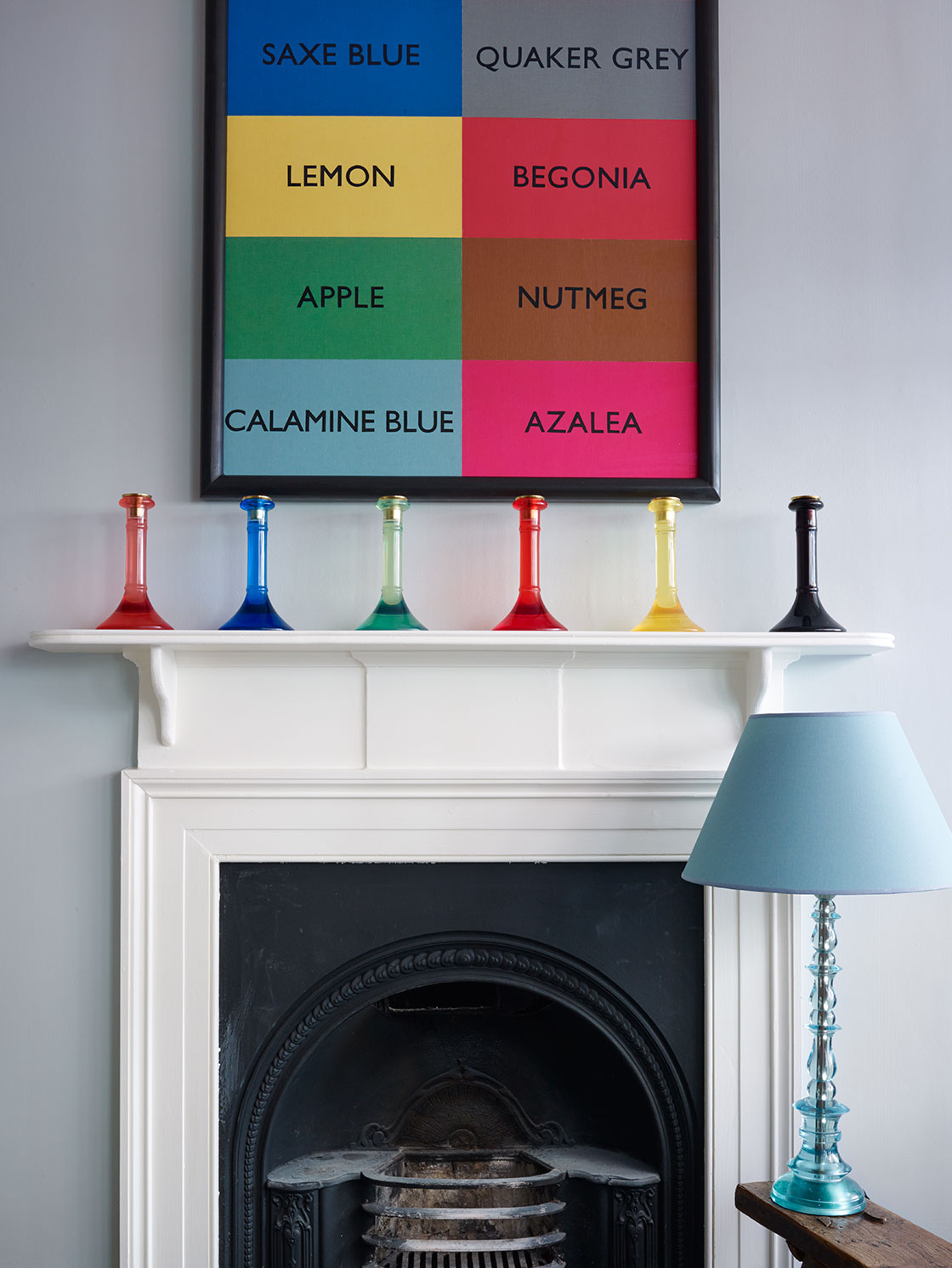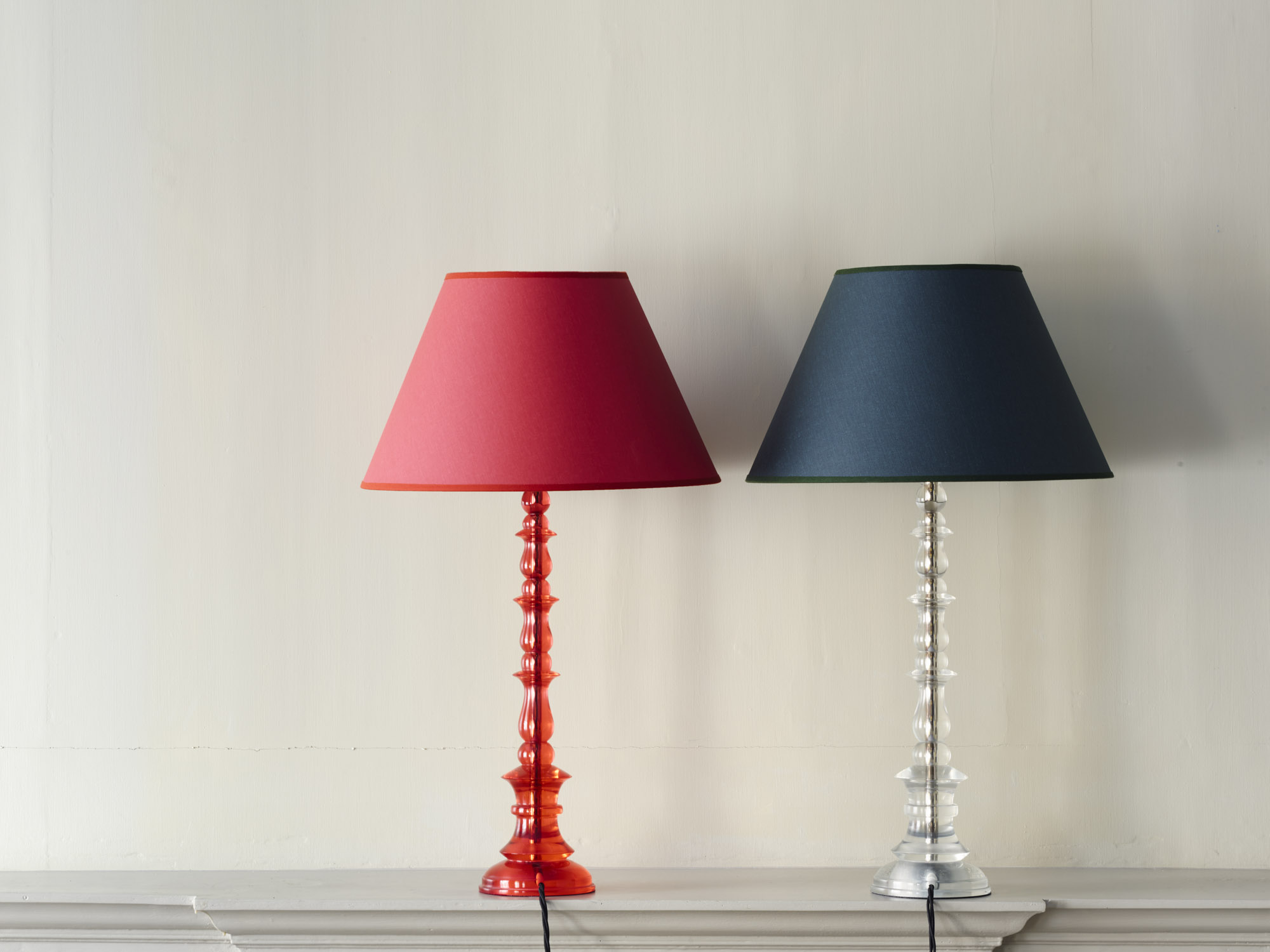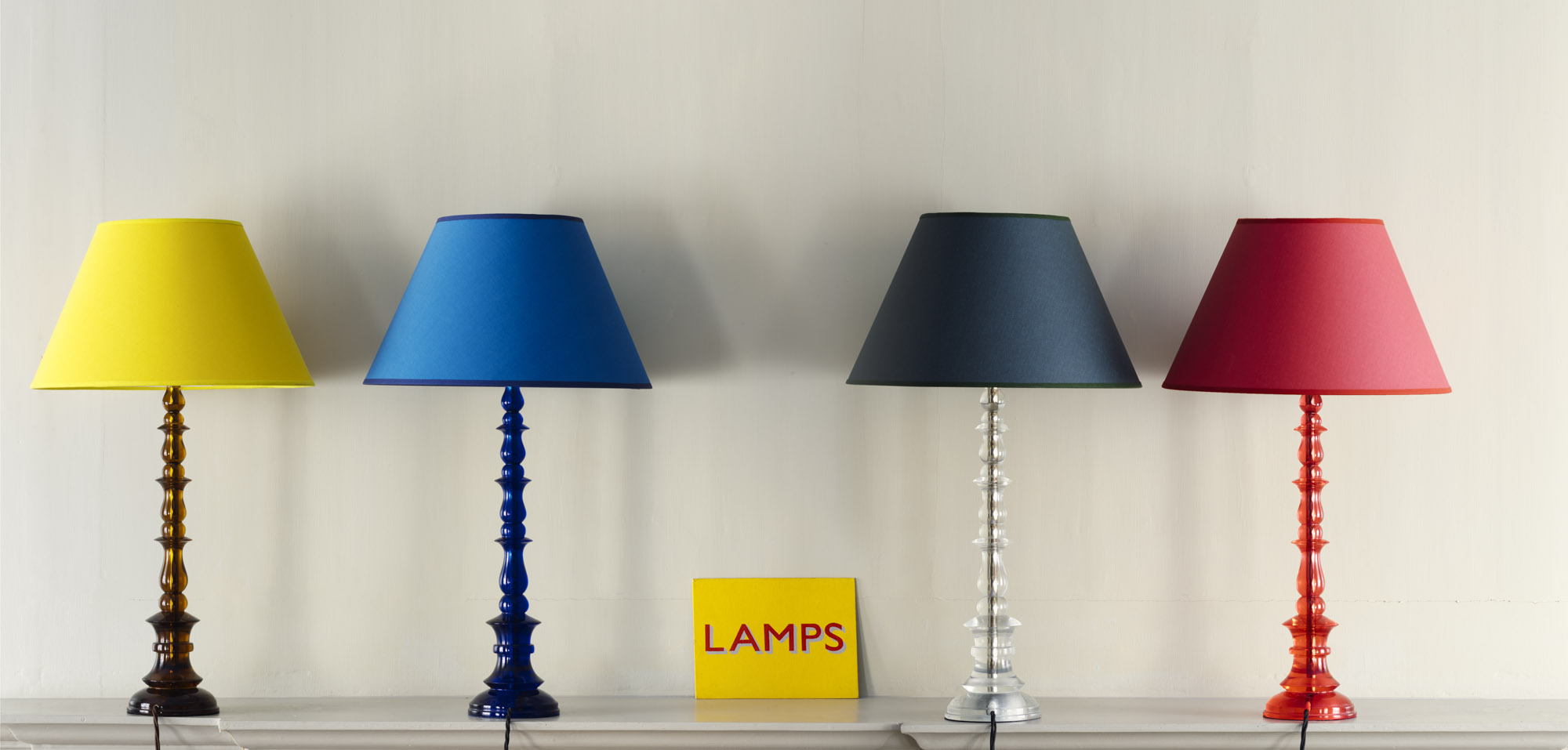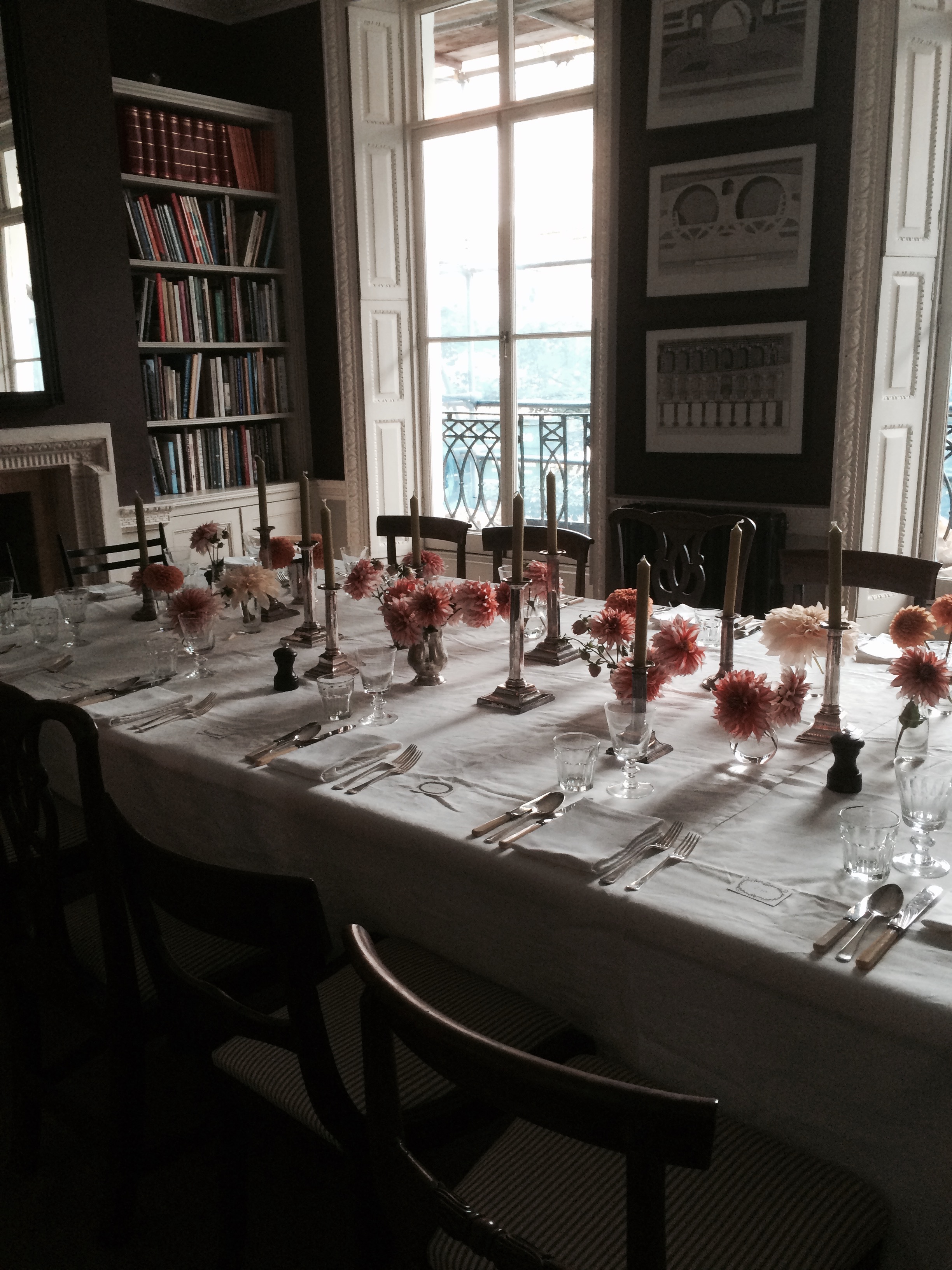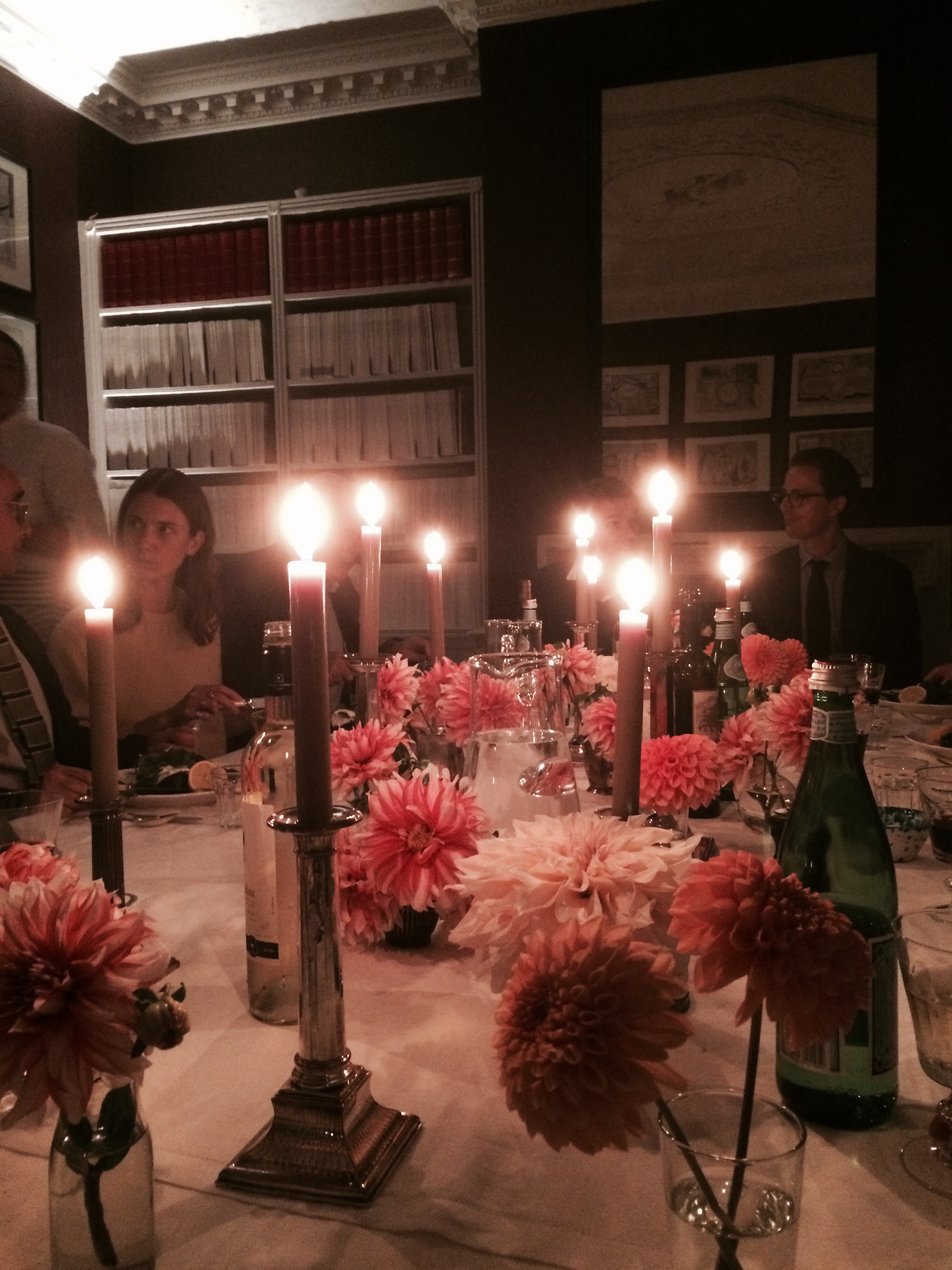 September 2015
Lamps and Blinds Pop-up Shop for LDF at Pentreath and Hall
London Design Festival September 2015 at Pentreath and Hall, Rugby Street. Wonderful dinner was made by Charlie McCormick and table set with flowers from his garden.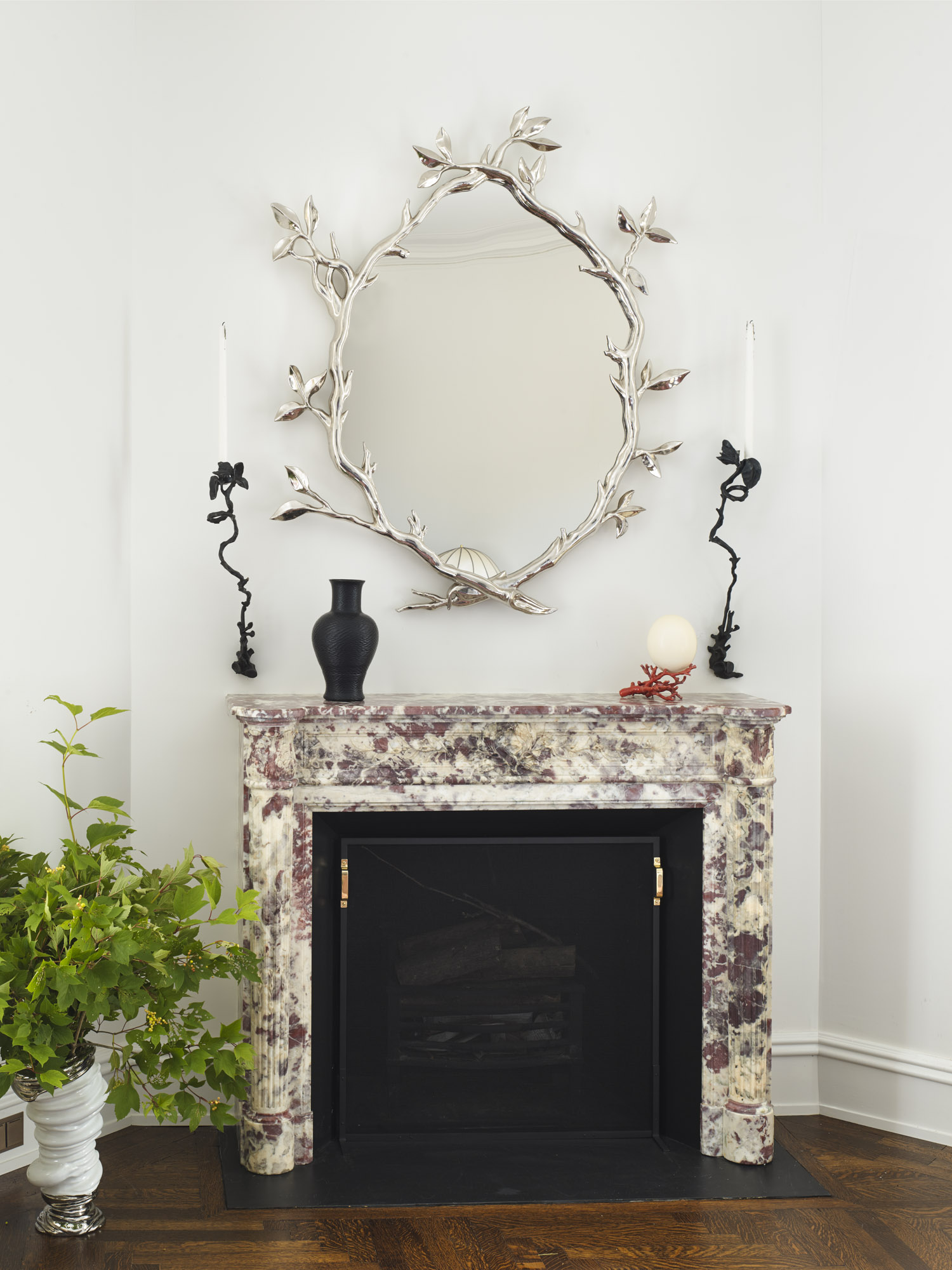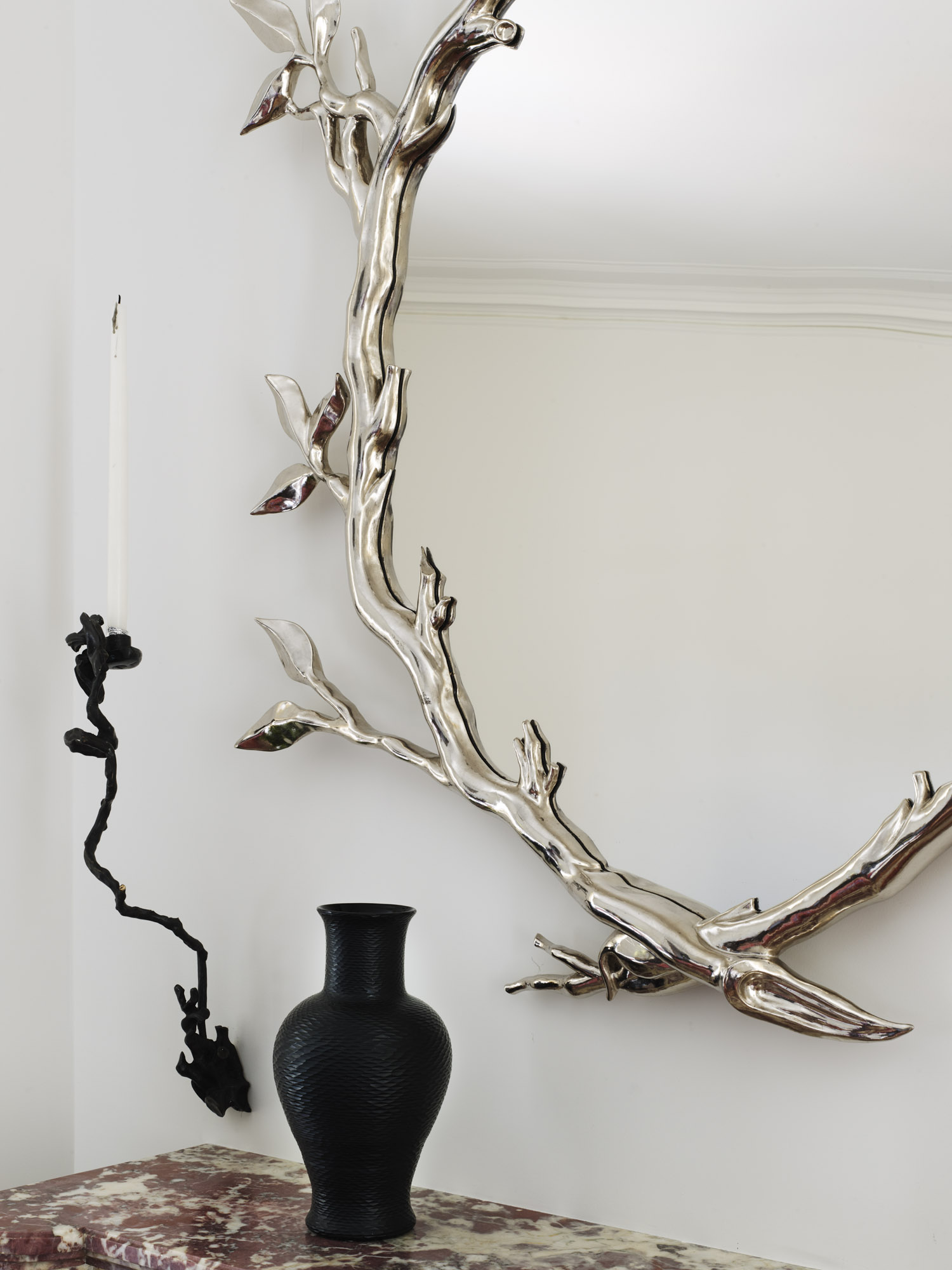 June 2015
Mirror in New York
Carved mirror gilded with caplain gold and handmade glass.
On fifth avenue overlooking the park trees sway – seasons change from spring to autumn.
Our challenge to make a mirror to complement Dunand, Hoffmann, Jean-Michel Frank.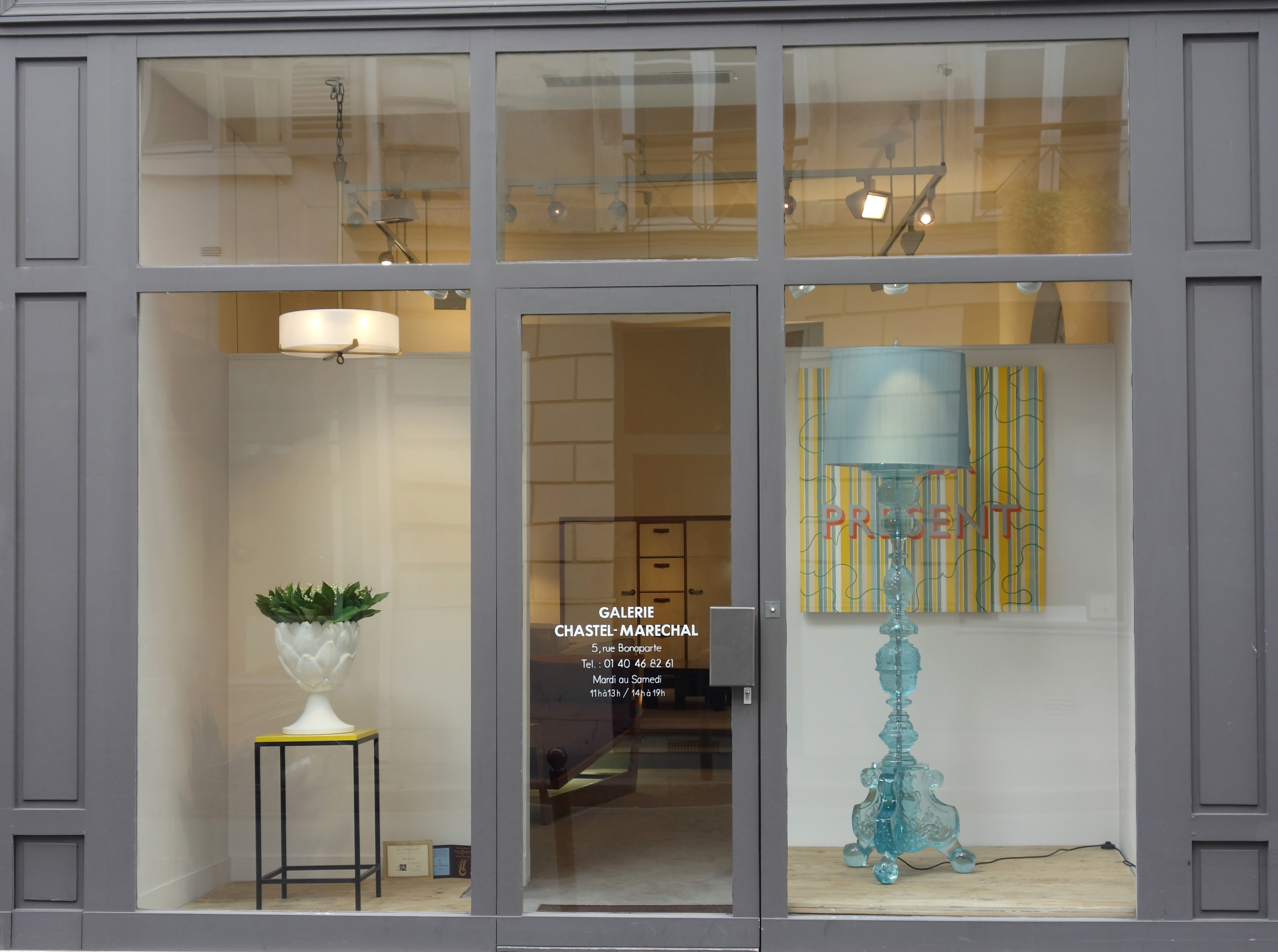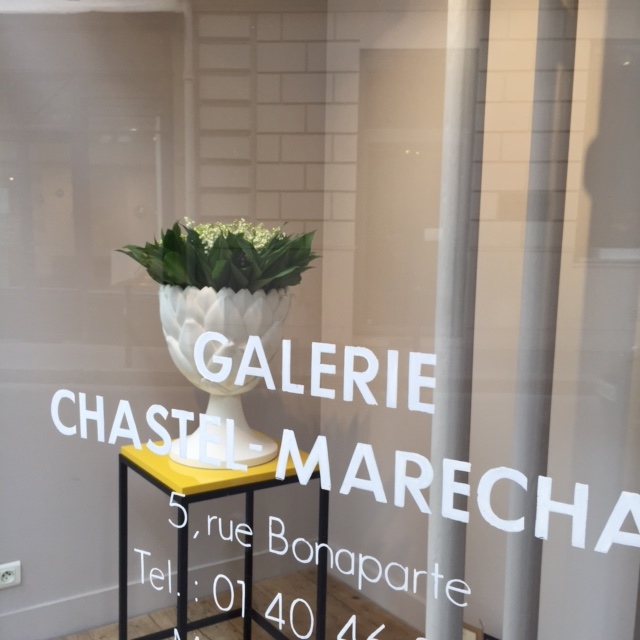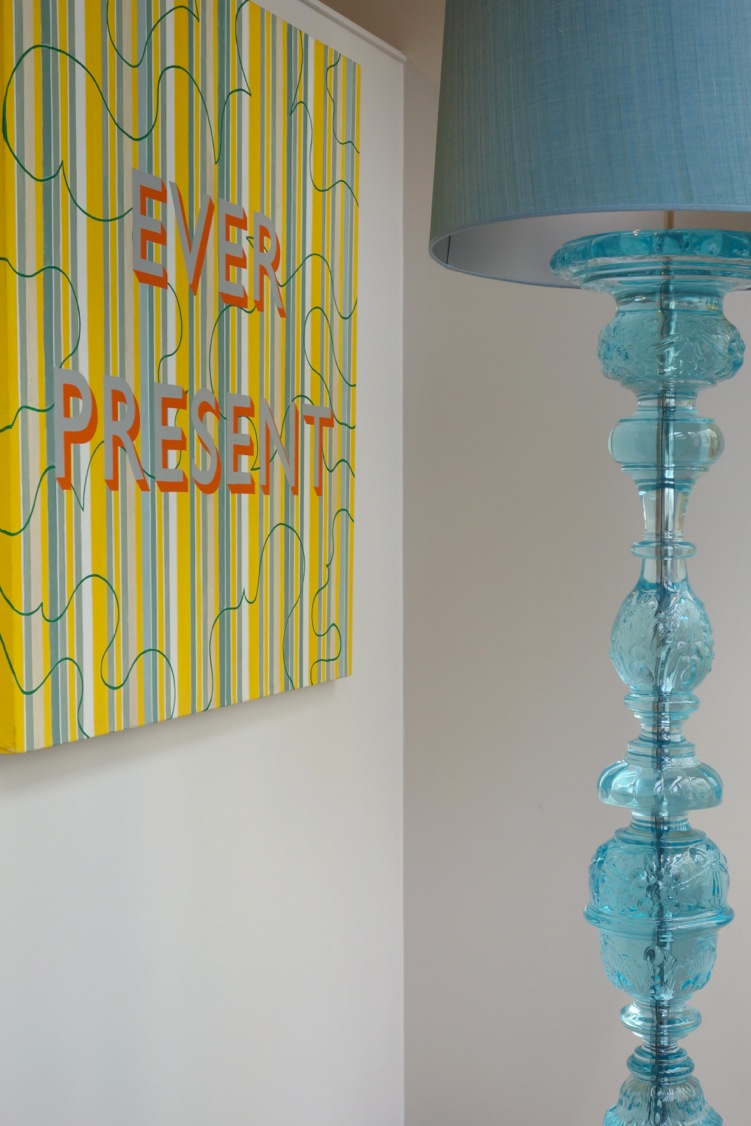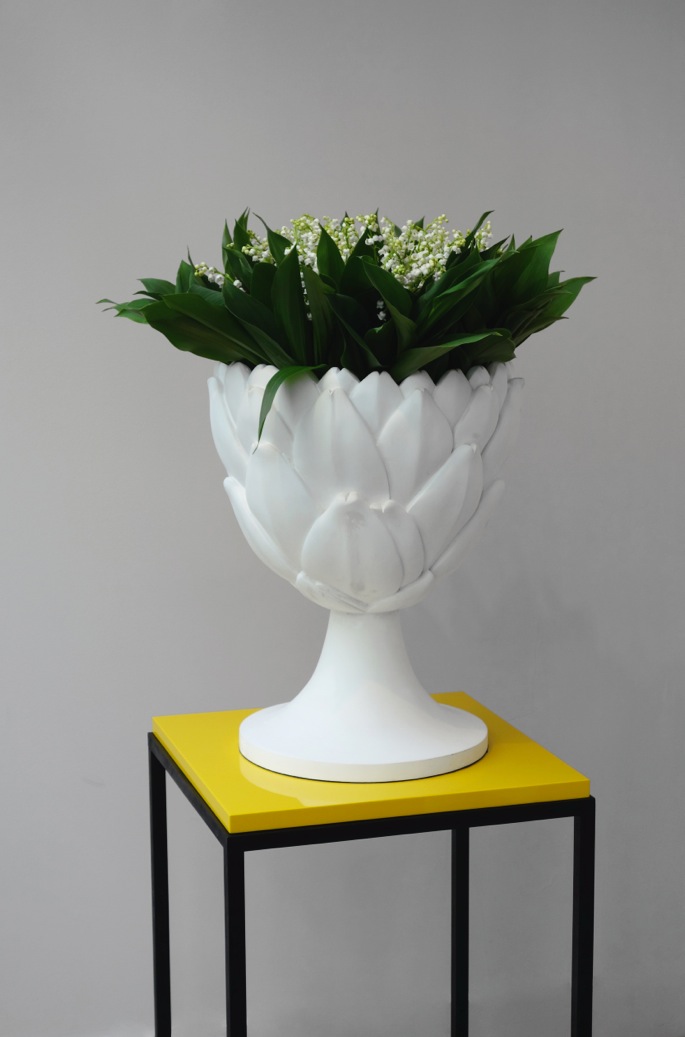 May 2015
Ever Present Paris
Spring window at Galerie Chastel-Marechal in Rue Bonaparte, Paris. We bought the flowers in honor of La Fête du Muguet from La Boutique des Saints-Pères an artisan florist on rue des Saints-Pères.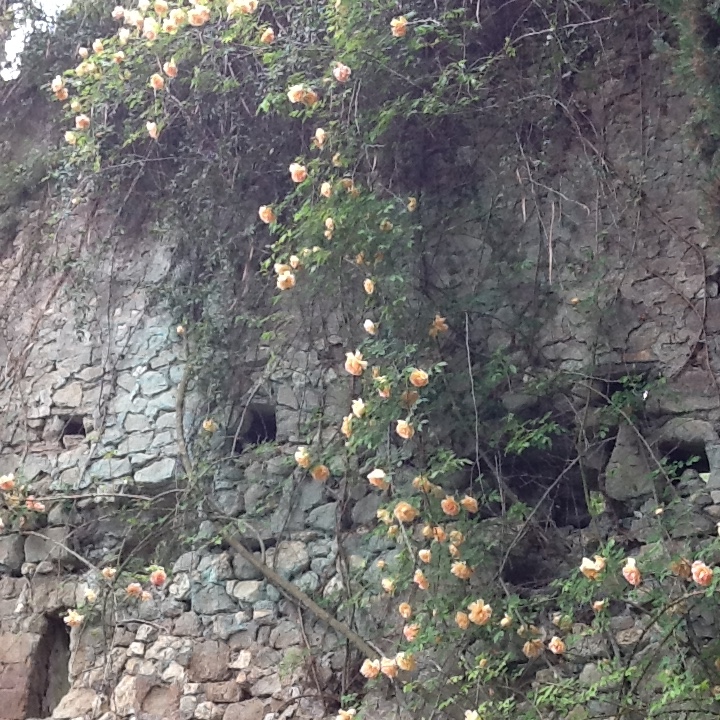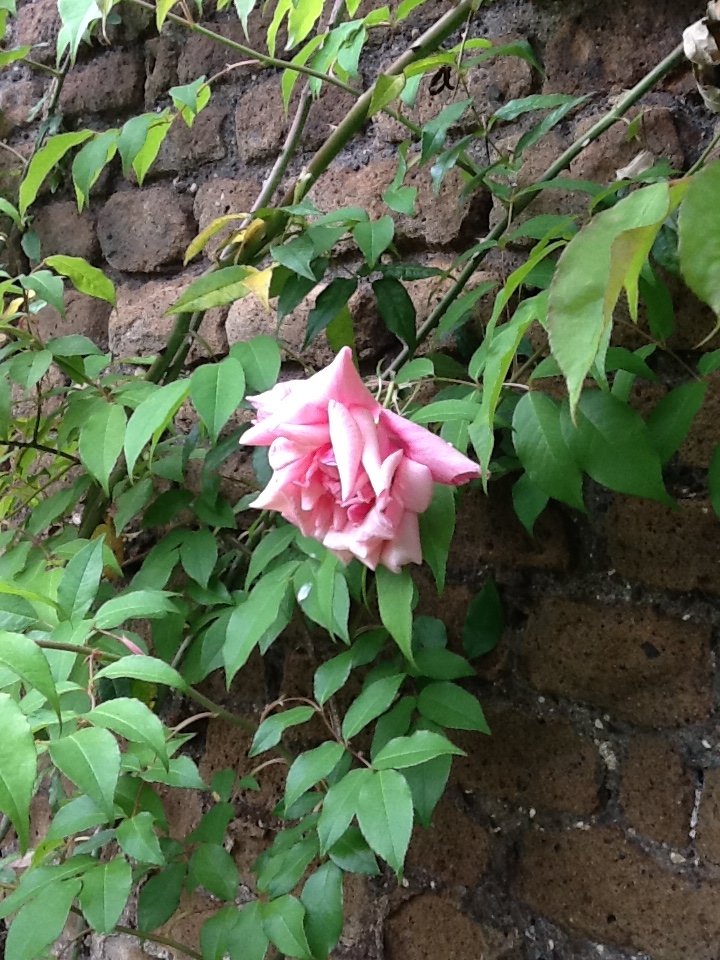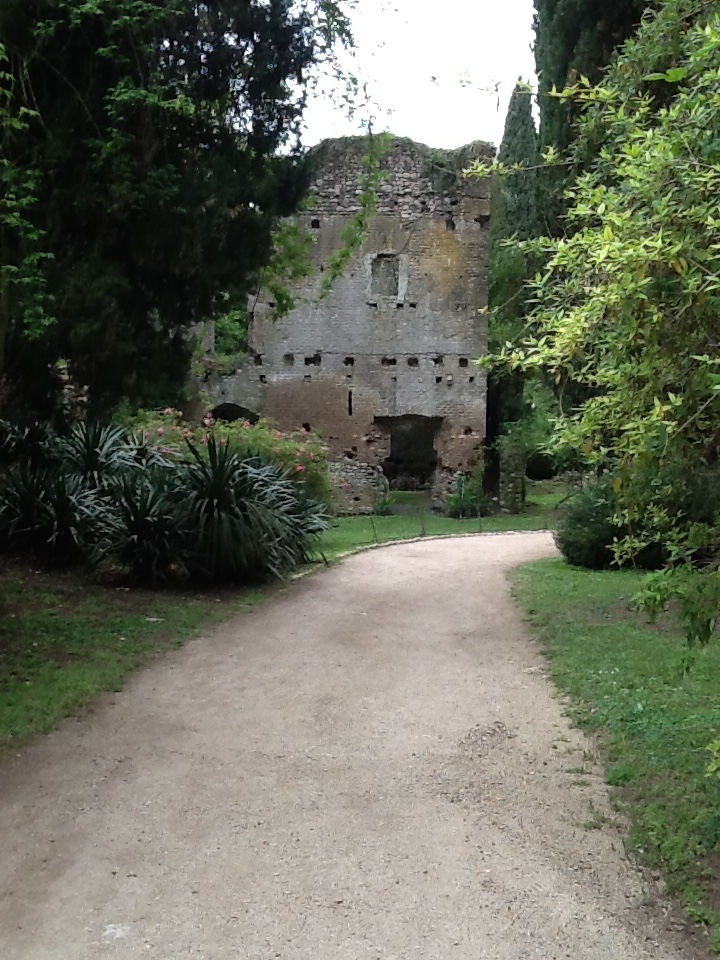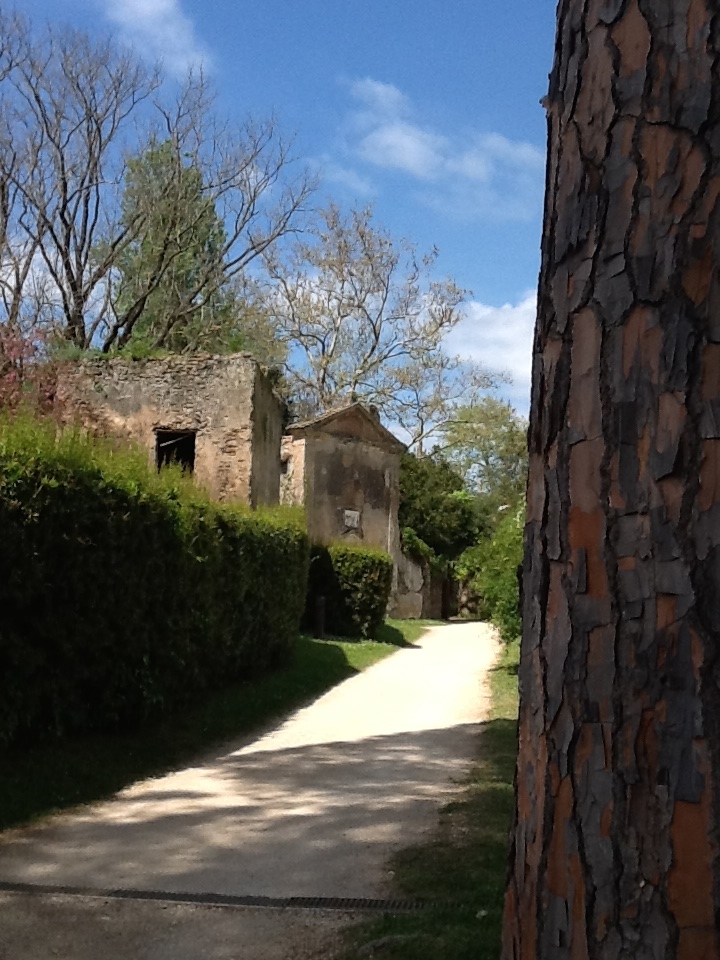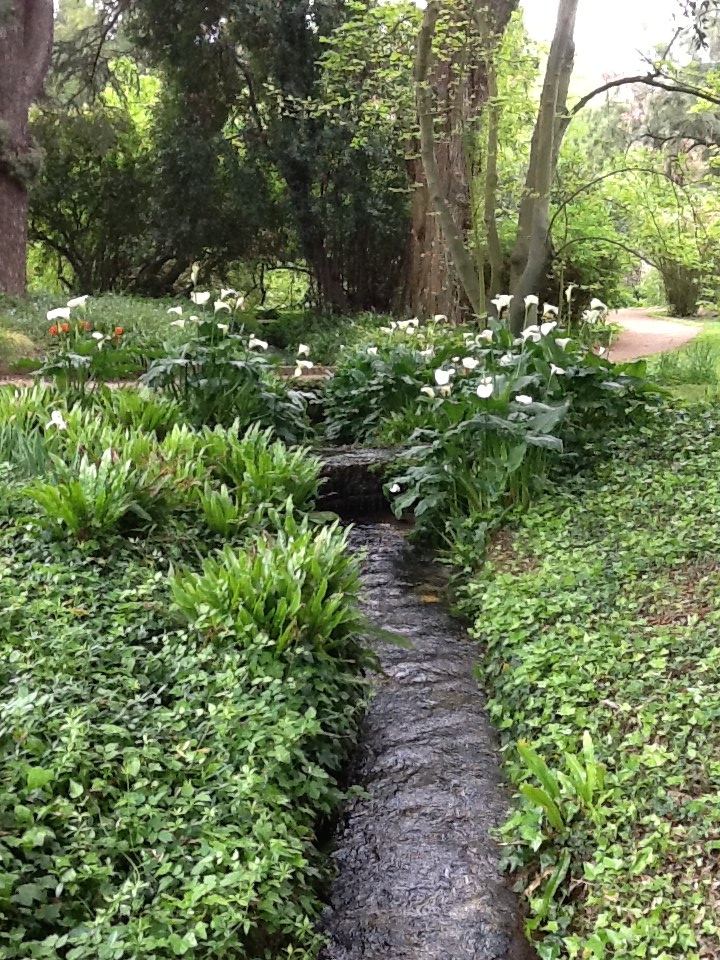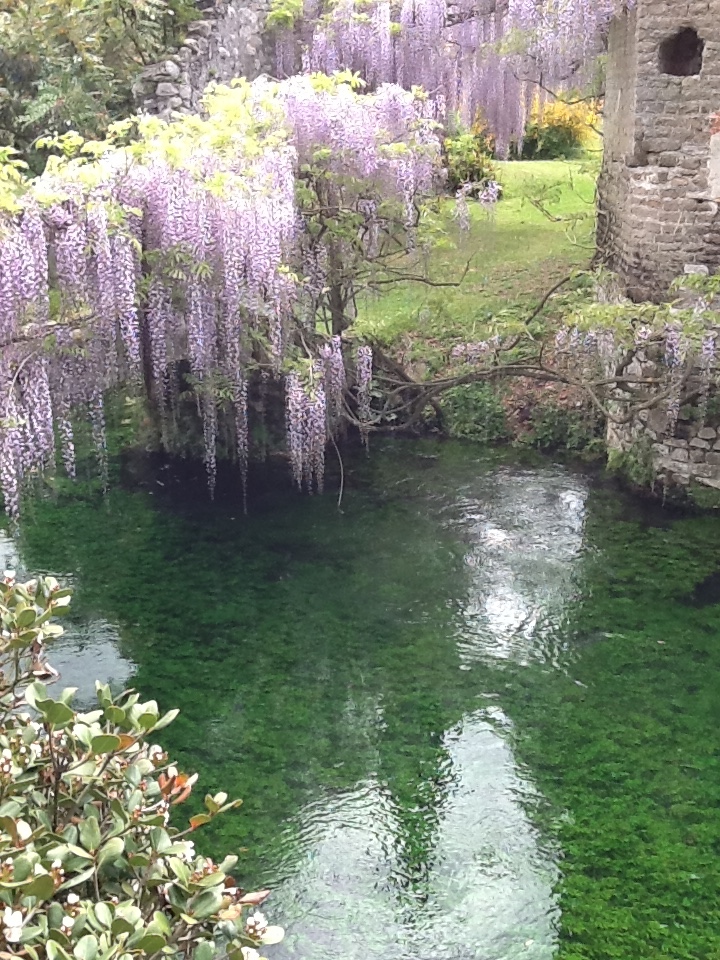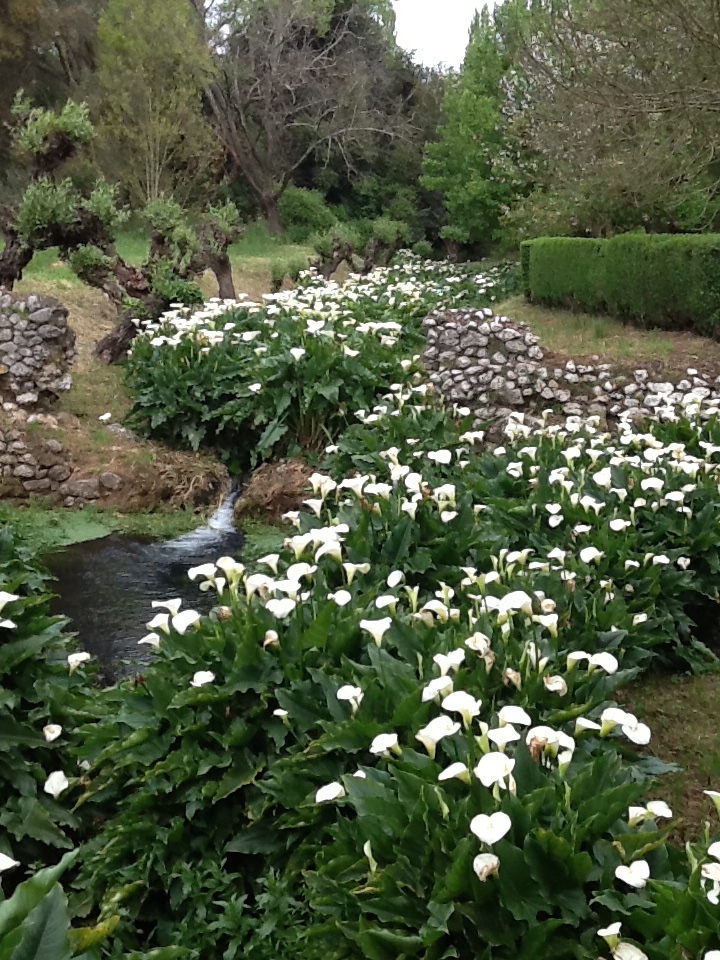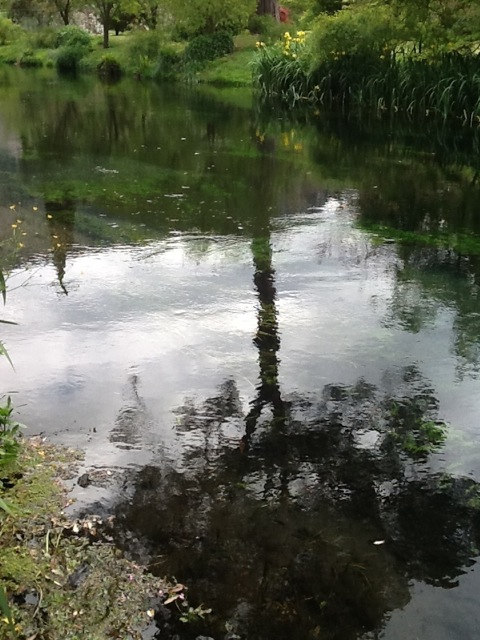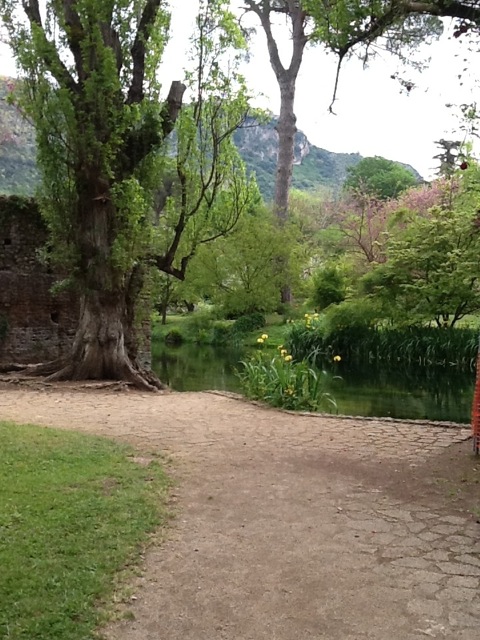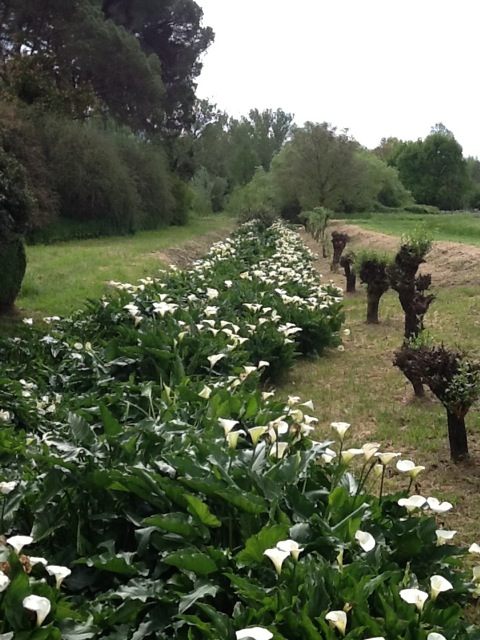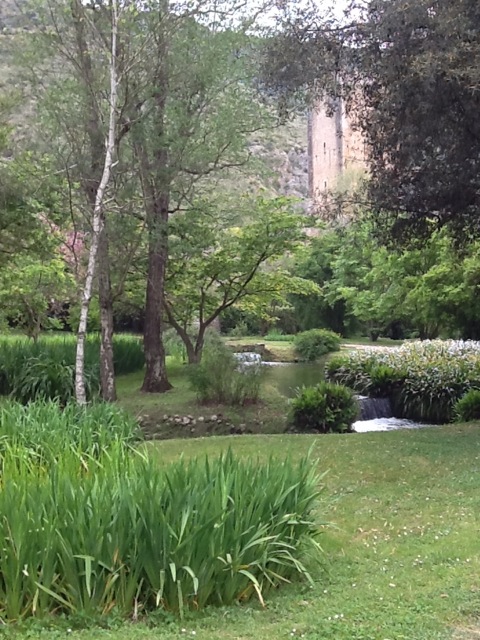 April 2015
The Garden of Ninfa
In the spring of 2015 we went to my favorite garden.
Ninfa, was created by the Caetani family – hidden away in the great Pontine plain, it is a romantic 'English' garden set amongst Roman and Medieval ruins near the hill village of Sermoneta.
We were the first visitors of the season and the ruins were covered with delicate roses, cyclamens and violets carpeted the ground. Arum lilies fell over the stream which flowed through the abandoned village deserted during the middle ages due to malaria.
The feeling was magical and slightly melancholy. The ghosts of the Caetani ever present.
Wisteria, jasmine, roses and lavender prevail. Immense oaks, planes and beeches line the pathways. We will return in October to see the changes autumn will bring.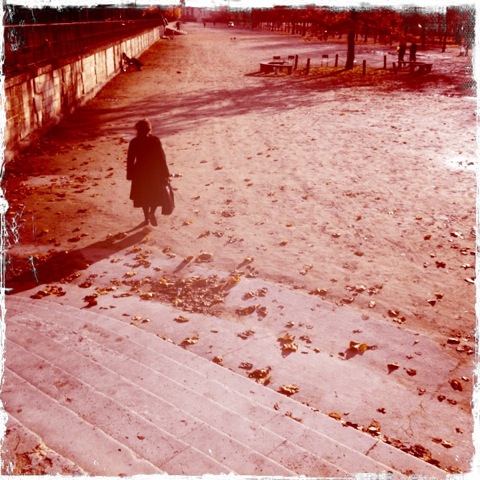 February 2015
The Dites Moi
A walker alone in the Tuileries Gardens in Paris…it's me!
Annie has just sent me this photo. It was taken in November 2011. I was in Paris with  Annie Schlechter  and we were meeting with Aline Chastel to discuss photos for an upcoming feature in WOI.
We wandered for hours sampling heavenly chausson aux pommes from Poilane and then to magasin sennelier on the quai Voltaire….
In Paris all the leaves were gone and the winter was closing in.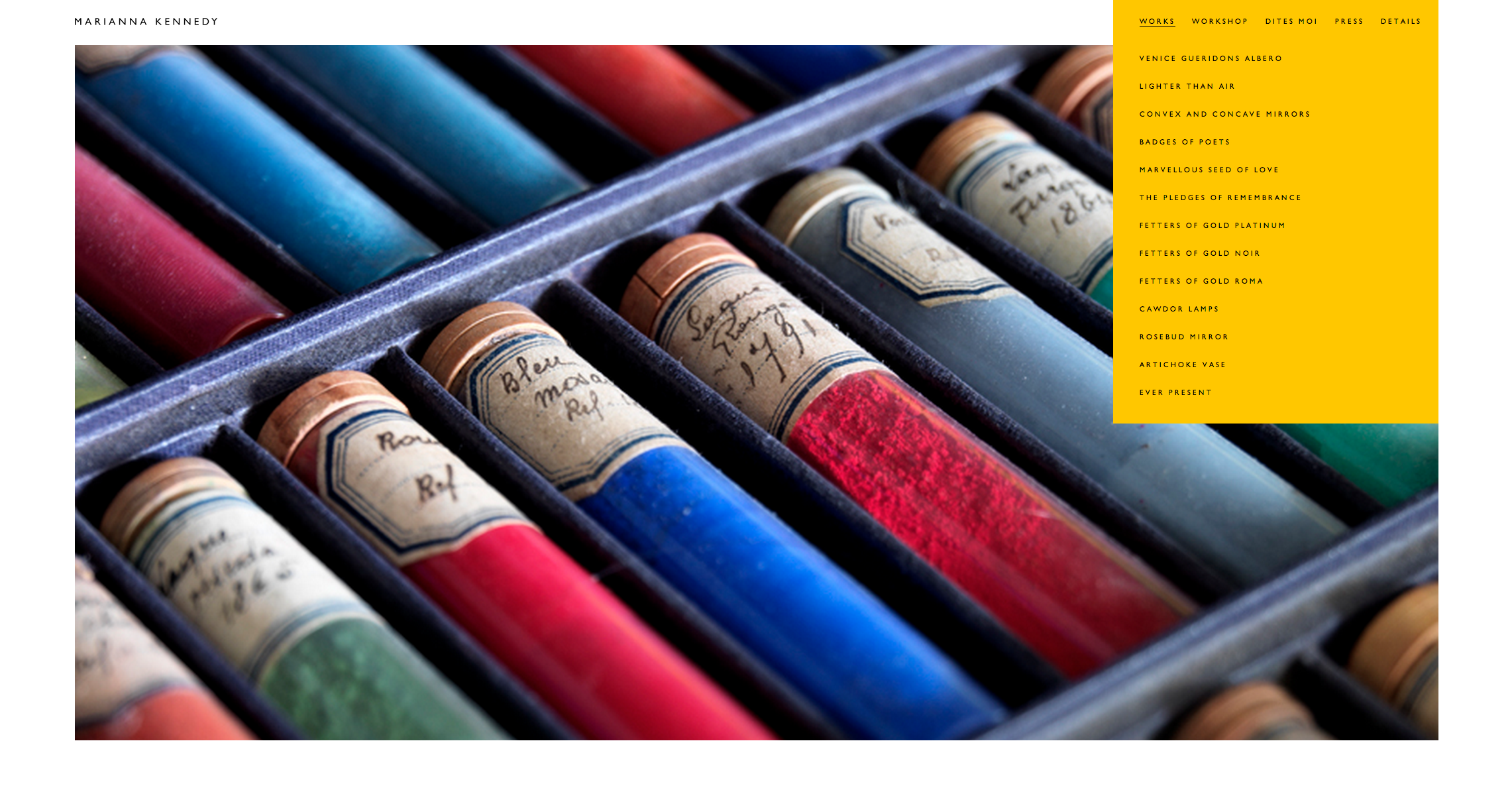 January 2015
New website is now online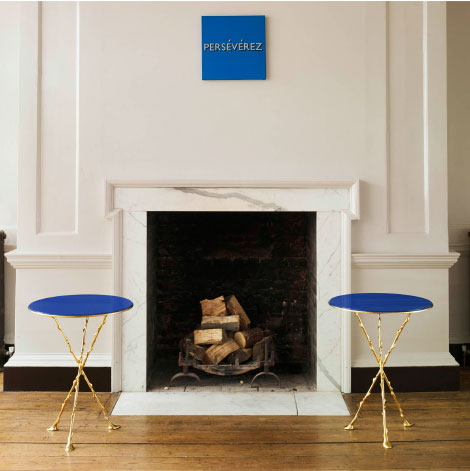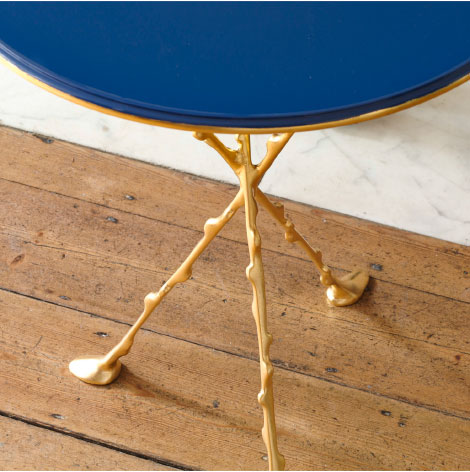 August 2014
Tables for James Drake
ROYAL BLUE LACQUER WITH GILDED BRONZE LEGS.
JAMIE DRAKE BLUE WITH A GILDED EDGE.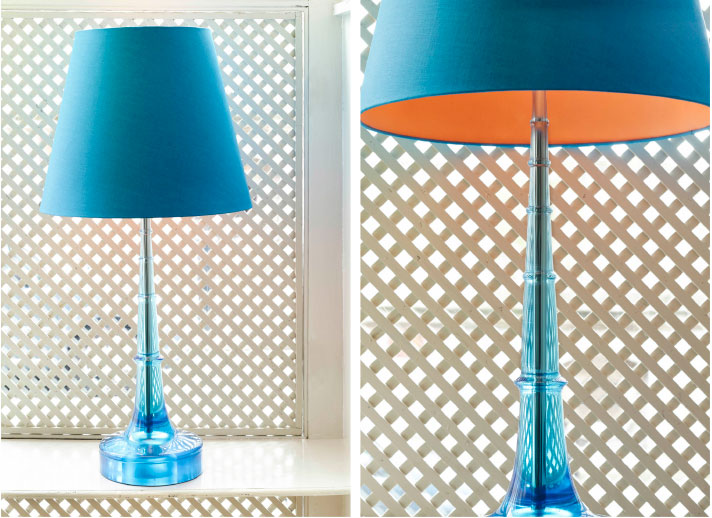 June 2014
STUDIO'S LATEST LAMPS
This is the new Trumpet Lamp, which is available in the same Variety of colours as the Spring Lamp.